North Devon Beach Guide
Devon boasts some of the most memorable and unspoiled beaches in the UK. From shell-full shores to miles of golden sand, pebble ridges to world-class surf and amazing sand dunes as far as the eye can see. But don't just take our word for it, they are some of Devon's best reviewed beaches according to Tripadvisor contributors.
There are many amazing and hidden spots to explore when on holiday along the dramatic North Devon coast, if you know where to look. This beach guide shows off some of the spectacular beaches you will discover along the Woolacombe coastline.
Whether you're looking for long walks, beginner water-sport lessons or expert surfing, then Woolacombe Beach is the place to come. Adventure is waiting; surfing, windsurfing, kite-surfing, paddle-boarding, swimming and coasteering available for all experience levels. As well as making a sandcastle and doing battle with the incoming tide.
We have many picture postcard beaches within a few minutes' drive of Woolacombe perfect for the family or solo traveller alike, many dog-friendly, most very easily accessed by car.
We love North Devon. We love our beautiful coastline. And, we'd love you to enjoy it all with us. Our award-winning, family-friendly parks at Woolacombe Bay, Twitchen House and Easewell Farm all enjoy brilliant sea views and make the perfect base for a beach-centric summer holiday. We hope you love our beach guide.
Woolacombe Beach Guide
Voted the best beach in Britain so many times by Tripadvisor, Woolacombe Beach is one of the finest beaches in the world. Woolacombe Beach attracts thousands of visitors to its golden sands every year with miles and miles of sand, which means there's always a quieter stretch of beach to make your own, even in the peak of the school Summer Holidays. You can walk to the beach from Woolacombe Bay Holiday Park in around 15 minutes but it's not much further from our other two Parks.
The Atlantic throws unbroken rolling waves to crash on to three miles of shoreline, making Woolacombe Beach a surfer's paradise. Beginners and experts come from all over the country. RNLI Lifeguards ensure safe family swimming during the summer months too, with clean water and great waves.
There is plenty of parking with space for over 2,000 cars over several large car parks (The Esplanade, Esplanade Car Park, Central and Marine Drive), all within very easy reach of the beach, and its many facilities, including beach huts. Woolacombe Beach is amazingly beautiful, with no end of activities and facilities. Rockpools, burrows, a fun theme park, ice-cream kiosks and eateries, are just some of the many close by places to visit.
Dogs are welcome on Woolacombe Beach, all year, but some minor restrictions apply over the Summer months, you can find out more here.
Further useful information: Access to the beach from the Parks | Beach amenities & car parking | Beach safety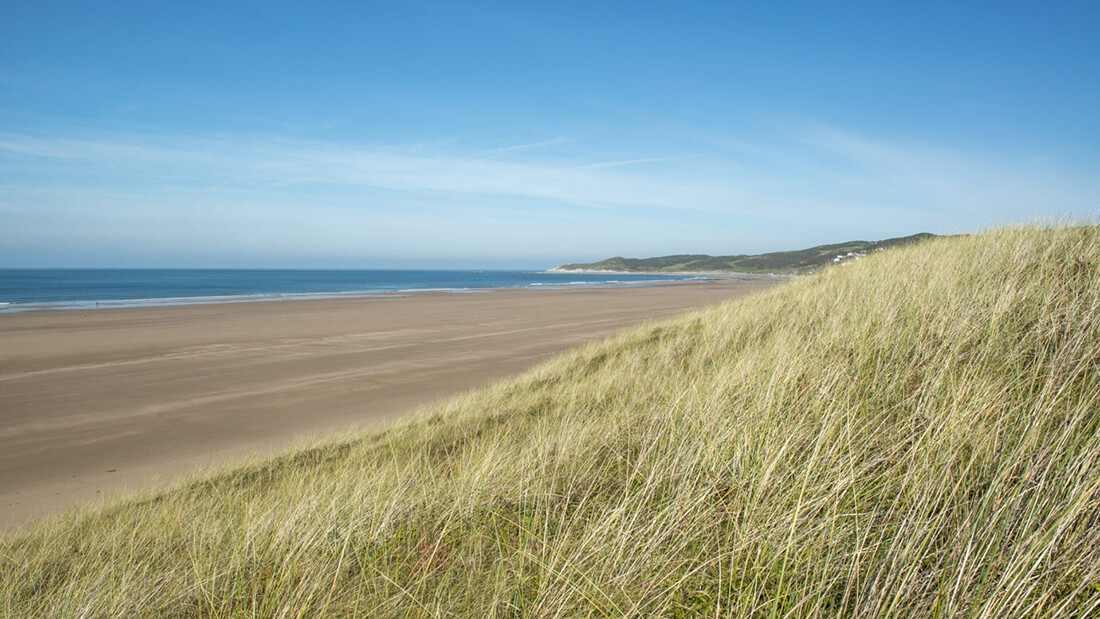 Barricane Beach Guide
One of the many beautiful and picture-postcard coves in the Woolacombe area. The picturesque Barricane Beach is surrounded by rocks – famous for exotic seashells, particularly cowries. Folklore says that these exotic shells have been plucked from Caribbean islands and carried thousands of miles, on the gulf stream, to be dropped in North Devon, in perfect condition.
Just a quarter mile along the coastline from the main Woolacombe Beach, this evening sun trap is great for rock pooling, rock jumping and a winner for families. Barricane Beach is ideal for surfers and swimmers, with amazing water quality. But be aware of rocks at higher tides though, as there are no lifeguards. And for food connoisseurs. Barricane is well known locally for the Sri Lankan Barricane Beach Café, serving authentic and delicious curries every evening in the Summer. Grab one and watch an amazing sunset, something you won't forget.
The whole area boasts amazing coastal walks in either direction, continue along the coast and you'll discover the quaint village of Mortehoe. Turn the other way and you'll be in Woolacombe in minutes.
Roadside parking means the beach is accessible for families, and dogs are permitted, albeit on a lead over the main Summer months from May to September.
Don't expect this beach to yourself, it's busy every evening with guests and locals coming for the curries, but it creates a wonderful atmosphere. Get there early if you want some of the beach curry grub!
Combesgate Beach Guide
A tiny but extremely lovely, secluded beach, a few metres further along from Barricane Beach and the donkey path from Twitchen House Holiday Park leads straight to it. Amazing for children to explore, to rock-pool and to build castles, away from the busier beaches. This beach is harder to access though, down a long flight of steps, and not recommended at high tide. Worth a visit if you like to clamber over rocks and explore the coastline.
There are many little coves and bays in the area if you've got the tenacity to look. Keep an eye out for Grunta Beach and Shellsborough Cove too.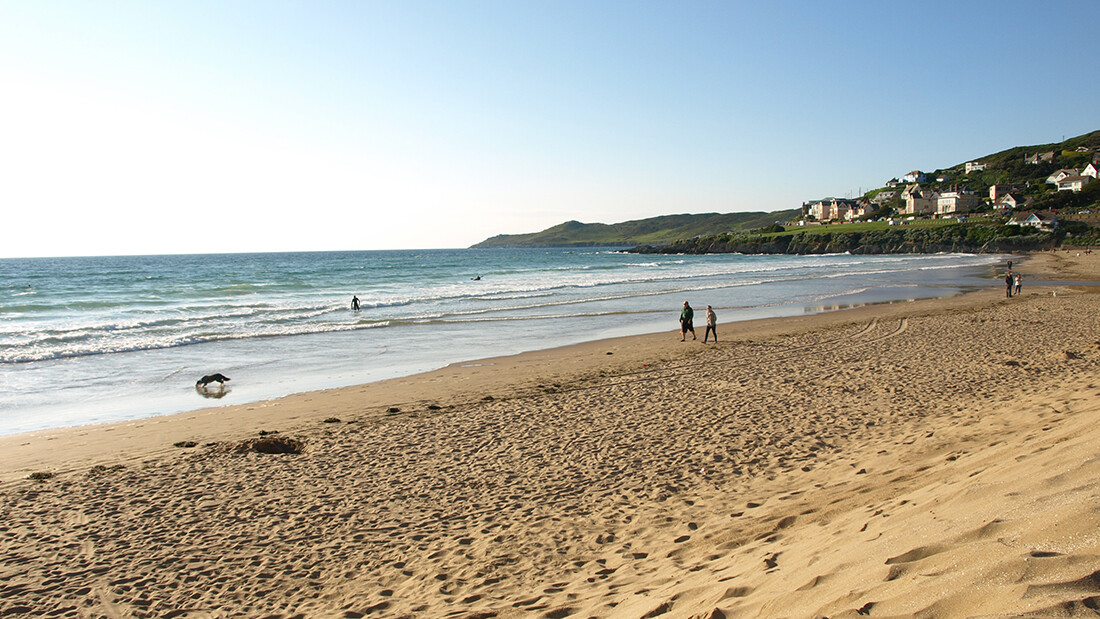 Rockham Beach Guide
One of our more secret beaches, sometimes closed due to landslides and even having the steps washed away, but very much loved by locals. Small, rocky, sandy and with amazing rock-pools, this is Rockham in the village of Mortehoe. The beach is National Trust owned, so don't forget a little contribution, this beautiful cove is teaming with creatures waiting to be discovered in its many pools.
Towards the North end of the beach, at low tide, you'll see the remains of the wrecked mail steamer, SS Collier, which grounded here in 1914. The crew, dog and cat were all rescued, and the kids love to hear this story while spying a propeller sticking out of the water. Loads more information on the wreck can be found here.
It's a good 20-minute walk to this beach from Easewell Farm Holiday Park, and the steps can be tiring on the way back. Very much worth it for the breathtaking scenery, wildflowers and cliffs. We recommend visiting at low tide, with deep rock pools, and wreck views. Please pay attention to any warning signs.
Rockham beach is considered safe for paddling but be aware of strong currents. Dog friendly all year round, so add a visit to a long and rambling coastal walk.
Putsborough Sands Beach Guide
On the far side of Woolacombe Beach, with a spectacular backdrop of cliffs and rocks that form Baggy Point, you'll find the quieter Putsborough Sands. Amazing water clarity, beautiful surf, it is a favourite of locals and walkers, and families with young children and plenty of rock-pools, of course. It's very popular with surfers looking for a quieter wave too as Putsborough Sands is the only beach in the area to have some protection from south and south-westerly winds, thanks to Baggy Point's prominent headland providing protection from some of the faster winds and waves.
The long sweeping bay is renowned for its cleanliness and beauty, superb for swimming and bathing. And a place to beat the crowds when compared to the busier Woolacombe, Croyde and Saunton. There are steep steps down to the beach, so not recommended for those with mobility issues.
Middle Beach
Halfway between Putsborough Sands and Woolacombe Beach... it's where many of the photos on this website are taken!
Bring the dogs October to April. Middle Beach and Woolacombe Beach allow dogs all year round.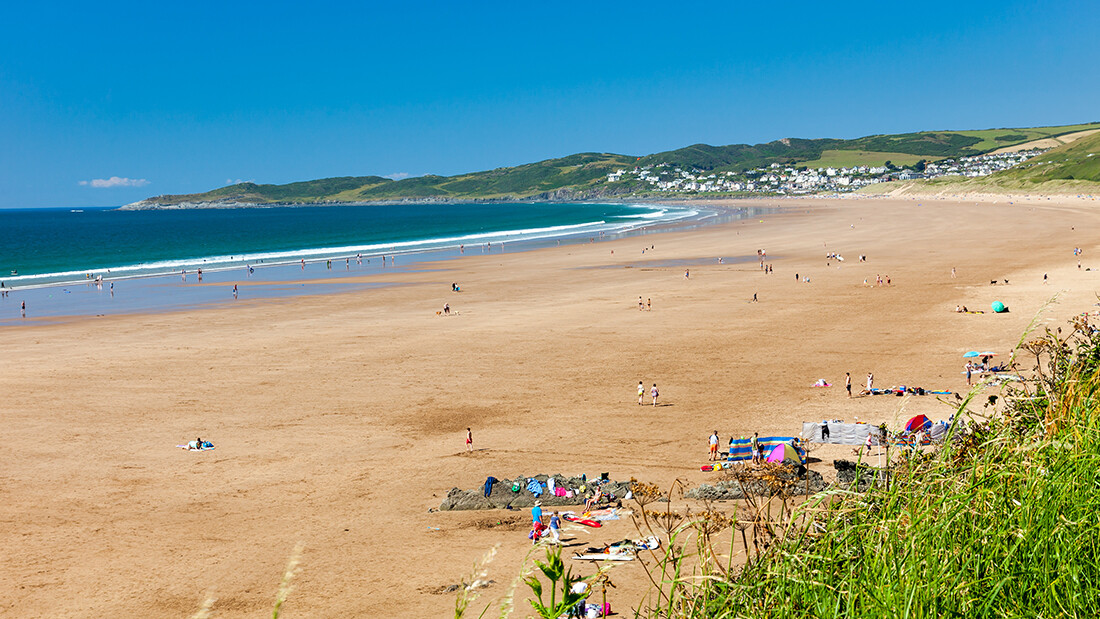 Croyde Beach Guide
Croyde Beach is one of the best surfing beaches in the whole of the UK. Surfer's from all over the world, flock here throughout the year. In summer months it can get packed with surfers, families and holidaymakers giving the whole village and bay a lively atmosphere. Amazing rockpools, backed by dunes, a stream and pool dissecting the beach, limestone kilns, with facilities close to hand it has a fantastic mix of everything. With several footpaths and car parks at either side of the bay, Down End car park, National Trust and in the centre of the village.
This beach is for the experienced surfer and is heavily patrolled by RNLI Lifeguards during the Summer months. Only swim between the flags as it's unsafe to do so anywhere else. There are strong rip currents on both sides of the bay and it can be very easy for an inexperienced surfer to get into trouble. For beginners and less experienced surfers, Woolacombe Beach can be a safer and less daunting option.
The rip currents can move, depending on shifting sand banks so never leave children unattended in the water, and never play where the waves aren't breaking; good advice to avoid the hidden currents. Please pay attention to any warning signs.
Baggy point is a locals' favourite, the headland between Croyde and Putsborough then onto Woolacombe. A meandering but picturesque coastal path will lead you around some of the most spectacular scenery in Devon.
Dogs are only allowed off season, between October and April.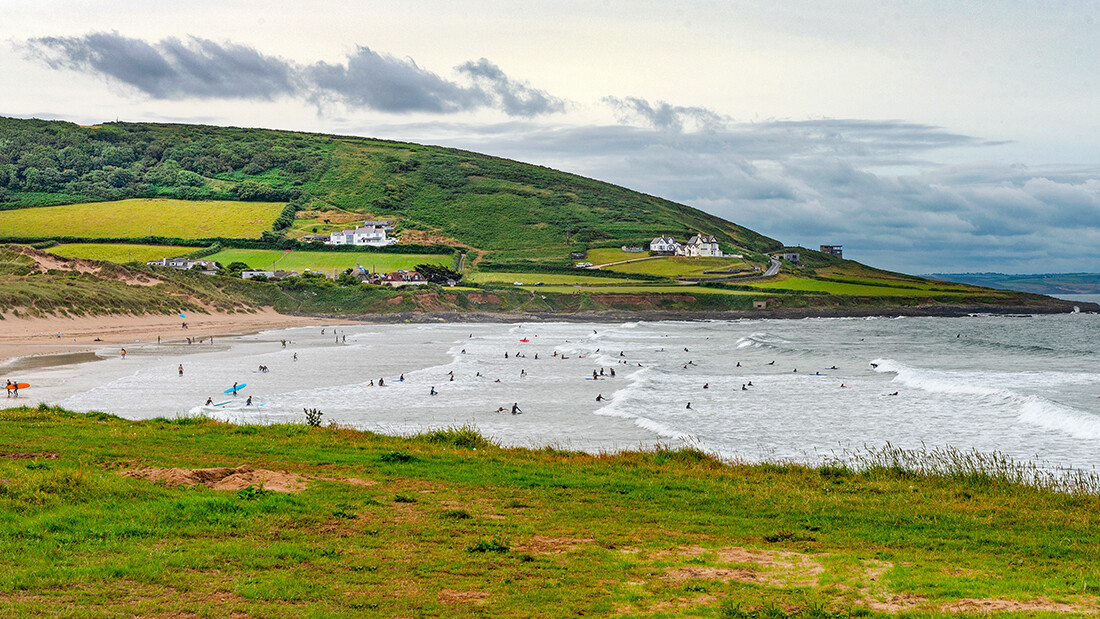 Saunton Sands Beach Guide
Much celebrated by families, Saunton boasts over 3 miles of amazing sandy beach, backed by the impressive Braunton Burrows, a UNESCO Biosphere Reserve and always spectacular. Absolutely loved by locals and visitors. The long straight stretch of beach is perfect for swimmers, and the voluntary patrol by Saunton Sands Surf Life Savers is second to none, available over the Summer season. Families can feel safe between the highly visible flagged area. This is a popular beach with surfers and other water-sport enthusiasts, especially for beginners and long-boarders. The surf being easy and mellow, it's perfect for getting the kids on boogie boards or skim-boarding. Avoid swimming near the rocks and everybody will be fine, it's a huge beach. You'll see the more experienced surfers over there, the rip drags them out into the water much more easily.
Saunton Sands beach is family safe and very dog-friendly, open to our four-legged friends all year round. We recommend you do supervise children while in the water though, there's a rip current against the rocks year-round.
There's a range of food outlets and beach shops, along with toilets and even surf showers, all alongside the pay and display car park. With a beach restaurant and bar to boot.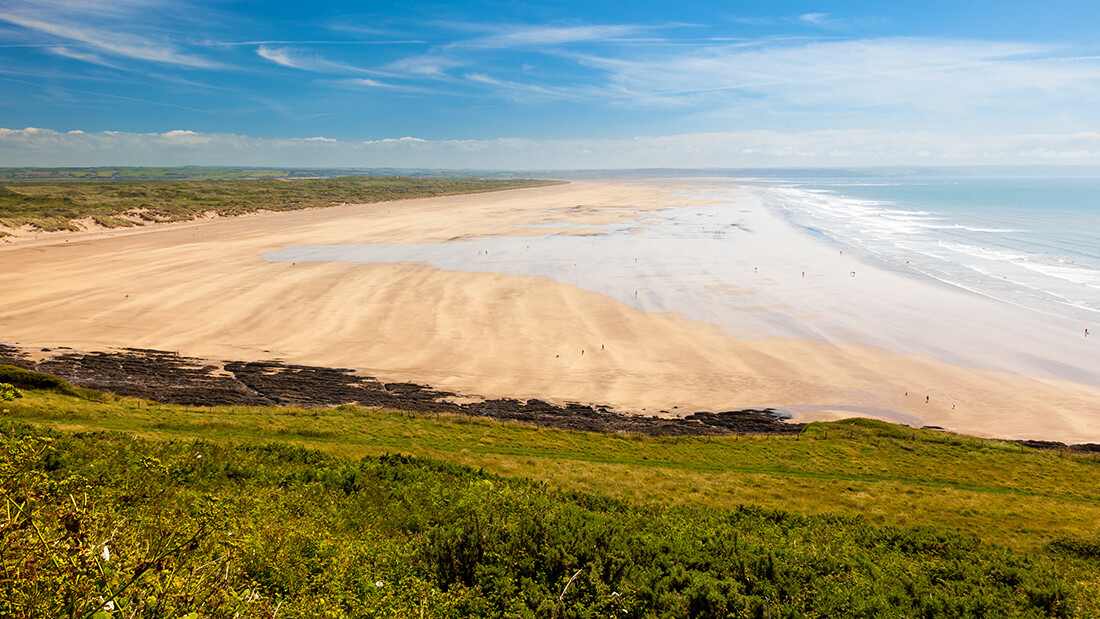 Crow Point
If you wander far enough along Saunton Sands Beach, you'll come across a lighthouse, a wreck at low tide and the beautiful Crow Point. You'll also discover views across the Taw & Torridge estuary, as well as Westward Ho! and Instow beaches. There's also an amazing caravan that sells dog-friendly ice cream, flavours include 'old sock'. And if all of this isn't enough, Saunton Sands is where Robbie Williams filmed the video for his 'Angels' video and where Pink Floyd filmed flashback scenes for 'The Wall', plus the Tom Cruise film 'Edge of Tomorrow' used Braunton Burrows in many scenes.
Braunton Burrows Beach Guide
A UNESCO Biosphere Reserve sitting right in the centre of the North Devon Area of Outstanding Beauty (AONB). Braunton Burrows is a huge area of sand dunes, one of the largest in the UK around 1,000 football pitches in size. There is an abundance of fauna and flora, from orchids and other flowering plants to insects, butterflies, birds and 5 out of the 6 UK native reptiles. You may even spot the odd adder crossing your path. From May to August the dunes (hillocks) and slacks (valleys) are carpeted with flowers and is spectacularly full and vibrant with wildlife. The dunes flank the 3.5 miles of Saunton Beach, through to Crow Point. For many years, rabbits have kept the grass to manageable levels, and allowing many rare plants, including orchids, to thrive – hence the 'burrows' name. Numbers have declined and now you'll often see cows grazing the scrub-land.
We always ask our dog walkers to be mindful when near to livestock, such as using leads. There is plenty of signage around the area, on gates & stiles. Also, the dedicated Braunton Burrows page.
Saunton Beach Car Park, Crow Point and Sandy Lane car parks all allow access to the Burrows.
The Burrows were used as a training ground during World War Two by the American Army, with preparations for the D-Day landings, it was an assault training centre. You'll often hear a local refer to the main straight road as 'The American Road'.
World War II at Braunton Burrows
Over 10,000 GI's set up base, trained and ran across the dunes between 1943 and 1944. If you look closely, you'll still see the odd bunker, mock craft or training wall, in pieces. The Royal Marines, and other units, use this training area still so look out for flags and signs.
An annual D-Day event is held on Saunton Beach in early June. Vehicles and period costumes are worn, and planes are landing on the beach throughout the day.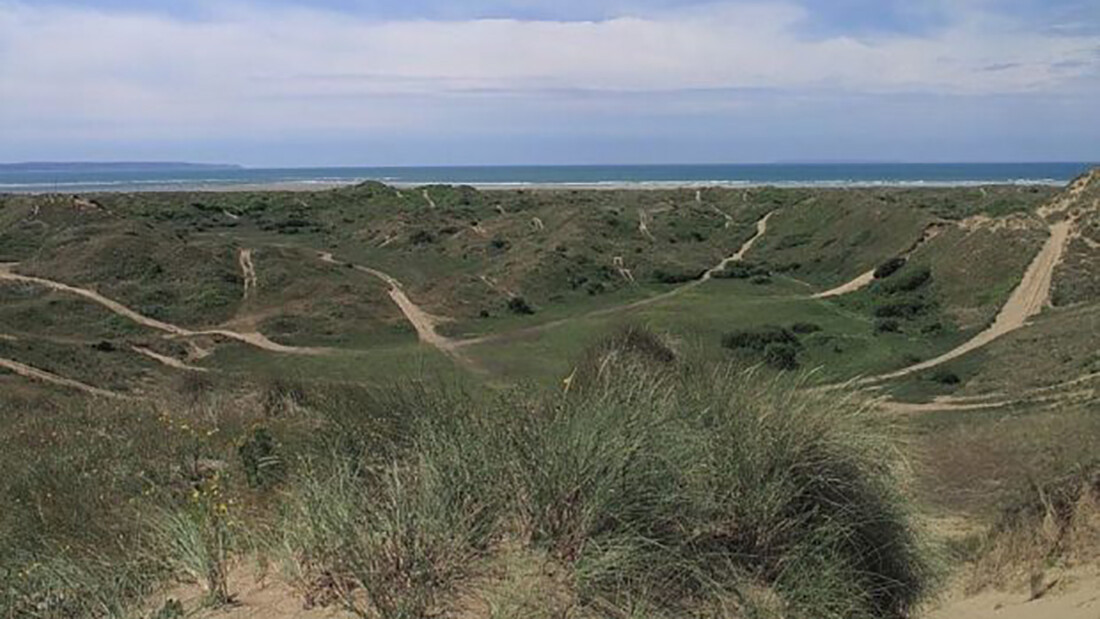 North Devon beaches further afield
We've explored the beaches neighbouring Woolacombe in this beach guide. If you'd like to explore surrounding areas further out from North Devon's Golden Coast, then head from Lee Bay and Ifracombe to Combe Martin in a northerly direction and over the Taw river into Torridge from Instow Beach and Westward Ho! around Bideford Bay to Hartland Point in the opposite southerly direction towards the North Cornwall coast.
More useful beach guides for North Devon
How do you make the most of your beach time? Read the guide how to prepare for the perfect beach day >
What to do when you're on the beach? Check out the beach beach activities at Woolacombe Bay >
Can you bring your dog to North Devon beaches? Discover this and more in the dog friendly Woof Guide >
Want to give surfing a go? Take a red through our Woolacombe surfing holidays guide >
Ready to time the tides? You'll get the most out of a seaside holiday if you plan to know when high and low tides take place. Take a look at the Woolacombe Beach tide times >
Where to stay next to Britain's best beach
Whether you want a caravan or lodge to rent or camping by the coast is on your agenda, then you'll find our Parks all within walking distance of Britain's best beach... plus with 3 Parks for the price of 1 packed full of activities then why go anywhere else? Answers on the back of a very small postcard!