Walking in Woolacombe
Amazing coastal views, miles of golden sand, tree-lined country paths and outstanding rugged cliffs, we love walking in Woolacombe. North Devon was made to be discovered on foot, with Woolacombe Beach on your doorstep and others like Combesgate Beach not far behind, there is plenty to explore. Aside from beaches, you're in the mood for country fields or wooded adventures, we have everything in and around our beautiful village.
We've put together a small guide to Woolacombe walking, with some of our favourite routes to suit all abilities – families and dedicated hikers alike.
Short Woolacombe Walks
Esplanade & Barricane Bay
0.5-1 miles | 30 mins | Very Easy
If you're out with the family and just fancy something easy, then take a stroll along the Esplanade towards Barricane Beach. Starting right in the heart of the village, you'll pass rows of camper vans to discover lovely grassed areas with a many a bench to perch on to enjoy the cliff-top views over to Baggy Point near Croyde. Walk along the grassy trail or opt for the pavement if you have a stroller or chair.
You'll be rewarded with spectacular views of Barricane Bay, a glimpse of the idyllic Mortehoe village, our much-loved Lundy Island out to sea and even Hartland Point in the far distance. Look out for the lighthouses when walking in Woolacombe during the evening.
A very pleasant walk, there and back again, for the whole family. If you're feeling a little adventurous then Barricane Bay is a beautiful secluded cove, just waiting to be explored.
Woolacombe Warren
1 mile | 30 - 40 mins | Moderate
Starting from Marine drive, you'll follow a circular route through the nearby sand dunes, down onto the beautiful beach and back up. This moderately easy route includes a stretch of the famous South West Coastal Path with coastal and dune views, plenty of wildlife, birds and gorgeous wildflowers in the summer months.
You'll have lots of parking space and the route is dog friendly. You also have the option to walk a little further, down to the shoreline and back, or into Woolacombe village. Find full route details from the National Trust here.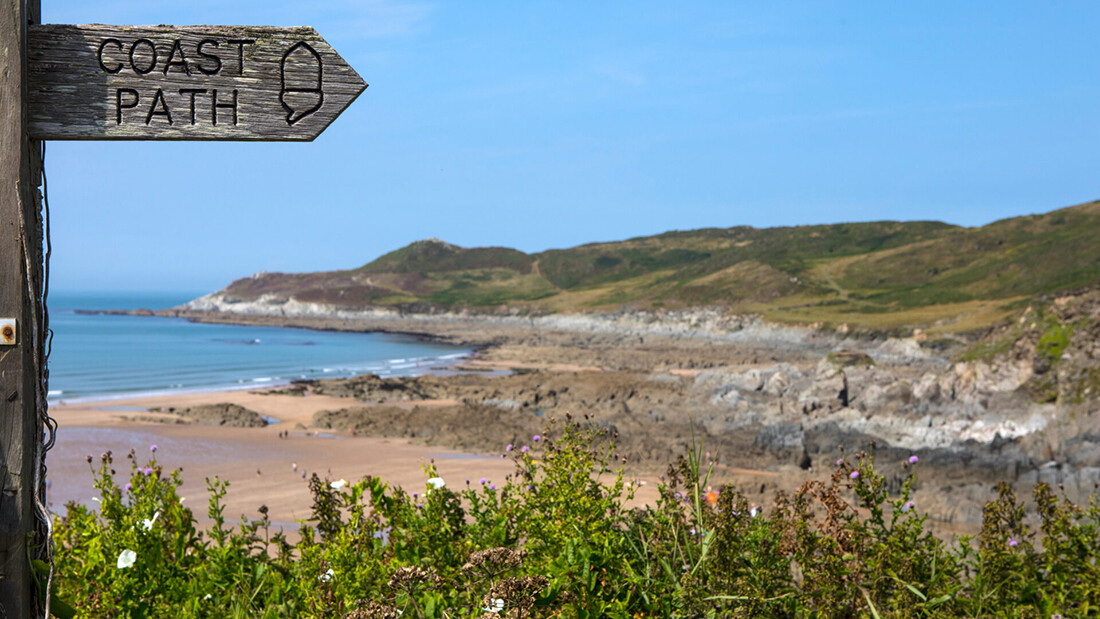 Walking further in Woolacombe
Woolacombe circular
3 miles | 60 - 80 mins | Fairly Easy
If you enjoyed shorter walking routes in Woolacombe, then this is your next adventure. This beautiful route can be joined from the village, or you can start walking from Twitchen House or Easewell Farm. You'll wander along secluded valleys (or combes), through woodland filled with wildlife and picturesque pools. Enjoy a very different view of Woolacombe as you walk from the seafront, across a spring and enjoy this hidden little trail. Very dog friendly and a nice work out for the little ones as they spot fish in the ponds.
A little muddy in wetter weather, but worth it no matter rain or shine. The National Trust have a full guide here.
Potters Hill and Woolacombe Down
3 miles | 45 mins - 2 hours | Moderate
After a steep hill climb, you'll be rewarded with spectacular views. This walk can be shortened if you're short on time, but we highly recommend taking the time to trek the whole route. Dog friendly, with ample parking in Marine Drive and benches well-placed for those memorable photographs, it's one of our most favourite walks in the area, taking in the downs and the dunes, with continuous views of the stunning coastline.
You'll again find yourself on the South West Coast Path and your legs will beg you to follow the trail wherever it may lead, it's very easy to spend the day on these fantastic paths. If you love walking, Woolacombe is the place for you. More details available here.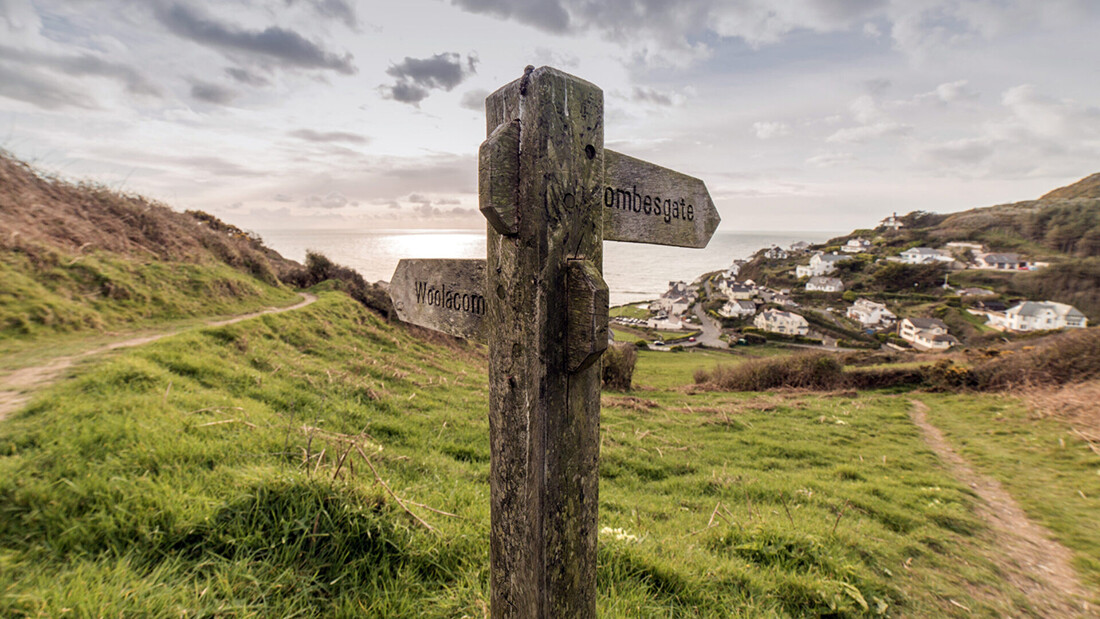 Long Walks in Woolacombe
Woolacombe to Putsborough
5 miles | 2 hours | Easy
Sometimes all you want is a lazy stroll along miles of glorious golden sand, with waves lapping your feet and sea-spray in your hair. Head straight to the best beach in England, Woolacombe Beach, from any part of the village and enjoy miles and miles of unbroken beach. Woolacombe village sits at one end and Putsborough Sands beach the other as you head towards the towering cliffs and Baggy Point.
Move away from the busier parts of the beach and find yourself a secluded spot to sit and watch the world go by. Take a picnic and sit on the Putsborough Sands rocks with the family as the kids jump into the warm pools left by the receding tide. Take your time, enjoy the breeze and you'll find you've walked five miles without a care in the world.
Fancy a challenge? Add some adventure by climbing up and along to Baggy Point, it's more effort but well worth it to look back along the magnificent stretch of sand to the village. You'll be able to glimpse Croyde Bay in the other direction too.
Morte Point and Bull Point
6 miles | 3 hours | Challenging
If you're looking for a challenging day of walking in Woolacombe, this is it. A good six-mile trek, sometimes rocky underfoot, you'll need your walking boots and a strong pair of legs. Smugglers once used the coves you'll pass, with the occasional wreck still visible at low tide too. You'll start in the charming Mortehoe village to follow dramatic coastline and headlands, filled with wildlife and lots of fresh air to fill your lungs.
Lighthouses and sandy beaches dot the way, the occasional seal may pop its head out, you'll even spot them basking on the rocks. As you walk from Morte Point to Bull Point be sure to check out the little coves, both Bennett's Mouth and Rockham Bay are waiting for your boots, with rockpools to explore. You'll have a spring in your step over the heathland too, a perfect day of walking in Woolacombe. You'll find a map and further details here, as well as many other routes.