Find out more about Woolacombe Bay Holiday Parks
Each Park is truly great, but we believe they're even stronger together. So when you stay at one you can use the activities and entertainment on them all. Keeping it simple like that makes your holiday a real one-off, real time together. So what makes us different?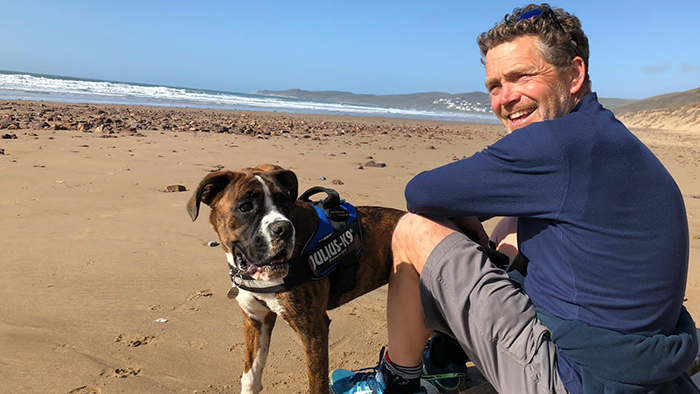 Family holidays for over 45 years
"Family owned and run we strive to make your holiday like we want our's to be. Easy, relaxed, fun, good vibes and friendly faces. Full of facilities, set in an area of outstanding natural beauty and beside the best beach in the country. What's not to love?"
Rudi Lancaster
Owner & Managing Director
Our mission
We're family owned, and always have been, so that means we put your enjoyment first because we think big smiles make many happy returns. So we know the last thing families want is any hidden costs and that's why we've included so much but if there has to be an extra cost we show it upfront. We like to innovate and that's why you'll find unique experiences and activities on our Parks. Plus when you stay at one of our Devon Holiday Parks you can use the facilities and activities on them all and all the entertainment on the Park you're staying at... it means you never miss out on anything!
Like us, North Devon is a no-nonsense sort of place, where you really can take things at face value. That's why we've kept our Parks distinctly local. We wanted to give you the proper, authentic holiday experience that you crave, freed up from big corporations always out for profit. We started out family owned, we started out local and we very much still are. And we consider our team members to be part of the family too. They all live here or have chosen to become part of the community, they're the genuine article and eager to welcome you.
So hopefully you'll think that our personal approach gives us a good insight into what you want from your holiday and it's the attention to detail that we think sets us apart. We like to keep things simple.
Keeping you healthy on holiday
Your wellbeing and that of our team members is always our absolute priority so we are constantly reviewing our processes because we know the advice is ever changing. But what never changes is our commitment to helping you escape the four walls of home to enjoy a relaxing break in beautiful, natural surroundings here next to Britain's best beach that is safe, fun and follows all the current Government guidance.
Our Devon Holiday Parks are all entirely owned and operated by us... all of our modern self contained Holiday Homes belong to us meaning you won't be staying in someone else's sublet caravan or lodge. Team members work for us from cleaners and receptionists to chefs and waiters, and where our shops are expertly run by Nisa they follow the highest standards too. Put that all together and you can feel reassured we've got your interests covered.
Constant investment every year
All this doesn't mean we've stood still. We're always looking for new ways to make your holiday better, which is why we invest so much into our Parks every single year. Because we happily don't answer to shareholders, only to you our customers, your enjoyment really is our top priority. We've spent over 45 years working hard to exceed all your expectations. And we do that by throwing away the rulebook and challenging ourselves to bring you more choice, better quality and unique experiences. You know it's why so many guests come back and why we spend about £5 million every year to stay at the top of our game.
Protecting our environment
Because we're justifiably proud of our Devon heritage, and we'd do anything we can to protect it, we invest in that too. We're well within an area of outstanding natural beauty, so sustainability is big on our agenda. Even our newest caravan Holiday Homes are super eco-friendly. You know, we want to be here for a very long time.
We take our environmental responsibilities very seriously and we make huge steps each year to reduce our carbon footprint by recycling, reusing and reducing our use of natural resources from water and gas to electricity, the latter all comes from 100% renewable sources. But it's not just the big bits that matter... we've taken lots of significant small steps like no longer sending out printed brochures, removing single-use plastic wrapping from our accommodation cleaning packs, switching out plastic straws for paper in all our bars, and replacing older vehicles with more efficient ones.
Registered office
Woolacombe Bay Holiday Village Ltd., 30 Bear Street, Barnstaple, Devon EX32 7DD
Registration number: 01853817. VAT number: 409 0253 79
Our registered office isn't our head office, it's where the firm of jolly nice accountants we used is based. Please don't write to them because they just have to put it into the post to us so it takes longer to get your letter. And please don't pop their address in your sat nav, it's a good excuse for a shopping trip in Barnstaple but you'll get "are we there yet" for another 15 miles on your way to our Parks.
Companies
"Woolacombe Bay" and "Woolacombe Bay Holiday Parks" are trading names of Woolacombe Bay Holiday Village Ltd. This website is owned and maintained by Woolacombe Bay Holiday Village Ltd who provides marketing, sales and administration services trading as Woolacombe Bay Holiday Parks.
The Board of Directors, in line with their duties under s172 of the Companies Act 2006, act in a way they consider, in good faith, would be most likely to promote the success of the Lancaster Leisure Group for the benefit of its members as a whole, and in doing so have regard to a range of matters when making decisions for the long term. Key decisions and matters that are of strategic importance to the various companies in the group are appropriately informed by s172 factors.
There is an open and transparent dialogue with our key stakeholders, we have been able to develop a clear understanding of their needs and monitor their impact on our strategic plans. As part of the Board's decision-making process, the Board considers the potential impact of decisions on relevant stakeholders whilst also having regard to a number of broader factors, including the impact of the Company's operations on the community and environment, responsible business practices and the likely consequences of decisions in the long term.
Illustrations of how s172 factors have been applied by the Board can be found throughout the recent Annual Reports and Accounts.
For example; continual investment into maintaining and where possible improvement of the high standards of accommodation offered throughout the group. There is also significant employee involvement throughout the businesses with regular meetings and information is exchanged on performance and strategy and training provided to assist the employees in delivering the high standards of customer service expected across the group. In addition, end of season 'exit interviews' are regularly held to obtain active feedback on the staff experience and identifying any areas of improvement. The group maintains very good relationships with its suppliers and uses a wide mix of national and local firms depending upon expertise, pricing, standard of delivery and reliability. As part of this key relationship suppliers are all paid on a timely basis. With the large influx of visitors to the holiday parks and also hotel which are all in the North Devon region, it is important that the group maintains and promotes good relationships with the local community. The operational directors are resident within the local area and are actively involved within the community to ensure that the Lancaster Leisure Group continues to have a positive impact on the area. As part of this, the environmental impact of the groups operations are frequently reviewed to ensure that best practices are being followed.