Visitors Guide to Mortehoe
This Mortehoe guide is here to help you explore this picturesque little village, it is the perfect place if you are looking for things to do near Woolacombe.
Located almost directly above Woolacombe, Mortehoe is full of coastal walks, local tea rooms and family friendly pubs. Mortehoe is surrounded by sweeping coastal paths, so is best explored on foot. So take a wander to enjoy the dramatic cliffs and spectacular scenery.
Mortehoe's car parking & hidden beaches
Parking in Mortehoe
Mortehoe Car Park, Mortehoe EX34 7DT
Located in central Mortehoe is the local pay and display car park. Reasonably priced and conveniently located, you'll only be a short stroll from enjoying this ancient little village. northdevon.gov.uk/parking/council-car-parks/ilfracombe-car-parks/mortehoe-car-park
Mortehoe is also easily walkable on foot from both Twitchen House and Easewell Farm, in fact technically these two Devon Holiday Parks are in Mortehoe!
Rockham Beach
Also known as Mortehoe Beach as it sits below and is accessed from the far eastern end of the ancient village of Mortehoe and near to Easewell Farm. Rockham Beach is one for the fit as the mile long steep path to get down to the beach is fairly demanding, especially when carrying all your beach gear. Beach is not patrolled.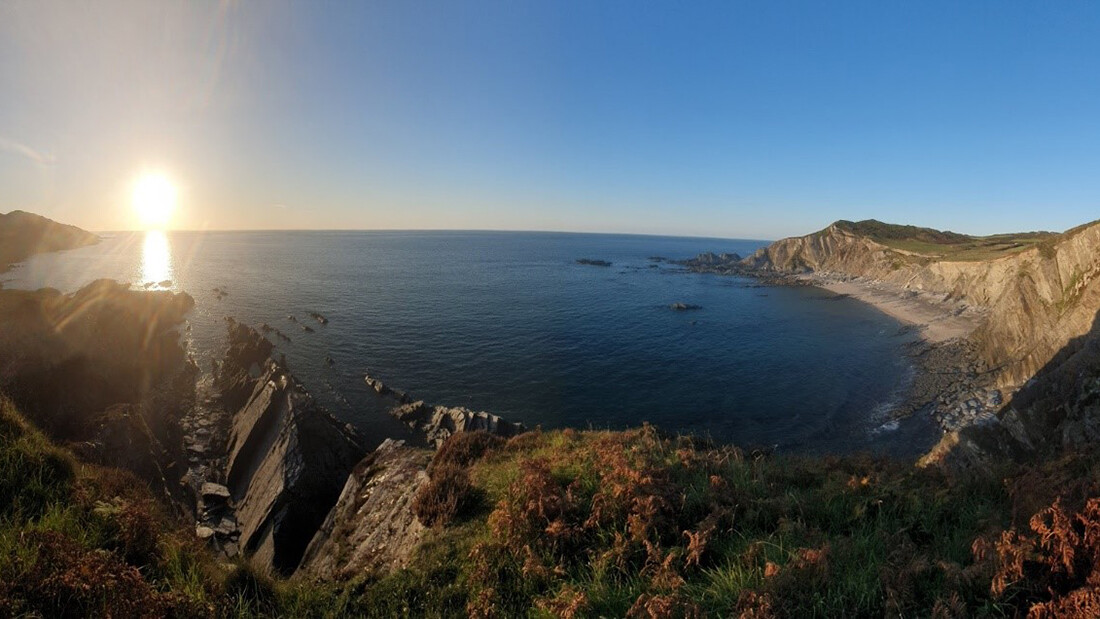 Mortehoe's local walks
Morte Point
Within the rolling hills of Mortehoe, to the very right of Woolacombe Sands Beach is the most rugged point of all. As the waves crash against this rugged cost you will often see the hidden rocks which have claimed many ships to the ocean. Morte Point is notorious for the most disastrous shipwrecks in the late eighteen hundreds. Move over Cornwall, this is the real shipwreck coast! So it's no surprise Morte Point translates to "death point". Centuries later this route is explored for the most striking scenery and ocean views which stretch as far as the eye can see. For the more experienced walkers, you can follow this walk for miles but for families take a stroll to the point and turn back the way you came.
Bull Point Lighthouse
This ramble is just a short walk from both Twitchen House and Easewell Farm. If you can take your eyes off the coast, you will often spot the colony of seals bopping through the ocean. Take the stroll from Mortehoe car park or follow the footpath signs on Easewell Farm, and follow this relatively flat (for Devon!) route to the lighthouse and back. Perfect for families and pushchairs too.
Morte Point to Bull Point Lighthouse
With such a rugged coast you will not be far from spotting something pretty special, as you pass Rockham Bay along the way, can you spot the shipwreck at low tide that now belongs to the ocean? This walk will bring you back out almost where you started, only passing the local pub on the way back, surly after all that walking you have earned a cold one?
Check out routes for walking in Woolacombe area and 3 walks around the Woolacombe Coast not to miss for a range of trails from very easy to challenging, but always stunning!
Mortehoe's places to eat and drink
Holiday days and day trips to the North Devon coast can be action-packed, so it's only natural your evenings may end with dinner on the go or maybe an evening at our local pubs where refreshingly cold drinks and delicious pub grub is plenty. Mortehoe is home to two of the most characteristic family friendly pubs, so take your pick from The Ship Aground or The Chichester Arms and enjoy a real Devonshire family meal out.
The Ship Aground
The Ship Aground is spread across 2 floors, with plenty of room for families and four legged friends. You'll be spoilt for choice with a menu offering a great variety with daily specials and local beers and ciders to wash it all down. shipaground.co.uk
The Chichester Arms
Families and four-legged friends, this traditional pub is suitable for the whole gang. Serving a variety of pub meals for everyone and with their own private car park outside, it's certainly convenient for families. chichesterarmsmortehoe.co.uk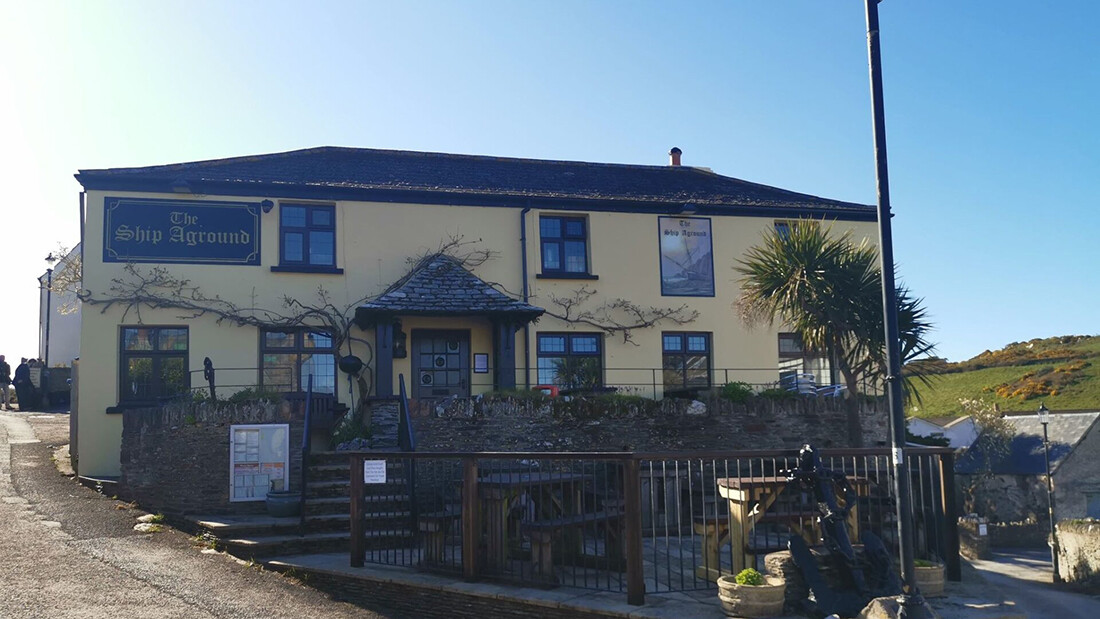 Mortehoe's takeaways & food on the go
Mrs Fea's Bistro at The Smugglers Rest
We could not tell you about Mortehoe without bringing to light the wonderful Mrs Fea's Café. Treat yourself to a slice of homemade deliciousness or maybe even a cream tea. I am sure you have already earned it, after all, that exploring. But remember you're in Devon now, so it's always jam on top! thesmugglersrest.co.uk/miss-feas-bistro
The Town Farmhouse
With the most idyllically located tea gardens for you know what... yes, traditional Devon cream tea! You can enjoy the beautiful surroundings with a belly full of freshly made cakes. thetownfarmhouse.co.uk
Mortehoe Seafood, Fish & Chips
What's a holiday at the seaside without fish and chips? More importantly, what's a holiday at the seaside without the best locally sourced chip supper? Enjoy food freshly baked to each order and take a drive to enjoy fried fish with a view. We wouldn't enjoy seaside snacking any other way. mortehoefishandchips.co.uk
Easewell Barn Café and Takeaway
You dine here once and you'll be back for more. Easewell Barn takes the ease off holiday cooking with freshly made food served all week long. We highly recommend a trip out for breakfast or Sunday carvery and with and with free parking right on the doorstep, it's a perfect stop for a hassle-free meal out.
Rockleigh House Takeaway
Serving homemade food packed full of flavour, Rockleigh Takeaway is located in the heart of Mortehoe and locals rave about it. rockleightakeaway.com
Places to stay in Mortehoe
Mortehoe is an area of natural beauty so wherever you stay, you will be surrounded by beautiful scenic locations with spectacular views. Wherever you decide to stay you will be centrally located, with everything on your doorstep, including those unforgettable views.
Twitchen House Holiday Park
This charming Edwardian manor house is located within a relaxing woodland surrounding. With a lovely laidback feel with action-packed facilities on Park to enjoy. You will struggle to fit everything in with swimming pools, 80ft speed slides, entertainment, nature and bush craft activities and so much more.
Easewell Farm Holiday Park
Back to basics for this tranquil campsite with a big heart. It's all about spending quality time together with the added bonus of an onsite pool, sea view golf course, family-friendly pub and use of over 40 free facilities across Easewell Farm's sister sites (all located within 2 miles). We think Easewell Farm offers the full coastal camping package, with the most idyllic location with plenty going on for days out and about.
Top things to do in Mortehoe
Mortehoe and Woolacombe Seaview Golf Course
As you make your way from tee to tee, you will need to take a moment to take in the tranquil beauty of the coastal surroundings. Best of all, this sea view golf course is located at our very own Easewell Farm. woolacombegolf.co.uk
Mortehoe Museum
Located in the very heart of this little village, you will find out all about the smuggler past and history of 'Old Morte' at the Mortehoe Museum, find out where the smuggler's shipwrecks still lay on our coast to this day. With an outside play area to keep your little ones amused and a great little spot to enjoy a family picnic. Just for extra convenience, the local pay and display car park is right outside. mortehoemuseum.org.uk