Visitors Guide to Woolacombe
Woolacombe is famous for its incredible beaches and pumping surf. As one of North Devon's finest coasts, you'll find breathtaking views and spectacular award winning beaches. So whatever your day at the coast, this Woolacombe Guide is here to help you plan that long awaited seaside holiday.
It really is no secret that Woolacombe has one of the most striking beaches, but don't just take our word for it. Woolacombe Beach is frequently named the best in Britain. This comes as no surprise to anyone in the know; miles of golden sand, rolling waves and soft sand dunes. This is what seaside holidays are all about. But best of all, each of our three North Devon Holiday Parks are just a hop, skip and a jump from one of the best beaches in the world.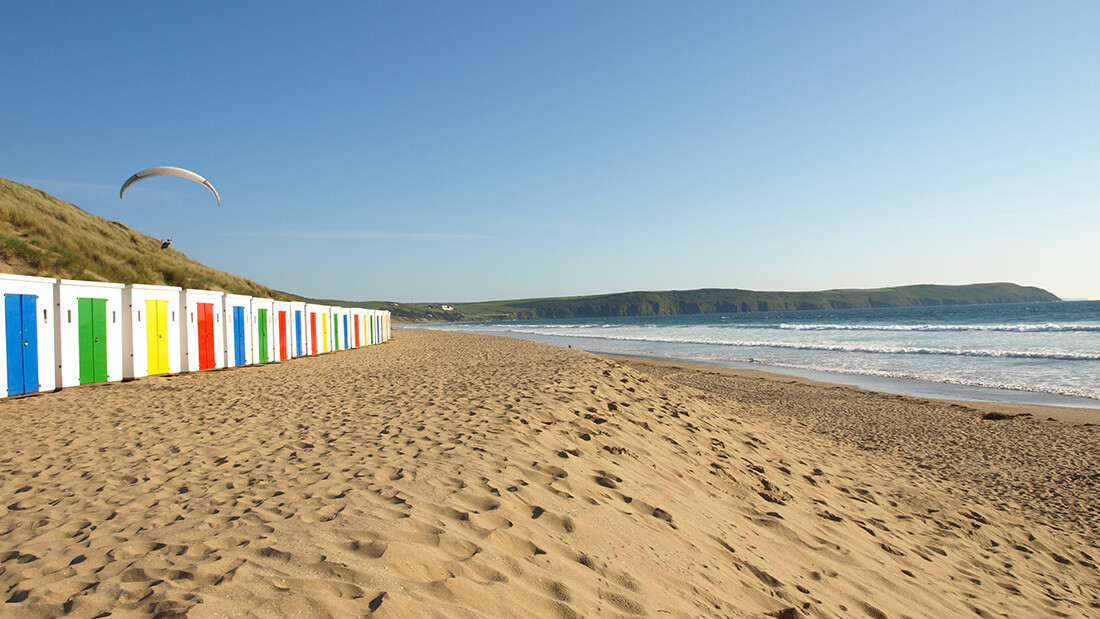 Woolacombe's car parking & sandy beaches
We may be biased but our breathtaking North Devon coastline is nothing but spectacular, and here in Woolacombe the golden beaches are at their very best. Rolling surf, magnificent cliffs and proud headlands all alongside the softest sand and the scent of salty sea spray.
Parking in Woolacombe
Esplanade, Woolacombe EX34 7DL
Roadside parking bays along the wide sweep of coastal road to Mortehoe ideal for short stays. Operated by North Devon Council, parking charges from mid-March to October start at 50p for 30 minutes and go up to £4.90 for the maximum stay of 4 hours.
Parkin Estates Esplanade Long & Short Stay Car Park, Woolacombe EX34 7DJ
Located right on the seafront, this car park is the best location to access Woolacombe Beach, local shops and restaurants especially with a pushchair or those with more limited mobility. Parking charges vary from £5 to £12 per day with reduced prices for visitors leaving before 1pm or arriving after 6pm. parkinestates.co.uk/useful-info
Sandy Burrows Long Stay Car Park, Woolacombe EX34 7BN
With easy access to the beach, this car park is for those heading straight to the beach. This is the shortest walk for all heading to the pet-friendly entrance. parkinestates.co.uk/useful-info
Marine Drive Car Park, Woolacombe EX34 7DX
Positioned with direct access on to the South West Coastal path. This is the top location for those off walking in Woolacombe. As well as access to the beach through the dunes and a lovely little cafe to enjoy on the way back to the car. Parking charges in the season vary from £5 to £12 per day and this car park is operated by Mortehoe Parish Council.
West Road Car Park, Woolacombe EX34 7BW
Directly opposite the famous Red Barn and waffle hut in the centre of the village, this small car park is well located to be in the very heart of Woolacombe with easy access to the beach and public toilets close by.
There are roadside parking bays in the very centre of the village by the shops for quick visits, please check the signage for restrictions.
You can also walk to the beach from all three of our Devon Holiday Parks and the closest to Woolacombe Beach is Woolacombe Bay and to the Combegate Beach which is most easily reached from Twitchen House.
Out of Summer, you may find the car parks are slightly quieter too, which is one of the reasons why we love a Spring or Autumn holiday here at Woolacombe Bay Holiday Parks.
Woolacombe Beach
With 3 miles of golden sand between your toes and plenty of room to enjoy family days out. This eye-catching RNLI lifeguarded beach offers a perfect day out for all families and children of all ages. As well as a great family day out, this is a ideal location for thoses who want to take the plunge and learn to surf. The iconic multicoloured beach huts are available for rent in advance.
Middle Beach & Marine Drive Beach
Nestled in between Putsborough and Woolacombe Beach is Middle Beach, take a stroll through the golden sand dunes to find a perfectly distanced spot with plenty of room to hang ten. Even in the busy Summer months, Middle Beach is often quieter. This beach is a perfect location for families, who prefer a quieter beach experience.
Putsborough Sands Beach
Located at the very southern end of Woolacombe Beach is Putsborough Sands. You can enjoy the best mix of dramatic cliffs, rock pools, and sandy bays. This beach is the perfect location for families who like to explore and relax. Also, a highly popular location to walk (especially with dog walkers), as many visitors park up in Woolacombe and take the 5-mile stroll along the beach and back. Best of all as you reach Putsborough Sands, a lovely café awaits serving divine Devonshire cream teas. You have earned it after all!
Harris, Gin & Shellsborough Beach
Take a stroll across the esplanade and find this little hidden gem of Harris, Gin and Shellsborough. This location is perfect for all families with a sense of adventure. Get your buckets and nets at the ready and head on down to a beach that offers a wonder of surprises the high tide left behind.
Grunta Beach
Accessible only at low tide, so make sure you check the times before setting out, this tiny little cove is suppposedly so called because of a shipwrecked on the beach full of pigs. The locals supposed heard the grunts and squeals of the ship's cargo and the name stuck!
Barricane Beach
Sandwiched in the middle of the many cove beaches along the esplanade is the prettiest one yet. The sea is clear, the view is extraordinary and rockpools are aplenty. Barricane Beach is perfect for families with older children who like to explore. Throughout the spring and summer months, a small cafe will be craned onto the beach. Serving delicious baguettes throughout the day and their famous Sri Lankan curry by night. It certainly will be a meal with a view!
Combesgate Beach
Located between Grunta Beach and Barricane Beach you'll find this quiet, hidden gem we know as Combesgate Beach. Follow the sweeping steps onto this quiet rocky beach. If you are looking to go shell hunting this is the greatest beach for you.
The sunshine is above average here too, so don't forget the suntan lotion while enjoying our glorious beaches. Discover more in the complete beach guide to North Devon's Golden Coast and explore more about dog friendly beaches in the Woof Guide to Woolacombe.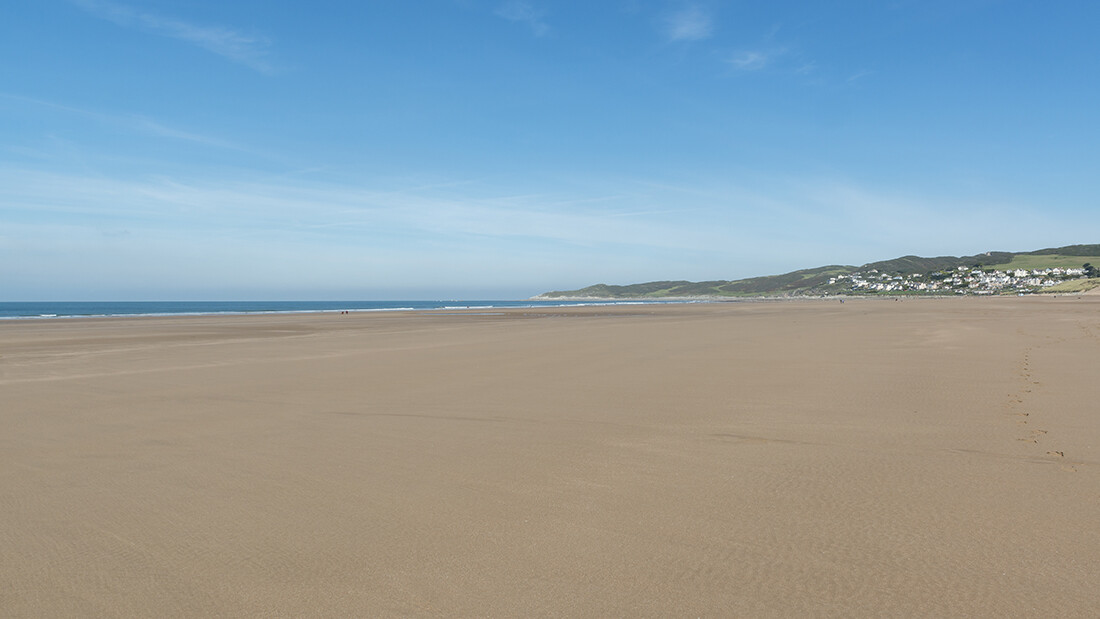 Woolacombe's local walks
In this area of outstanding beauty, you will only ever be a short stroll from some of the most breathtaking views. Take a look at our guide to walking in Woolacombe and 3 walks around the Woolacombe Coast not to miss but if you don't want to venture so far here's a few walks where you stay fairly close to the village:
Potters Hill
A moderate walk from Marine Drive Car Park, take the stroll up Potters Hill and beyond if you wish. This steady walk offers the most picturesque view from the top. nationaltrust.org.uk/trails/mini-mountain-walk
Woolacombe Downs
A moderate walk starting at Marine Drive Car Park with a few hills along the way. But a stroll up Woolacombe Downs is worth it for the breath taking panoramic views from the top. This route offers so many variations, so this can be a personalized route depending how far you would like to go. nationaltrust.org.uk/trails/potters-hill-and-woolacombe-down-walk
Sandy dunes
An easy stroll with spectacular scenery, take the ramble between the dunes and back along the beach.
South West Coast Path
In Woolacombe coastal paths are plenty. But if you are looking for a beautifully scenic route then we highly recommend following the South West Coastal Path. Plan your idyllic coastal route, through the National Trust link here.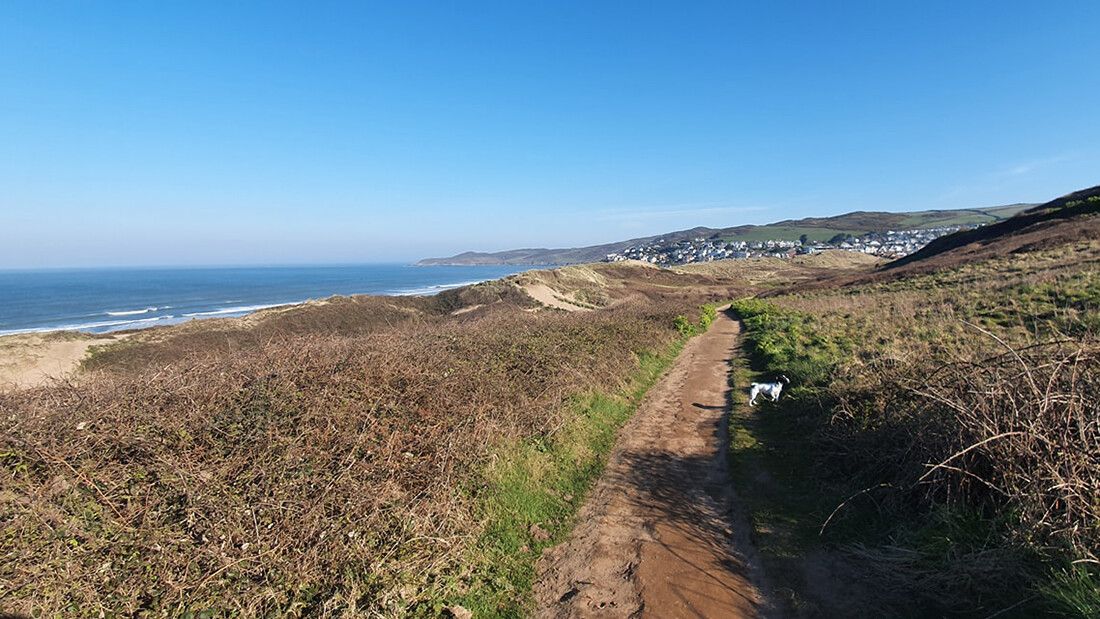 Woolacombe's best places to eat and drink
There's so much choice you need a whole separate guide... so here it is, our guide to Woolacombe's best pubs and our recommendations for the best family-friendly places to eat in Woolacombe.
When it comes to shops and supermarkets in Woolacombe, as well as the tourist information centre in Woolacombe, there's a guide to Woolacombe local amenities here too!
Woolacombe's takeaways & food on the go
Woolacombe Fryer
We know that a trip to the seaside and fish and chips go hand in hand. Woolacombe Fryer is located less than 5 minutes from the esplanade. So grab your take out and head down to the esplanade for a chippy tea that overlooks the beach. woolacombefryer.com
Gobble Box
Whatever your taste, Gobble Box has got you covered. Serving the most divine buttermilk chicken, ultimate burgers, fresh seafood and options available for vegans and vegetarians. This highly popular takeout is a must-try while you are in Woolacombe. A favourite is the mouth-watering buttermilk chicken. gobbleboxwoolacombe.co.uk
Woolacombe Bay Pizza Company
Serving up delicious freshly made pizzas, burgers and sides right in the very heart of Woolacombe. So, call ahead or pop by to place your takeaway order. A firm favourite with the locals and often the last takeaway open for those late-night treats. woolacombepizza.co.uk
Fudgies Bakehouse
What's a trip to the South West without a proper local pasty? Fudgies serves the finest Devon pasties, with the largest variety of fillings.
Sea Breeze Ice Cream & Coffee Shop
With the largest selection of ice creams, how will you ever choose your favourite? After all what's a holiday, without a little overindulging! seabreezeicecream.co.uk
Big Chief Waffles
Enjoy speciality waffles cooked freshly to order just the way you like them. As the smell of waffles fills the air, will you be able to resist?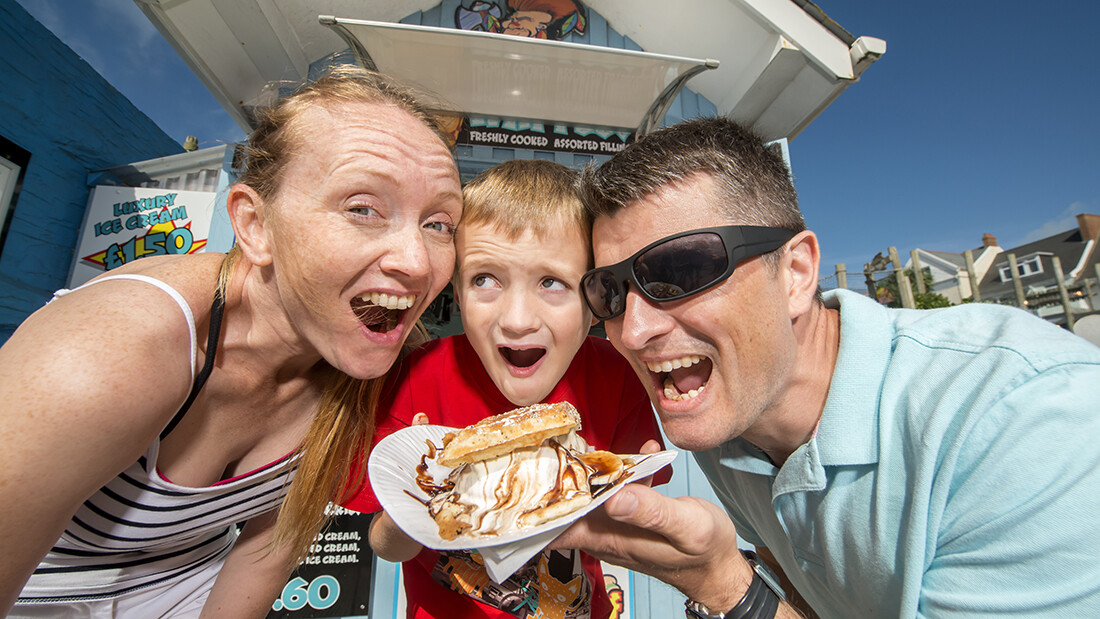 Places to stay in Woolacombe
All our three caravan and camping parks are a stone's through from Woolacombe and can all be easily accessed on foot, cycle or car. Woolacombe Bay Holiday Park has stunning views right over the huge sweep of the bay, and whilst Twitchen House Holiday Park and Easewell Farm Holiday Park are technically in the neighbouring village of Mortehoe but they're all so close you wouldn't know.
At our holiday parks you can enjoy:
Family-friendly activities
Heated swimming pools
Stunning seaside views
Spa experiences
On-site food and drink
A short walk to Britain's best beach
Take a look at our current special offers to book your Woolacombe family holiday.
Top things to do in Woolacombe
If you can drag yourself away from the beach whether you're flip flops or body board in hand, you'll soon realise there is so much more going on in and around this beautiful seaside village.
Funder Island
Funder Island is a greatly popular one with the kids, centrally located in Woolacombe with easy access. So take some time out to enjoy a family game of adventure golf, let the kids enjoy the rides or sit back and enjoy a coffee.
Mortehoe & Woolacombe Golf Club
Take time out for a relaxing game of golf in the most tranquil coastal surroundings. But best of all, this par 33 sea view golf course is located at Easewell Farm Holiday Park (Twitchen House Holiday Park is directly opposite) if you happen to be staying there. woolacombegolf.co.uk
Learn to surf
Check out the Woolacombe surfing holidays guide to make the most of your time in the waves. Then take to the sea, with skilled instructors which all have a passion for surf you'll soon be up on your board yelling with joy. But throughout the busier spring and summer months you will need to book with plenty of notice to secure your lesson. Contact Woolacombe Surf Centre.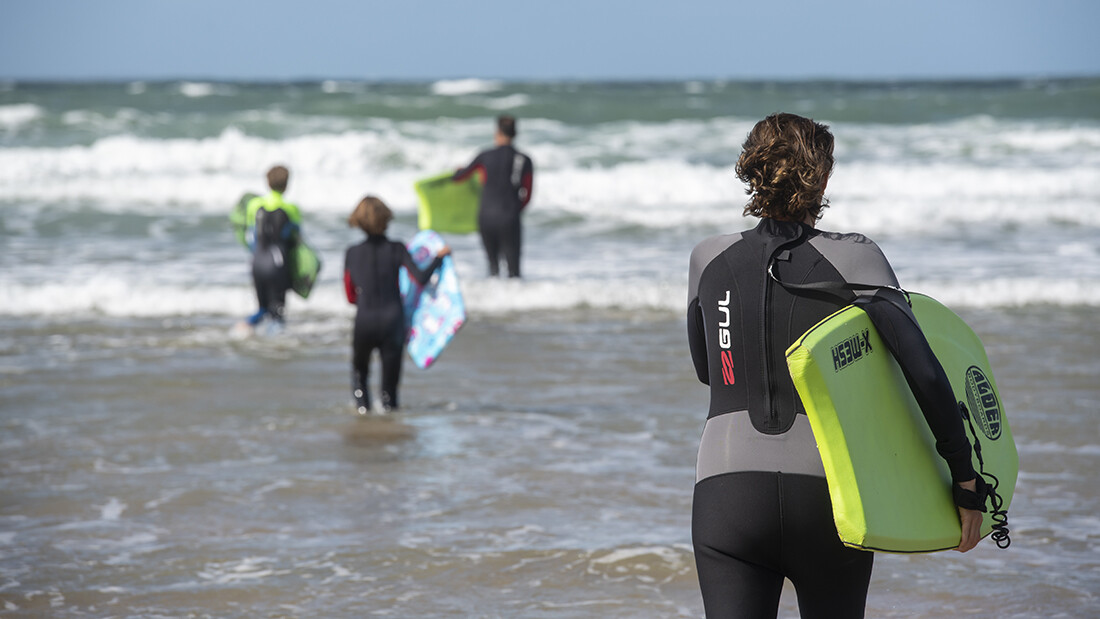 Woolacombe Bay Holiday Parks
There's an enormous range of activities and entertainment exclusively reserved for guests staying on our Parks with everything from climbing walls to adventure golf, WaterWalkerz to bungee trampolines. The the high-speed Segway safari and zorbing activities, a must for any thrill-seeking family. There's a fully equipped gym, sauna and spa for afterwards too. Don't forget about the 5 indoor and outdoor heated swimming pools across our Parks. Plus with over 40 free activities included in the holiday price and the chance to stay at one Park and use all three, it's by far Woolacombe's best choice of holiday park activities going from dawn to dusk... and beyond!
Even though there is so much to do on our Devon Holiday Parks, perhaps so much that you never need leave us, but if you fancy trying out some of our local attractions then we're here to help. One thing's for sure, there is plenty to do in Woolacombe. And, even more things to do in Devon than you ever imagined. We may even have a discount or two for our guests (just ask at reception!). We're not one of these "lock-the-gates-behind-you" holiday park operators because we love North Devon - we're from here and we really want you to get out and about and see what the area's got to offer. It's a stunning place and we want to share it.
Here in Woolacombe we really are spoilt with locations to visit and things to do in Devon. So whatever it is you choose to get up to while in Woolacombe, we hope you enjoy our little piece of North Devon.