Visitors Guide to Croyde & Saunton
World-class surf and beaches that stretch for miles, Croyde and Saunton offer some of the most incredible coastline that England has to offer.
Located within 2 miles of one another, Croyde and Saunton offer very different beach days out but both beaches are located on the most breathtaking coast with views that stretch for miles. It's no wonder that surfers will travel miles to hang ten on this beautiful coast. We have created this guide to help you find your way around these coastal towns.
Croyde & Saunton car parking & surfing beaches
Parking in Croyde
Croyde Car Park, Croyde EX33 1LX
This is the favourable carpark to use for beach days out and exploring Croyde. northdevon.gov.uk/parking/council-car-parks/disabled-car-parking/croyde-car-park
Baggy Point, Baggy Point National Trust Car Park EX33 1FF
Baggy Point is a perfect carpark location for those looking for direct access onto the South West Coastal Path. nationaltrust.org.uk/baggy-point
Throughout the busier summer months, you will find a number of surrounding fields will open up for additional car parking. These car parks will be clearly signposted.
Croyde Bay Beach
This RNLI lifeguarded beach offers a perfect beach day, along with Woolacombe is one of two beaches on the coastline with summer lifeguard cover. It's one of the smallest beaches along Devon's Golden Coast but there's plenty of rock pools for exploring and golden sands for building sandcastles, Croyde Beach is an ideal location for families with many car parks surrounding the beach. A popular spot for the more experienced surfer but with plenty of space for paddling and swimming. If you are looking to visit Croyde Beach with your dogs, you will need to visit between 1st October and 30th April, although neighbouring Woolacombe Sands Beach and Saunton Sands Beach both accept dogs all year round.
Parking in Saunton
Saunton Sands Car Park, Braunton EX33 1LD
There is just one main car park in Saunton and it's got the best location with direct beach access. This beachside location is perfect spot to park for your beach day out. sauntonbeach.info/car-park
Saunton Sands Beach
Over 3 miles long with pumping waves, this golden sandy beach is suitable for the whole gang including your four-legged friends. This sandy beach is a perfect spot for surfers of all levels and with car parking right on the beachfront, it's convenient for all families.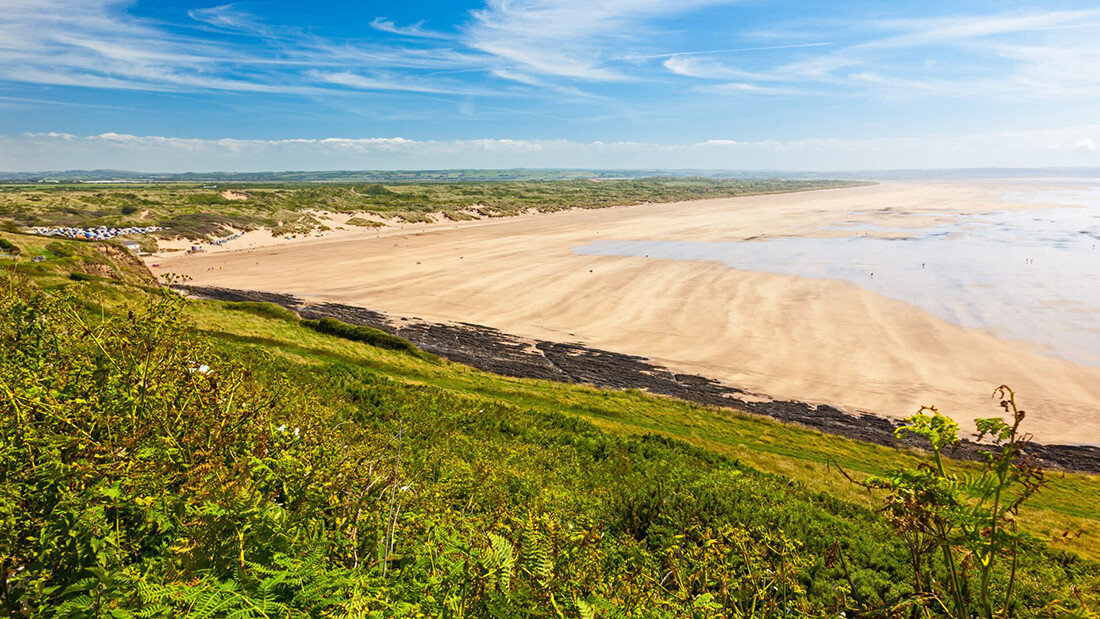 Croyde & Saunton local beach walks
Croyde Beach to Saunton Down circular
Take this circular wander from Croyde Beach up and over to Saunton Downs. After a wander across the seafront coast seafront, where this walk will take you to new heights as you climb through the rolling hills of North Devon. northdevon-aonb.org.uk
Saunton Sands Beach
Saunton Sands is 4 miles long, so whatever your ability, you can choose a distance to suit you. Your dogs can certainly burn off some steam as they run for miles. But with such a beautiful beach beneath your feet, you may want to pack your swimmers too.
Croyde to Baggy Point circular
Located to the very west of Croyde beach is Baggy Point. We highly recommend taking a stroll along these sweeping coastal paths to enjoy the panoramic views across the rugged coast. If you look closely you may even spot the remains from WW2 where the Americans trained for the battle of Normandy. Baggy Point offers a number of different routes but the most popular is the 4.5-mile circular route. nationaltrust.org.uk/baggy-point/trails/baggy-point-circular-walk-via-bloodhills-cliff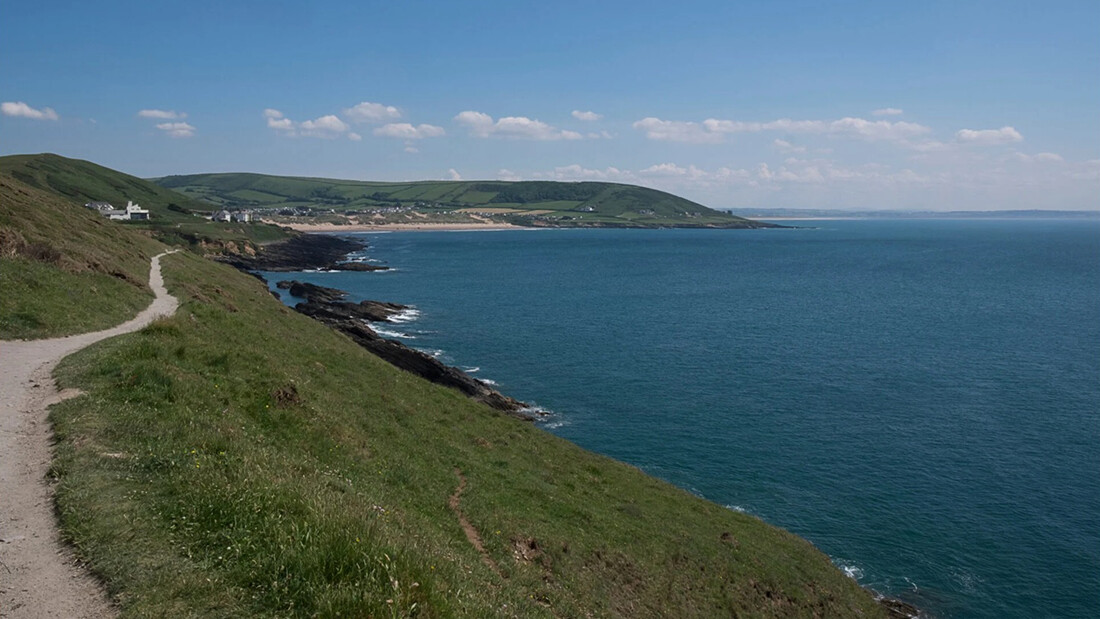 Croyde & Saunton's places to eat and drink
Whatever you choose to get up to on holiday, we know that it's all about spending quality time together. So it's no surprise to us that action-packed days out, often lead to relaxing evenings at the pub. However, choosing which pub to go to can often be not so relaxing. Luckily for you, we have enjoyed many great evenings in Croyde and Saunton so have many places to recommend:
The Thatch, Croyde
The Thatch offers a sun-trap beer garden, delicious food and a choice of local beer and ciders, what else could you want from a holiday meal out? This charming pub offers atmosphere by the bucket and delicious daily specials you must try. thethatchcroyde.co.uk
Billy Budds, Croyde
If you are looking for pub classics, burgers or nachos this is the perfect spot for you. However, it's not just about the food here, offering a huge variety behind the bar and plenty of outdoor space to enjoy a pint of the cold stuff on a summer's day. billybudds.co.uk
Blue Groove, Croyde
The Blue Groove offers delicious food for your whole table, with vegan, vegetarian and gluten-free options available. They serve scrumptious food and refreshing cocktails, this is a perfect location to enjoy an evening of cocktail with friends or family meal out. blue-groove.co.uk
The Manor Inn, Croyde
This pub a favourite with the kiddies, with a large outside play area for them to enjoy whilst the adults, sit back and relax. Equally important is the location, so enjoy the delicious variety of food in this picture perfect pub in this charming little village. themanorcroyde.co.uk
Beachside Grill, Saunton
The most idyllic beachside spot of all. If you're looking for a evening to remember, we highly recommend dinning at Beachside Grill. Serving locally sourced food, flame grilled to perfection and an ever changing view across Saunton Sands beach. beachsidegrill.co.uk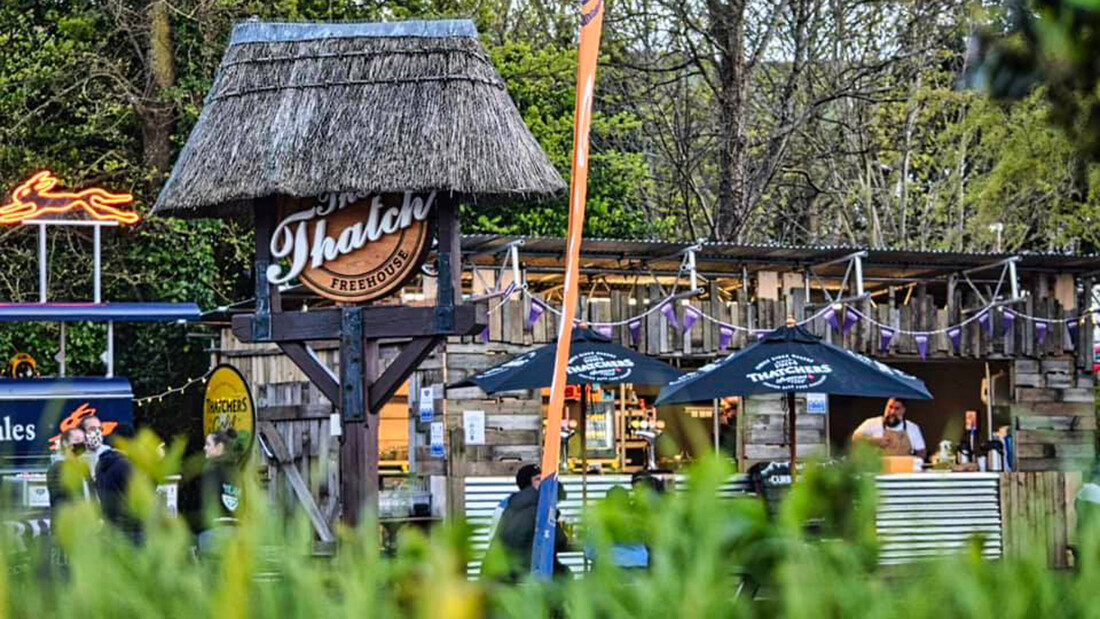 Croyde & Saunton's takeaways & food on the go
Stoned Pizzas, Croyde
After an action-packed day at the beach, this is the most delicious stop for food on the go. You will find Stoned located opposite the entrance of Ruda Holiday Park, with a variety of stone backed pizzas including vegan alternatives. stoned.org.uk
Places to stay near Croyde & Saunton
Croyde is 5.2 miles from Woolacombe Bay Holiday Parks and will take roughly 17 minutes to drive, you can find directions here.
Top things to do in Croyde & Saunton
Saunton Golf Club & Course
Just a short drive from Saunton Sands Beach, you will find Saunton Golf Club & Course. Located in the most soothing location, you will find two Championship 18-hole courses.