Devon's best reviewed beaches revealed
Devon is often ranked within the best places to holiday in the UK and with good reason; the county boasts some of the UK most recognisable and well-reviewed beaches.
As we head into the Summer season, we decided to take a look into the best reviewed beaches on Tripadvisor, looking at the top 10 beaches in Devon with the most 5-star reviews and the top 10 beaches with the best percentage of 5 star reviews. The results returned some interesting results, revealing some of the best hidden gem beach spots in the country to tap up for a bit of sun.
Woolacombe Beach remains on top
When it comes to top 10 lists of beaches in Devon and the UK Woolacombe tends to rank pretty highly, and it's one of the main attractions for our holiday parks. Located on the North Devon coast between Croyde and Illfracombe, the beach has some amazing services and activities including kayaking, walking, swimming and a range of other fun watersports.
Woolacombe emerged as a big hitter in both of our analyses, with the most 5-star reviews and an impressive 82% of all the reviews were 5-star.
Woolacombe has by far the most 5-star reviews of all the beaches analysed, with Exmouth, Westward Ho! Beach, and Tunnels Beach emerging as the closest competitors in terms of the top review spots.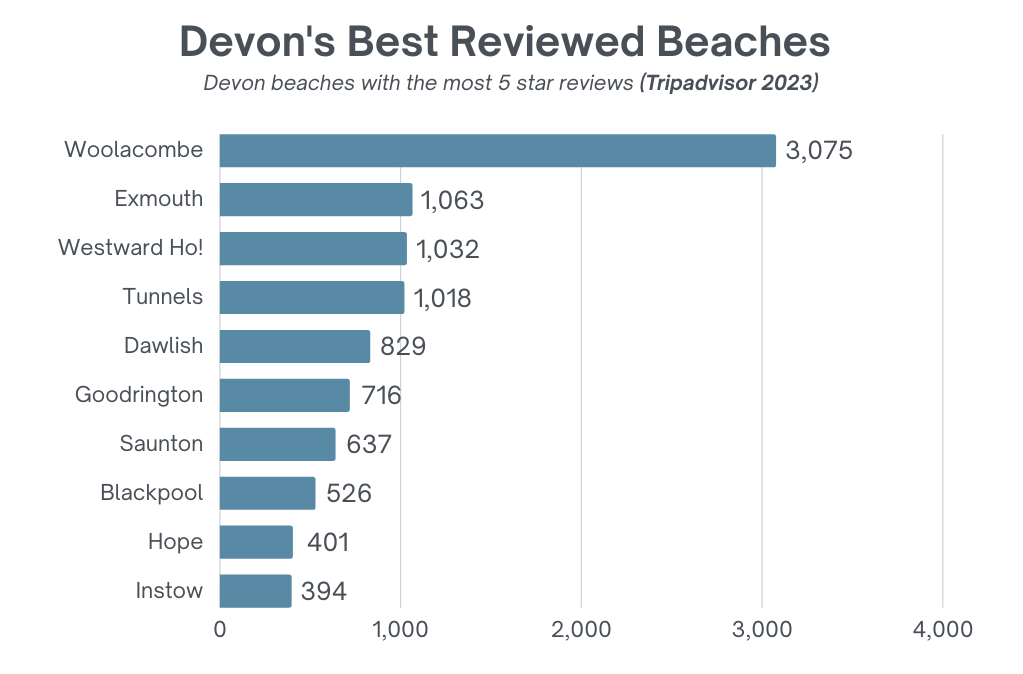 Hidden gems of Devon
In addition to the usual suspects with the most 5-star reviews, we also had a look at some of the 'hidden gem beaches' with really high percentages of top reviews even if the total review count is slightly more modest.
So who's the biggest hidden gem? Elberry Cove emerged with this title with a whopping 25 of the 30 reviews 5-star. Woolacombe Bay made the list, but Barricane Beach emerged as a very strong third place with over 4 in 5 reviews being 5 stars.
Other hidden gems on the list include Broadsands Beach that boasts some pretty amazing views and local amenities.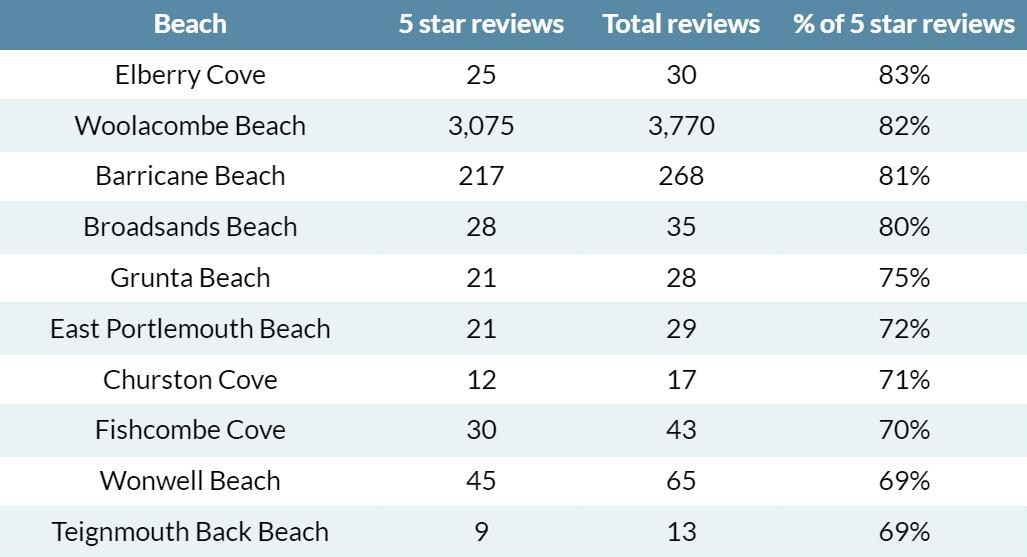 Watcombe Beach wins wooden spoon
When it comes to the worst reviewed beaches within our analysis, there were a lot of beaches with low reviews and comparatively low 5-star reviews, but which beach was the worst reviewed in terms of percentage of 5-star reviews? Unfortunately Watcombe Beach wins the wooden spoon in this one, but once again Woolacombe Bay appears to have landed the grand slam.