Visitors Guide to Ilfracombe
This Ilfracombe visitors guide is here to help you plan your days around this seaside town.
Here in North Devon, seaside towns are a plenty, but Ilfracombe is one of the most charming and not to be missed. Ilfracombe is a small town full of Victorian beauty, excellent fishing, mouth-watering food and not forgetting the iconic Verity. If you have a love for a traditional seaside town and everything they have to offer, then you must spare a day out to visit Ilfracombe whilst on holiday. We have created this handy travel guide to help you find your way around this charming little town.
Ilfracombe's car parking & hidden beaches
Parking in Ilfracombe
Ilfracombe has plenty of parking located with easy access to the seafront:
Promenade Car Park, Ilfracombe EX34 9BZ
The Promenade car park is centrally located amongst lots of places to eat and drink. If you are looking for a short walk to the harbour or somewhere to park while you grab a bite to eat, then this is the most convenient car park.
The Ropery Car Park, Ilfracombe EX34 9EF
The Ropery car park runs alongside Ilfracombe harbour. With plenty of car parking spots, this is the recommended car park when visiting on busier days. Best of all, you will only be a short stroll from all the action. ilfracombetowncouncil.gov.uk/council/parking-permits/ropery-car-park
Ilfracombe Tunnels Beach
Enjoy handcrafted tunnels as you take the wander from Ilfracombe to Tunnels Beach, where you will arrive at the most awe-inspiring beaches. Where the sea is clear, and the view stretches for miles. This private beach does come with a small charge but is certainly worth it for a full day out. tunnelsbeaches.co.uk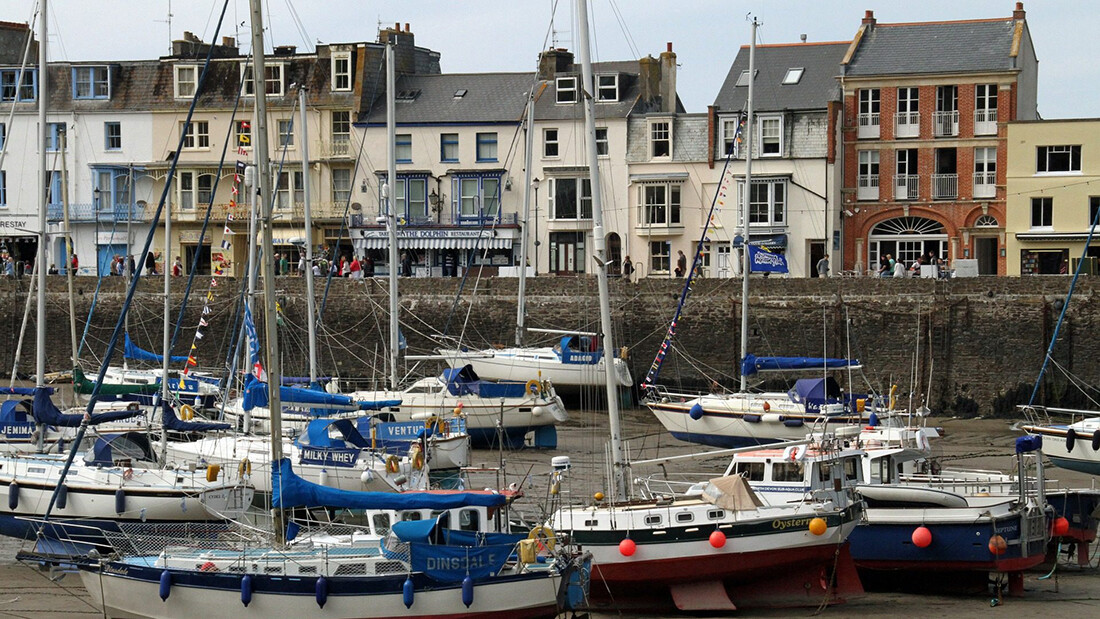 Ilfracombe's local walks
Ilfracombe Seafront
Ilfracombe seafront offers a variety of walks from flat paved walks along the seafront to steeper walks such as Capstone Hill, which is a perfect walk for the kids to run wild and enjoy the views. You will find Ilfracombe has clear signposts throughout the town directing you in the right direction.
Ilfracombe Harbour
As you look out to sea, Ilfracombe harbour is surrounded by rugged cliffs. These make the most interesting shapes, can you spot the sleeping elephant? This is Hillsborough Hill and it has one of the most picturesque views from the top of looking out to sea, find out more about this walk here.
Tarka Trail from Woolacombe to Ilfracombe
Do your family love getting out in the great outdoors? Running through Woolacombe and ending at Ilfracombe you will find our North Devon Tarka Trail, enjoy this old train track route that takes you right into the centre of Ilfracombe. So whether exploring by foot or by bike, this 4-mile flat route is perfect for all families.tarkatrail.org.uk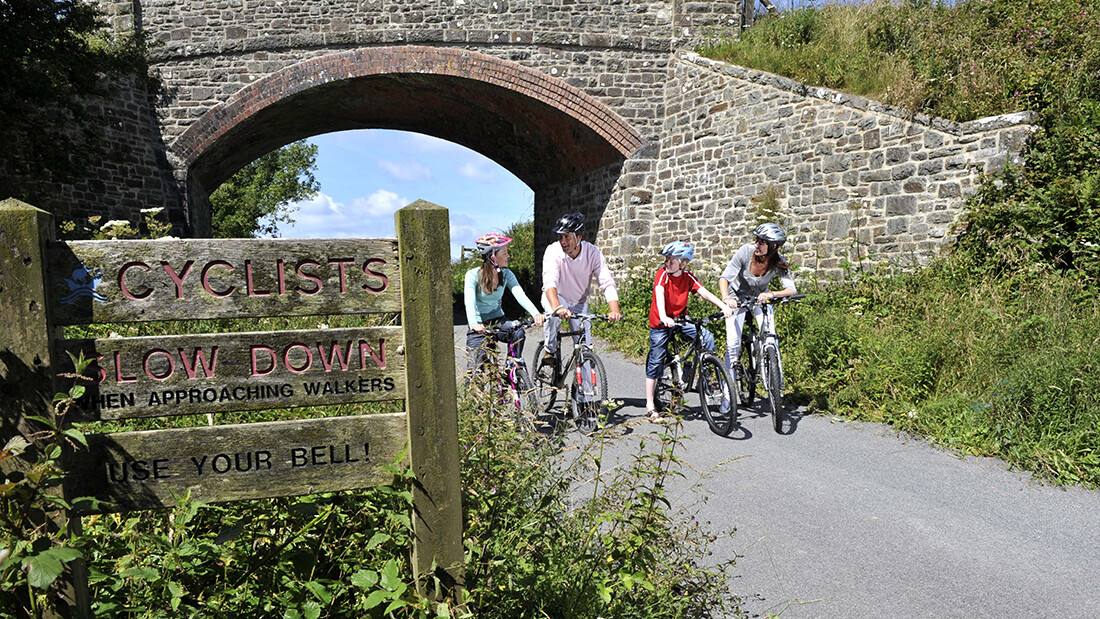 Ilfracombe's best places to eat and drink
Giovanni & Luca
A truly authentic Italian restaurant serving genuine Italian food, which is cooked the old fashioned traditional way. Giovanni & Luca comes highly recommended by locals. giovanniandluca.co.uk
The Terrace Tapas and Wine Bar
Exactly as the name suggests, tapas and wine anyone? So enjoy the finest wine and the most authentic Spanish Tapas. But just to top it off, you will find the most delicious specialised cocktails. This is a highly popular location for an evening of cocktails and tapas in Ilfracombe. terracetapasbar.co.uk
Antidote
Antidote is a sophisticated restaurant with a set menu each day. Awarded the Michelin Guide UK bib gourmand for 2021, this location offers a truly special night out with a meal to remember. theantidoteilfracombe.co.uk
The Thatched Inn
This traditional Inn has buckets of charm, serving mouth-watering food, local beers and real ale. A great location to sit back and relax in the most charming beer garden. If you love a traditional pub, this is a must-visit. thethatchedinn.pub
Relish Bar and Bistro
Relish Bar and Bistro offers something for everyone. They do specialise in the freshest and most delicious locally caught fresh fish but they also offer plenty of non-fishy options. fishbistroilfracombe.co.uk
Ilfracombe's takeaways & food on the go
Nelly May's Parlour
Offering the most welcoming friendly atmosphere, Nelly May's Parlour certainly has a big heart. In addition to this, all of the cakes and treats are homemade, fresh and delicious. So treat yourself to an appetising afternoon tea, but you are in Devon now so it should be jam on top. nellymays.co.uk
Lynbay Fish & Chips
Ilfracombe harbour is the prettiest location, so what better than to enjoy your takeout with a view? It is only right that while you are on holiday, you enjoy the most delicious freshly caught fish and chips in one of the finest locations. lynbayfishandchipsilfracombe.co.uk
Jonny C's Dinner & Takeaway
If you are looking to enjoy some of the most scrummy fast food on the go, Jonny C's is the place for you. Specialising in the most epic burgers and specialised flavoursome fries. This certainly will be a treat to get your mouth watering. This is a highly popular location for kiddies as they can enjoy a chocolate bar shake of their choice. johnnycsdiner.co.uk
Places to stay near Ilfracombe
Ilfracombe is 5 miles from Woolacombe Bay Holiday Parks and will take roughly 10 minutes to drive, you can find directions here.
Top things to do in Ilfracombe
Ilfracombe Seafront
Take the trip down to the very heart of Ilfracombe, with views that stretch out to sea. You can enjoy quality family time full of seafront family activities including amusement and adventure golf. So, take some time out and grab a bite to eat where the fish and chips are local and ice cream is traditionally served with a dollop of local clotted cream on top. Will you ever eat ice cream the same again?
'Verity' Sculpture
Standing 66ft high, you won't miss this striking sculpture that is Verity. Looking out to sea, Verity stands tall guarding the entrance of Ilfracombe Pier. Created by world-famous artist Damien Hurst "an allegory for truth and justice". This is certainly a sight not to be missed. In addition to this spectacular statue, you will find lots of local strolls around this seafront. In fact, you will find the most picturesque little church at the top of the hill opposite Verity, so take on the hilly walk and enjoy Ilfracombe from above.
Ilfracombe boat trips
You will have plenty of choices to explore our local seas, from short trips to enjoy the rugged coast, to days out exploring the wonder that is Lundy Island. It's these moments when you look back on this breathtaking coast as you have never seen it before.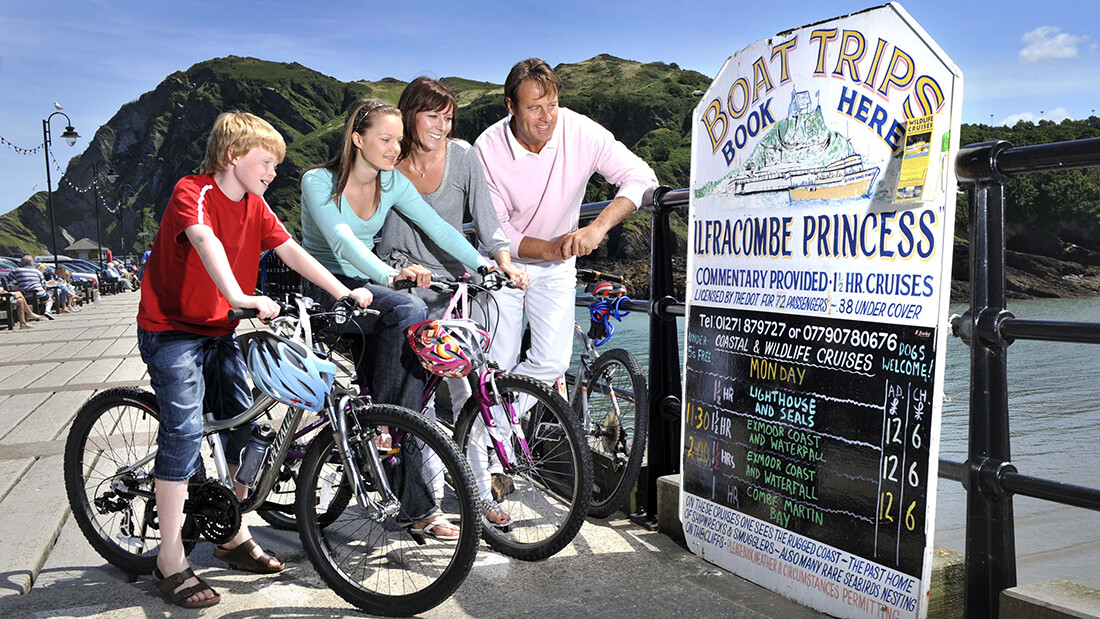 Ilfracombe Aquarium
A great family day out to discover what's living in the seas around the North Devon coast. Set on the pier with ample car parking it's worthwhile attraction in any weather, and one our of our top things to do on a rainy day.
RNLI Lifeboat Station
Located in the very heart of the harbour, the RNLI Lifeboat Station has now been launched over 350 times, in its mission to keep our shores safe.
Ilfracombe Golf Course and Club
Enjoy a golf course that offers views that stretch for miles. You will find Ilfracombe Golf Club located in the most idyllic scenic location. As you make your way around the 18 holes and enjoy some of the most southing views and relaxing atmosphere.