We're a bit different from a few of the holiday places you might have come across... family owned and run, and we consider our team members to be part of our family too.
You see we think it's our team members who really make the difference. Whether it's our professional sports instructors or talented entertainers, the warm greeting you'll get on arrival or the guys in the background making sure everything's spot on, we're all here to make you feel like part of the family. That's what keeps our guests (and our team members) coming back every year too.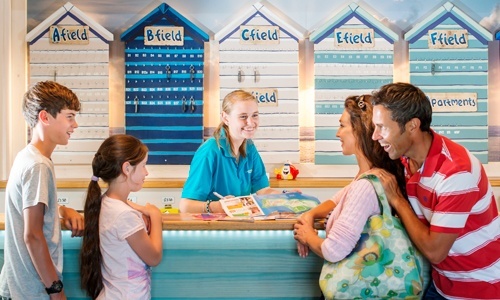 A warm Woolacombe welcome
Each of our Parks has it's own reception with a dedicated team. They know their Park like the back of their hand like what's on when or where everything is.
They've also been out and about to explore the area too so they're all happy to give you the insider's view.
Your holiday starts at reception like this one at Woolacombe Bay where you'll get a friendly greeting because there's nothing better than feeling expected. And they're open from 8am to 10pm daily so here when you really need them.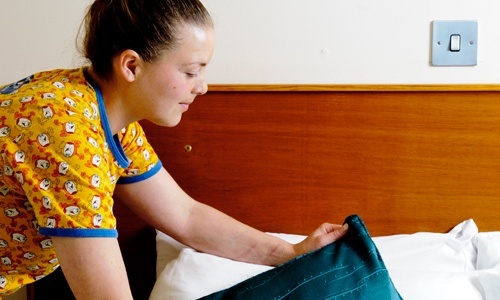 Before you get here
Our housekeeping teams are busy getting your accommodation all spick and span, ready for your check-in time. They'll make sure you've got everything you need and they'll make the beds too. So that's less housework for you and more holiday time. In other words, we make settling in easy, it's then a race to see who'll be first into the pool!
As soon as your Holiday Home is cleaned and checked you're welcome to settle in. Our key collection times are from 4pm, but there's early 3pm check-in in Gold, 2pm in Platinum and top priority 1pm check-in with Exclusive grades.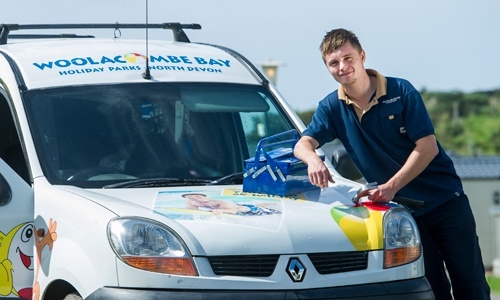 Keeping it all ticking over
Our Parks are big places - cutting the grass is a bit like painting the Forth Bridge - but we've got grounds teams on each Park ensuring they're well kept and carefully tended to. We like grass though, which is why you'll find that our Parks aren't concrete jungles criss-crossed with paths and roads; they've got them but just where they're needed.
And this is Cameron from Twitchen House, he's one of our maintenance technicians making sure our accommodation is always in top form for you.
Cooking up a real treat
We're in rural Devon by the beach, so the last thing you're going to expect is branded fast food chains. Which is good, 'cos we've not got any. Instead tuck into locally-landed fish, hearty platters and freshly baked pizzam just the way you like them all served up in funky surf-inspired cafes or traditional countryside pubs.
Fusspots and foodies will find our talent chefs, like Jon here, have served up plenty to pick from.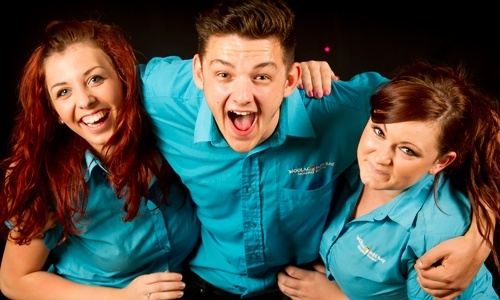 Our magic makers
Bubbly and bouncy, this crazy gang of guys work hard to deliver a full on entertainment package from organising the kids clubs in the daytime to starring in glittering stage shows at night.
They're always about with our characters Billy & Betty creating a buzzing party atmosphere everywhere they go.
You can find out much more about what they do by reading up on all the entertainment they've got lined up for you.
On your marks, get set...
If you have the energy, then the friendly, professional sports instructors are here to supply the adrenaline.
Whether it's keeping a watchful eye on the pool, teaching you to surf or helping you to scale new heights, their job is to make sure it's always safe, challenging and fun.
They're the guys and girls who make active adventures happen during your Devon holiday.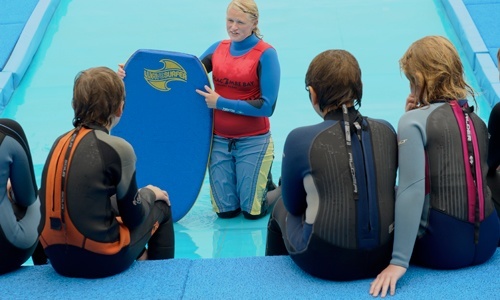 The waveriders
You might have seen the Wavesurfer already. It's a pretty awesome bit of kit, but before we let you loose on it we need to give you a few tips and teach you a few tricks. Our surf instructors are dab-hands on the surfing simulator and they'll help you make the most of your time 'on board'.
And if your go on Wavesurfer makes you yearn for the ocean, then we've got experienced coaches running our Surf School too. They'll even pick you up, kit you out with all the gear and take you to and from the beach. How cool's that!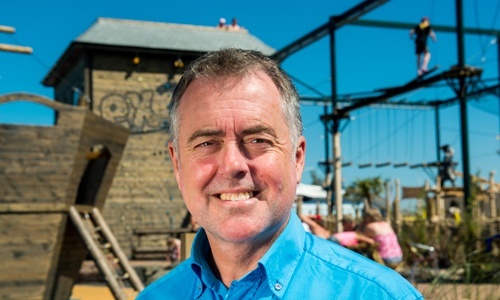 The brains of the operation
Each Park has it's own General Manager who is there to make sure everything's running smoothly - by that we mean that everything's done properly, safely and on time too. They're your genial hosts and whilst you might only catch a glimpse of them, they're working tirelessly behind the scenes to make your holiday happen.
This is Aidan, he's our General Manager at Golden Coast our flagship Park. He's been here for over 6 years and loves the challenge of running our biggest Park.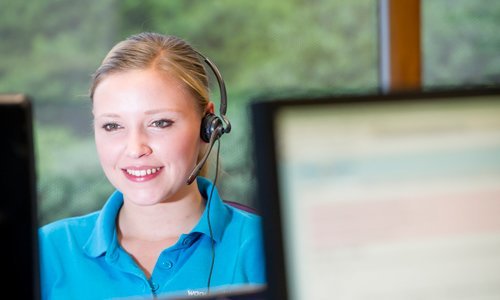 It all starts here
Before you get to our Parks, you'll need to book (nice and early too if you're thinking of coming at busy times like school holidays). We've got a team of friendly Holiday Advisors based right here so they're very knowledgable about each Park and the area.
We don't do 'Park specialists' because they're all so close it makes it easy to know each one and to guide you on which one is right for you. So we don't need to train people on specific locations, there's no remote call centres in the middle of an industrial estate here. And they're here to advise you, there's no hard-sell on our holidays.