6 cycling tours in North Devon
Spring, Summer and Autumn are all brilliant times to the get outside, if you're looking for things to do in Woolacombe then cycling can be a very fun activity to explore North Devon on two wheels. It's a great way to get some fresh coastal and countryside air in your lungs from. So we've asked a local expert to share with you her top route plans for beginners and more experienced riders too.
My name is Lauren and I live and work in Woolacombe. Having only cycled at a very slow social pace previously, I took up cycling a few years ago. It started with a few rides along the local Tarka Trail. It soon started to feel good and in no time I considered myself a pro and ready for some challenging routes. Here are some of the training routes I discovered around the local area:
Route 1: 'Braunton Loop'
Leave Woolacombe, head to Georgeham, Croyde and Saunton, Braunton, Mullacott and back to Woolacombe. A great route with a good mix of slow hill climbs and amazing views coming through Croyde through to Braunton. An elevation climb of up to 600ft. Tour length: 20 miles.
Route 2: 'Combe Martin Loop'
Leave Woolacombe, head to Mullacott, Two Potts, along the A3123, then down into Combe Martin, Watermouth, Hele, Ilfracombe, Mullacott and back to Woolacombe. A great route, with combined countryside and coastal roads. Beautiful views, and an elevation climb of just under 900ft. A few slow steep inclines to get your teeth into. Tour length: 25 miles.
Route 3: 'Braunton to Bratton Fleming Loop'
Leave Braunton, head for Barnstaple, Goodleigh, Snapper, Bratton Fleming, onto the A3123 by Kentisbury, head for Mullacott, then to Georgeham, Croyde, Saunton and back to Braunton. Cars can be parked in Braunton car park, with easy access straight onto the Tarka Trail to take you to Barnstaple. A mix of country roads and main roads. Some good climbs to build up the fitness level. Finish off with a coffee at The Riverside Café in Braunton. An elevation climb of just under 1,100ft. Tour length: 40 miles.
Route 4: 'Tarka Trail Braunton to Torrington and back'
Leave from Braunton and follow the Tarka Trail to Barnstaple, Fremington, Instow, Bideford, Torrington and back. An old railway track so the route is flat, apart from a slow incline in places with a maximum elevation of 185ft. The route runs along the estuary through to Bideford, then along the river to Torrington. Suitable for children along this route also and the length you cycle can be as long or short as you like. Great stop off at Fremington Quay for lunch and cake, or The Instow Arms for a great pub lunch.Tour length: 40 miles
Route 5: 'South Molton Loop'
Leave Woolacombe head to Mullacott, Two Potts, along the A3123, right onto the A399, all the way along past Brayford to South Molton A361 roundabout, straight over heading for Filleigh, Swimbridge, Landkey, Barnstaple, Braunton, Mullacott and back to Woolacombe. This one's a personal favourite. Some stunning roads with breathtaking views, through quarries, and rural villages. Keep your eye out for Filleigh Manor House. A brilliant ride to let escape it all for a few hours. An elevation climb of 1,070ft. Tour length: 50 miles.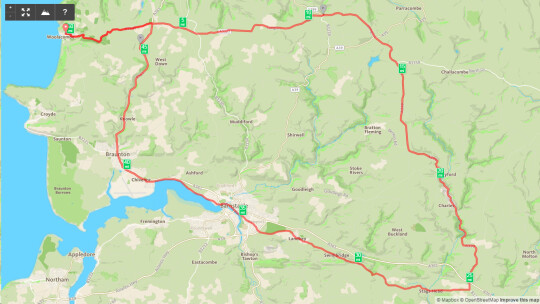 Route 6: 'Barnstaple to Exeter Loop'
Leave from Barnstaple, Bishops Tawton, Eggesford, Lapford, Copplestone, Crediton, Cowley Bridge, Exeter and back. You can park your car in the train station car park in Barnstaple. The route runs alongside the Barnstaple to Exeter 'Tarka Line' train route at some points, lovely countryside cycle with outstanding views. Well worth cycling into Exeter and stopping for lunch at Exeter Quayside. There are some quaint cafés amongst the cobbles and often some activities taking place on the river to watch. An elevation climb of 450ft. Tour length: 80 miles.