What to take on your family camping holiday in Devon
If you're part of a nature loving family then you're probably being swayed by one of Devon's camping sites for your choice of accommodation. If you've never been on a camping holiday before and don't know what to pack, or you've been plenty of times but need a little refresher we've put together a list of things to take on your family camping trip…
Camping holiday essentials
The must-haves for a camping holiday in Devon:
Tent:
Just like forgetting a passport for a holiday abroad, forgetting a tent on your camping holiday to Devon wouldn't be the best start. If you haven't bought one yet, maybe you will enjoy our 5 cool camping options as some inspiration. Have a rehearsal of putting it up to save time on your holiday and also check there's no damage or missing pieces like pegs before you set off.
Sleeping mats and sleeping bags:
To make sure you get a good night's sleep, sleeping mats and sleeping bags are essentials. It can get cold in the evenings even in Summer so you'll want a cosy sleeping bag. Sleeping directly on the floor in your tent is doable but a sleeping mat is going to give added comfort from any lumps and bumps on the ground of the campsite.
Cooking equipment:
Although there's plenty of onsite restaurants and eateries at our camping sites in Devon, for the days you want to save a bit of money, pack your cooking equipment. This includes; camping stove, matches/lighters, any utensils, pans, plates and cutlery.
Washing up:
…and when you've finished doing all that lovely cooking you'll need a washing up bowl, washing up liquid and a couple of tea towels.
Torch:
Whether you're planning to enjoy a spot of late night reading on your Devon camping holiday, or might need to have a midnight loo trip, a torch will make your life a lot easier, just don't forget extra batteries!
Suncream:
Not just an essential for camping holidays, suncream is going to help protect you and your family from getting sunburnt. Remember you can get badly burnt even in cloudy or windy weather.
Waterproof clothes:
Unfortunately we still get rain down in sunny Devon and if you plan on spending some time outside it's best to be prepared.
Walking boots:
It would be criminal to come on a camping holiday to Devon and not enjoy at least one of the many beautiful coastal walks that we have here, to help plan a route here's 3 coastal walks around Woolacombe not to miss.
Rubbish bags:
To help keep your tent and the campsite litter free, bring some bin liners with you. We have recycling and waste stations where you can place your rubbish before you leave.
Mini first aid kit:
It's always good to keep a mini first aid kit with you. Make sure it is stocked up with plasters, blister plasters, paracetamol, sterile gloves, tweezers, and anything else you might need. Please don't forget to pack any personal medication as well.
Kid's favourite toy:
If you've got young children coming on your camping holiday to Devon, packing their favourite toy can help them to relax. Being in new surroundings can be a bit daunting especially if it's their first time camping, having a familiar item can help alleviate some anxiety.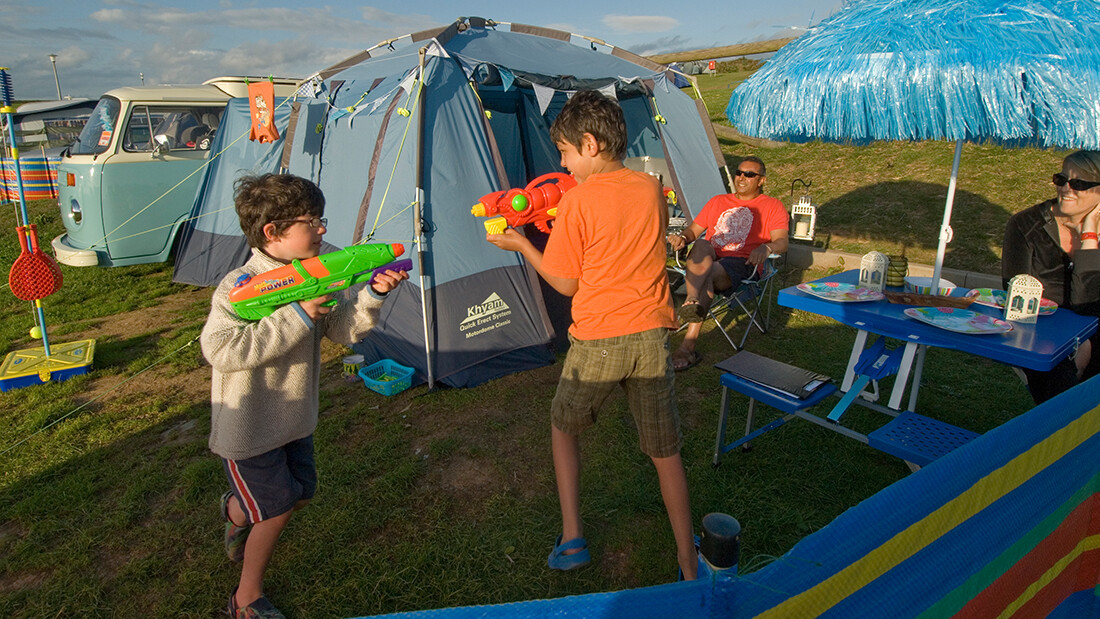 Devon camping holiday extras
The little extras you'll appreciate having on the campsite:
Air mattress and pump:
Just because you're on a camping holiday doesn't mean you can't treat yourself to a bit of luxury. For the best home-from-home sleep, bring air mattresses and a pump if packing space will allow.
Table and camping chairs:
The best bit about staying on camping sites in Devon is spending time outdoors, bringing a table and chairs set will allow you to make the most of nature and even enjoy some alfresco dining.
Windbreak:
Aside from being a beach essential, windbreaks can also come in handy at the campsite, not only providing some shelter from the weather but also adding a bit of privacy to your camp when needed.
Beach bits:
It's unlikely you've booked a holiday in Devon without planning to visit the beach once or twice. For these trips you'll need beach towels, sunhats, sunglasses, buckets and spades, frisbees or other items for activities. Also don't forget your already packed suncream and windbreak!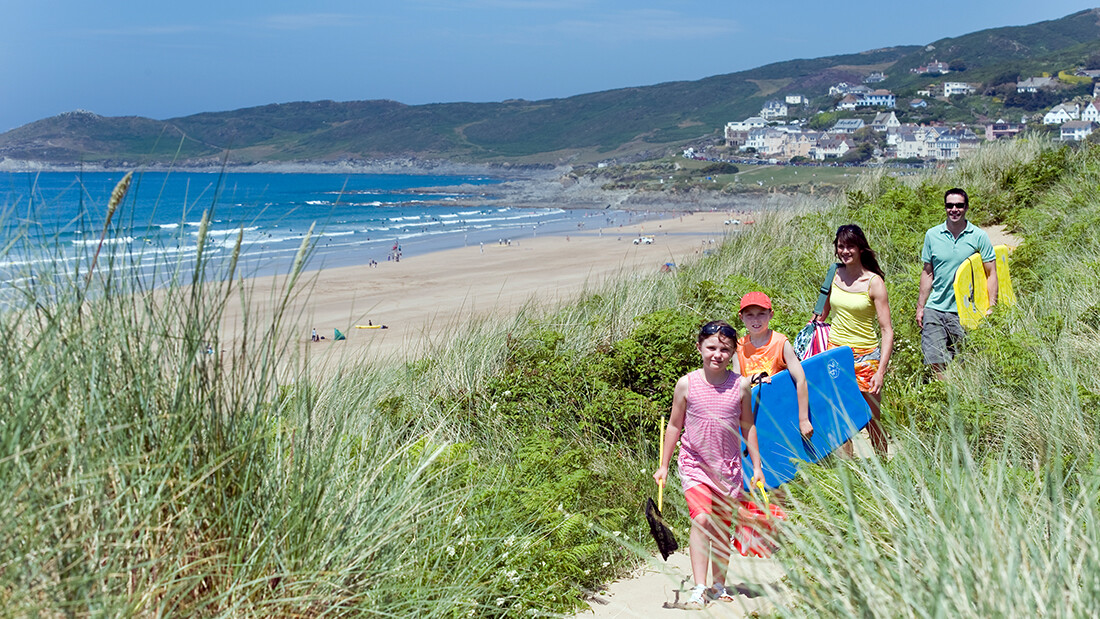 For our holiday park activities
To help you enjoy all our onsite activities to the fullest:
Swimming costumes:
If you haven't packed your swimming costume already for the beach then you'll definitely need it for the indoor or outdoor pools we have on all 3 of our holiday parks. If the sea or pools aren't your thing, pack your cossie anyway to enjoy our relaxing spa experience.
Active wear:
Even if you're not planning on hitting the gym whilst on your camping holiday to Devon, you'll still need some comfy clothes when taking part in the more energetic activities like our; Segway safari, climbing wall and bungee trampoline. Or because it's just nice to be comfy in our cinema…
Comfortable trainers:
Again, for all the walking and activities you're going to enjoy you'll need comfortable trainers, these will also be perfect for exploring your campsite and general day trips.
Clothes you don't mind getting messy:
Whether it's you or the kids, there's the chance of mud and/or mess in some of our outdoorsy and craft activities. We've got lots of outdoor fun like bug hunts, fishing and pond dipping, as well as indoor action like pottery painting.
Many of these activities are not limited to summer, find out why we love a Spring or Autumn holiday.
So there you have it, our guide to packing for your camping holiday in Devon!