Take a step back from the frothy surf and silky sand, there's much more to explore. We're in a pretty unique position you see.
We've got picture postcard villages, quaint little fishing harbours and the rugged beauty of Exmoor. And you really can't go home without indulging in a proper cream tea (the clotted cream should go on first here), scrumptious cider and a fresh crab salad.
From shore to moor
Take time out and visit some of the picturesque towns and villages in North Devon.
North Devon with its breathtaking scenery, hidden woodlands, meandering rivers, rocky coves and long sandy beaches is utterly enchanting. There is plenty of walking to suit all abilities and the mild climate provides a wonderful opportunity to get out and explore.
This is our guide to the top places to visit...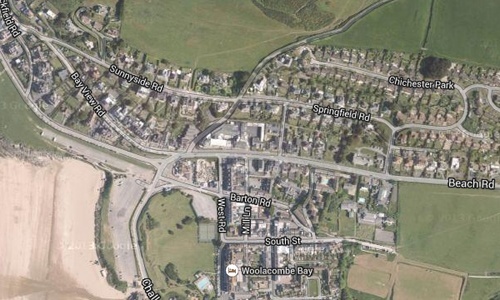 Woolacombe
Just a short drive from our Parks (or you can walk from most of them) is the award winning family resort of Woolacombe, a lively village where a friendly welcome awaits at local pubs and restaurants, serving a variety of great food and superb local produce.
With a variety of shops and establishments from boutique surf shops to eateries and bars you should find all you need to make your families day out complete. At night during the summer the bars come alive with live music and DJ's.
Mortehoe
The ancient village of Mortehoe is just north of Woolacombe and sits high above Grunta and Rockham beaches. A beautiful stone built village with tea rooms and pubs, Mortehoe is a welcome stop for walkers on the coastal path which passes through here. Just north again and reached by a steep path is Rockham beach.
Ilfracombe
A very old harbour town, Ilfracombe became very popular with holiday makers in the Victorian era when steam power enabled the town to boom. Victorian architecture still dominates in this hilly location which cradles the harbour, from where you can set sail to Lundy Island or perhaps take a fishing or wildlife boat trip.
Ilfracombe is host to a number of rocky beaches including the famous "Tunnels" beaches, it's also home to the Landmark Theatre and some great restaurants. For more attractions in Ilfracombe visit the Ilfracombe Tourism Centre.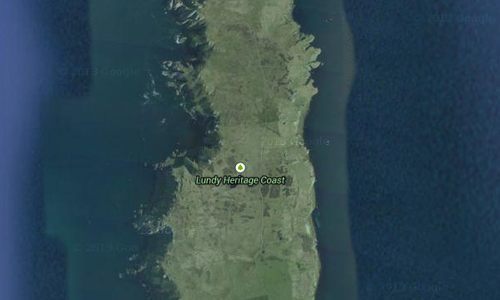 Lundy Island
Now owned by the National Trust this dramatic Island steeped in myth and legend, lies around 20 miles west of Ilfracombe and is inhabited by a small population of locals, a warden and an amazing variety of birds and wildlife, the most famous being the Puffin.
The 3 mile long island which is home to England's only statutory Marine Nature Reserve can be visited from March to October from Ilfracombe or Bideford on the MS Oldenburg or by chartered helicopter. Visit the website by clicking here www.lundyisland.co.uk
Combe Martin
Combe Martin stretches down a long vale to a picturesque cove with a sheltered shingle/sand beach just north of Ilfracombe. It used to be a busy harbour exporting Strawberries, Hemp and Silver which were peculiar to the area.
It's now a thriving holiday destination on this beautiful coast - and if you're in the area you may want to visit the Wildlife & Dinosaur Park, a great family day out. For more ideas and great days out in Combe Martin visit the Tourism Information Centre.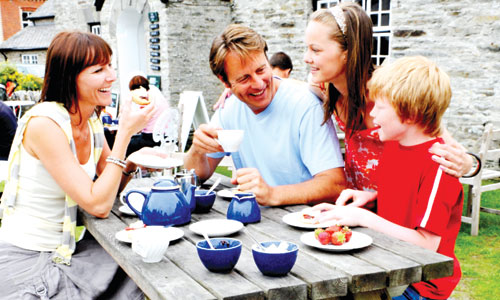 Need a break?
If you're feeling worn out from all these places to visit, make sure you put a Devon cream tea on your 'bucket list' whilst you're here.
There's nothing like this real thing, this is one of our favourite tea shops in the heart of Mortehoe (it's easily walkable from Twitchen House and Easewell Farm, so you can feel like you're burning off those calories).
Lynton & Lymouth
A half hour's drive east from Woolacombe and within the Exmoor National Park are the dramatic and beautiful coastal villages of Lynton & Lynmouth. Lynton is perched high on top of cliffs above Lynmouth which are joined by road and more interestingly by a venicular railway, which is open to the public.
There are many pubs and tea rooms here set in amazing scenery. With good facilities, riverside, woodland and seaside walks it's a must day out for summertime tourists. Trout and salmon fishing can be found locally too.
Croyde
Croyde is a world famous surfing destination and has boomed in popularity as the surf industry has blossomed in this country. Its steep and powerful waves are down to the shape of the bay and the sand banks it produces, combined with good quality Atlantic swells.
The village itself remains one of the prettiest with the many thatched cottages and rolling hills that surround it. Plentiful tea rooms, ice cream parlours, restaurants and pubs make this a hive of activity almost all year round.
Barnstaple
Barnstaple is the main market town, shopping and business center in the North Devon region. Sitting on the River Taw it has a variety of architectures and offers a great selection of shops, cafes, restaurants and pubs.
With improvements to infrastructure including the Western Bypass, which has seen traffic congestion improve greatly, and large areas earmarked for redevelopment, Barnstaple continues to be a thriving community and the ever popular gateway to North Devon's Golden Coast. To find out more visit www.barnstapletowncentre.co.uk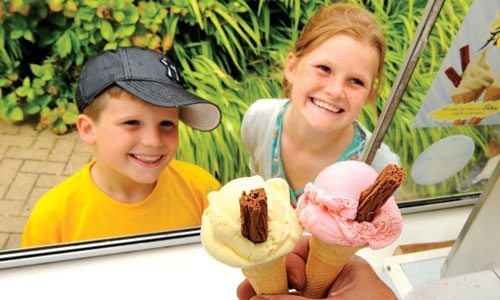 Time for another break
What does ice cream say to you? Seaside holidays, warm summer days?
Well in North Devon we're really lucky. Not only do we have some fantastic beaches but we're also a pretty rural area and there's lots of cows about. Devon's famous for it's creameries and what better than a smooth West Country ice cream enjoyed where it comes from?
One of our favourites is Hocking's. You'll find their ice cream vans on Ilfracombe seafront and Bideford Quay from March to October.
Bideford
Bideford is another large market town sitting on the River Torridge and has many similar assets to Barnstaple being another riverside, Devonshire market town. The two rivers converge just before they enter the sea to form the Taw & Torridge estuary, a haven for wildlife and in particularly migratory birds.
It boasts of being a resort, market town, and port, as well as being an active player in the fishing industry. It has a distinctive character with its medieval bridge, working quay, and narrow streets and buildings, all steeped in tradition.