Bucket and spade in hand, miles of golden sand, rolling waves and rolling dunes. This is what seaside holidays are all about. Each Devon Holiday Park is just a hop, skip and jump from some of the most stunning stretches of the soul soothing yellow stuff.
What do you do at the beach? Splash in the surf, build a sandcastle or hunt for shells? The West Country is where beaches are at their very best, soft sand, salty sea spray and a sweet scent of suntan lotion. And you'll need some, the sunshine's above average here, Devon's anything but run of the mill.
There's more to holidays here than just the sandy beaches, but for many families a brilliant UK beach is right up there on the staycation checklist. You really don't need to go far, all four North Devon Holiday Parks are so close you can taste the fresh sea air on your tongue. But this is not just any beach, Woolacombe comes with an awesome rep as a real surf hotspot, it's been awarded the Blue Flag for over 20 years and a premier seaside award too so you're sure it's clean and safe. Little surprise it's consistently named best beach time and time again - why would you go anywhere else?
Nearby are more legendary unspoilt seaside spots like Croyde and Saunton Sands, many are dog friendly beaches all year round too. It's often said that North Devon's coast is just like being in Cornwall but without the long drive, and you'll forget going abroad when you see this coastal collection. Find your holiday haven in the North Devon Beach Guide for genuine proof you'll never be settling for second best when you pick a beach break in North Devon.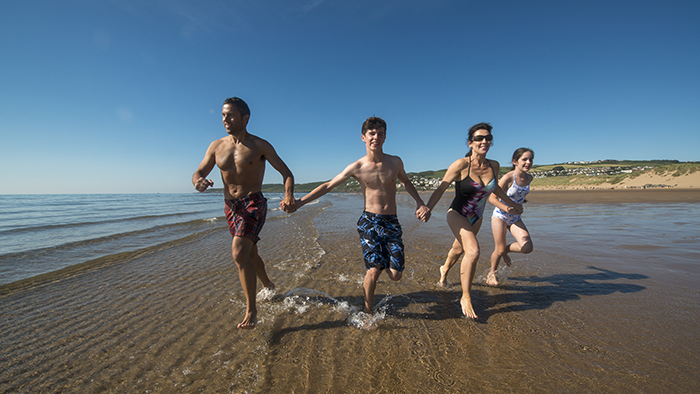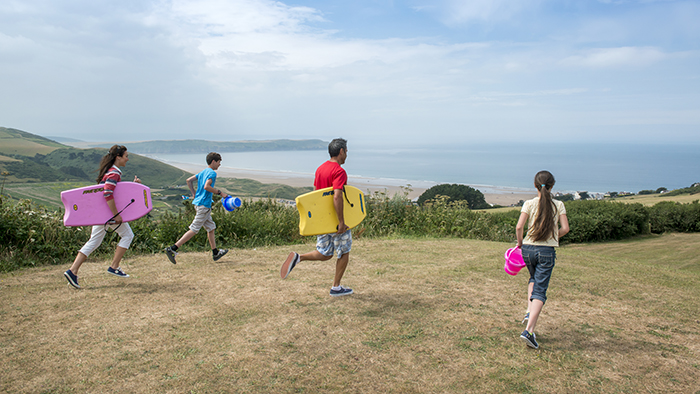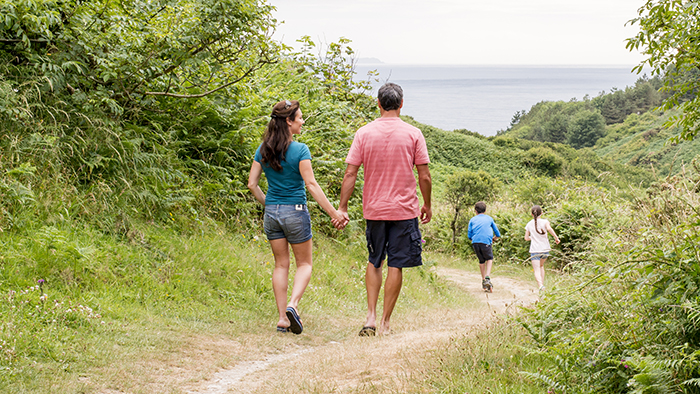 Britain's best beach
Stone's throw from your Park
Just over the dunes, and moments away, you'll find the most glorious 3-mile sweep of golden sands of Woolacombe Beach. It's a constant poll topper, it's easy to see why. Like being voted again Britain's best beach in the Sunday Times beach of the year awards for 2021.
Explore Parks
All our Parks are located in Woolacombe in North Devon, so whichever you choose you'll be in the same village as Britain's best beach. Drive and walking times and distances from our Parks to Woolacombe Tourism Information Centre at the main Woolacombe Beach entrance provided by Google Maps:
Woolacombe Beach amenities & car parking
There is plenty of day parking in Woolacombe with five beachside car parks; The Esplanade roadside parking operated by North Devon Council, Marine Drive operated by Woolacombe & Mortehoe Parish Council although this car park is not recommended for those accessing the beach with pushchairs or mobility issues, Barton Road car park next to the mini-golf course operated by Woolacombe Bay Hotel (hotel main car park is for residents only), and The Esplanade Beach and Sandy Burrows car parks operated by Parkin Estates who also rent beach huts from the last week in May to the first week in September and provide beach amenities including eating and drinking, shopping and entertainment. There are many surf shops and beach shops as well as cafés, ice cream shops, restaurants, pubs and bars in Woolacombe village centre where limited on street car parking is available for up to one hour.
Putsborough Beach amentities & car parking
There is one privately operated car park with a beach shop and café. Alternatively you can walk to Putsborough Beach which is situated at the southen end of Woolacombe Bay from Marine Drive car park either along the ridge or the beach, or walk the 3 miles across Woolacombe's beaches.
Croyde Beach amenities & car parking
There are multiple car parks in Croyde both operated by North Devon Council and private operators with the largest being Down End Car Park near to the beach. Although Croyde is a smaller village and beach than Woolacombe, it also has beach shops, cafés and bars.
Saunton Sands amenities & car parking
There is one privately operated car park at the northern end of the beach with beach huts, surf schools, beach shops, cafés and bars.
North Devon Beach Guide
Discover ten of Devon's top beaches on your doorstep... heading to the seaside Golden Coast is the quickest drive and Woolacombe Bay is the shortest walk, or Twitchen House is only just a little further and an easier route for smaller children.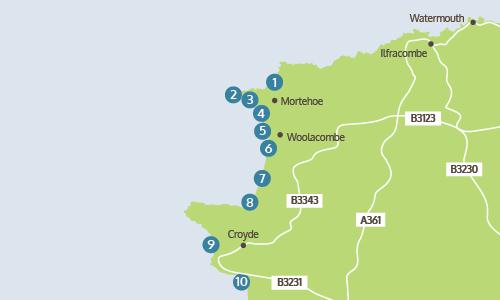 Devon's Golden Coast
Yes, it's the same name as one of our Parks, the area is so stunning we named Golden Coast after it. Not only has some of the best beaches in the West Country, but some of the best in the UK.
There's a stunning array of possibilities, whether it's safe bathing beaches next to to great rock pooling opportunities, or water sports and beach activity hot spots. Plenty of parking and dog friendly access.
We've numbered each beach in the map above - scroll along to find out more about each one.
1. Rockham Beach
Also known as Mortehoe beach as it sits below and is accessed by the ancient village of Mortehoe and near to Easewell Farm.
Rockham is one for the fit as the mile long steep path to get down to the beach is fairly demanding, especially when carrying all your beach gear. Beach is not patrolled.
2. Grunta Beach
To the far Northern end of Woolacombe Bay and really only accessible by beach at low tide, and by fairly steep cliff path at any other tide, Grunta offers limited space and access.
Grunta could be seen as part of the point rather than a beach in it's own right and should only be used by those willing to hike out via the steep cliff path, as it becomes cut off soon after low tide. There are no beach facilities and no car parking. Beach is not patrolled.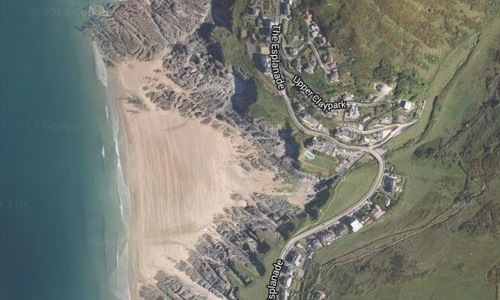 3. Combesgate Beach
Sandwiched between Grunta and the Barricane beach, Combesgate is accessed via a steep set of steps and offers lots of sand and rock pooling from low to mid tide.
From mid to high tide the beach narrows and as the sand disappears, people head back up the steps to find some more space. There are no beach facilities. Beach is not patrolled.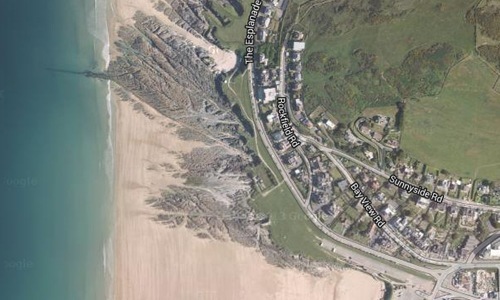 4. Barricane Beach
Barricane is a narrow inlet that sits between the main beach and Combesgate beaches. A designated site of special scientific interest, you can often find small shells here that have been washed in on the Gulf Stream from far flung places.
There is a small beachside kiosk selling hot and cold drinks as well as snacks and famous Sri Lankan curries during the Summer season. Beach is not patrolled.
MCS Recommended
5. Harris, Gin & Shellsborough Coves
Although they are called coves they're hard to distinguish and really form one small rocky reef with a small area of shingle and sand, great for rock pooling.
You can find them between Woolacombe Main Beach and Barricane Beach. Beach is not patrolled.
6. Woolacombe Beach
The closest beach to our holiday parks, Woolacombe beach occupies most of the 3 mile stretch of award winning sands from Baggy Point at the South end to Morte Point at the North, and is ideal for families and water sports fans – it's no wonder it's won many awards including best beach on Tripadvisor and holder for a Blue Flag for 20 years.
The main beach in front of the village is the favourite for families, close to all amenities with over 2,000 car parking spaces, and is patrolled in Summer by beach lifeguards.
MCS Recommended - RNLI Lifeguard Service
7. Middle Beach or Marine Drive
This is still Woolacombe beach but as we have 3 miles of beautiful, golden sands it's often referred to as Middle Beach or Marine Drive.
It has a car park and is great if you want a little more space and don't mind a walk to the facilities in the village.
If you walk south along the sands towards Baggy Point, you'll come to the final beach in the bay, Putsborough Sands. There are no beach facilities. Beach is not patrolled.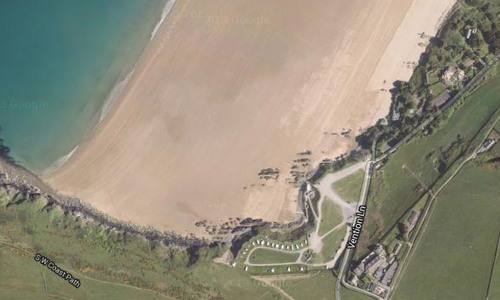 8. Putsborough Sands
A short drive south from Woolacombe, through narrow lanes will bring you to Putsborough sands which nestles in the southern most corner of Woolacombe Bay.
A good family beach with great rock pooling, it offers many facilities and beachside parking, however even though this beach is popular with families it is not patrolled and when waves are apparent it can become busy especially at higher tides.
MCS Recommended
9. Croyde Bay Beach
South from Putsborough and Woolacombe you'll find Croyde Bay near Braunton, world famous for its high quality beach break waves. Popular with families but dominated by surfers this beach and village has great facilities in stunning surroundings and is host to the Golden Coast Oceanfest which is growing in stature.
The waves are fast, hollow and heavy and if you're not an experienced surfer you should consider one of the mellower beaches in the vicinity to enjoy the surf such as Saunton or Putsborough.
RNLI Lifeguard Service
10. Saunton Sands
South and around the point at Croyde opens up into the huge expanse of sand that is Saunton Sands. A short drive along this stretch of coastal road gives you a chance to see it in all its glory.
Saunton is a flatter beach and therefore the waves are not so intense, breaking flatter which are a favorite with longboarders. The large open sands are also popular with kite buggies, kite boarders and wind surfers.
There are good facilities around the car park area including the Saunton Sands Hotel café bar, small beach cafe, beach shop and hire facilities.
Find out more Woolacombe beach holidays information in the Good Times blog including 5 of Devon's secret beaches, or perhaps 9 reasons a holiday in Woolacombe is better than a holiday in the Caribbean and 7 ways to be socially distant on the beach.