7 Reasons to love a Lodge Holiday with a Hot Tub
There's so much to look forward to when planning a holiday in Woolacombe, one of Devon's most beautiful destinations. Whether it's strolling as tourists through the most iconic places in the region, or being adventurous and making the most of the physical activities available, there is a world of possibilities when you are exploring away from home.
However, sometimes we forget that a holiday is also a great time to rest and recover - physically and mentally, or that there are times when the weather won't help us do everything we want to do. That is when our holiday lodges with hot tubs come to the rescue.
In this article, we will give you 7 reasons why hot tubs can be a great holiday add-on for your next trip to Devon.
Relax after a busy day of activities
One of the main reasons why lodges with hot tubs in Devon are especially popular is because they're a great way to rest and unwind after a long day of activities. Some people like to book a full itinerary of activities to do whilst on holiday (especially when trying to occupy the kids!) and more often than not, try and plan as much as possible without even considering "doing nothing". One way to relax is to book accommodation with a hot tub. For example, all our luxurious Surf Lodges, Surfscape Lodges and Surfview Lodges each have a large living space with its private hot tub, BBQ area, and TVs in the bedrooms, making it easy to unwind and get re-energised for the next day of fun.
Top tip: All the lodges at Woolacombe Bay include wet suit and surf kit hire so with Britain's best beach close by in walking distance then you've got all you need to get the full surfing holiday vibe!
No need to worry if it rains
We all know that some days it just won't stop raining! You can't counter it but you can plan for it. Although at Woolacombe Bay you can go pottery painting, catch the very latest films in the cinema, use the gym, and our Castaways Fun Pool, among other things on rainy days, you might just want to use the day for more "me time" in the lodge. Enjoy the hot bubbly pool in any weather and any season.
A romantic end to each day in Devon
Let's not let the romance die, especially on vacation. This is the best time to rekindle the flame of passion, and a couple's bath in a hot tub is the perfect tool. Pour some prosecco, get chocolate or fruit, and have a romantic "date" in the hot tub of your lodge. Surfview Lodge would be perfect for that - its master king suite has easy direct access to the hot tub, with the fully tiled bathroom and bath on the other side of the room. Get your best playlist on the go and enjoy the experience while it lasts!
Indulge in a spot of Luxury in our Lodges
Something that makes lodges with hot tubs in Devon so popular is that they are the perfect addition for a luxury holiday. Hot tubs are synonymous with luxury as it is not something you find everywhere, and even if you have one in your home you rarely use it every day. To experience luxury in the boutique-style lodge, stay in the unique Surf Pod where you can customise your pod using built-in lighting and integrated speakers; you will also have a galley kitchen, wet room (waterproof bathroom), and, of course, a hot tub by the deck.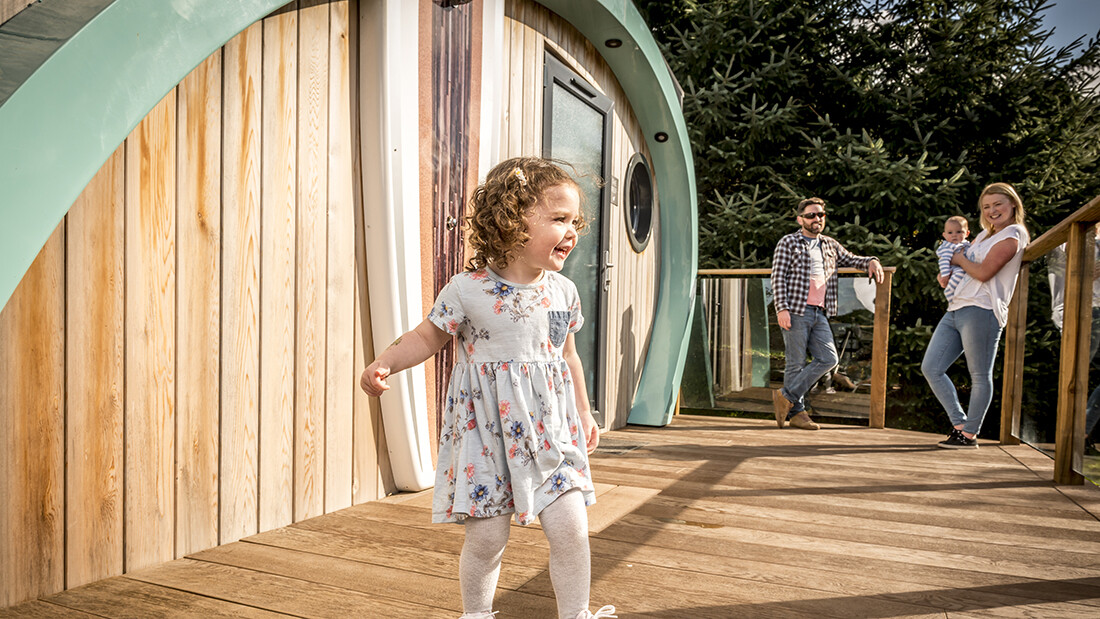 Perfect for those cooler months
Our cosy wood-burner style fires aren't the only star of the treats that we offer during those cooler months. Woolacombe is an area known for its beaches and outdoor life, but out of peak season, you may not be able to enjoy it as much as you would in the middle of Summer. Hot tubs are designed to work year-round, even when it's below 0 degrees Celsius.
Warm water brings down swelling and loosens tight muscles
Whilst many athletes turn to a spine-tingling ice bath to soothe their muscles after a workout, hot water also has its level of effectiveness. It can work slower, but a half-hour soak in the hot tub is more than enough to bring down swelling and loosen tight muscles.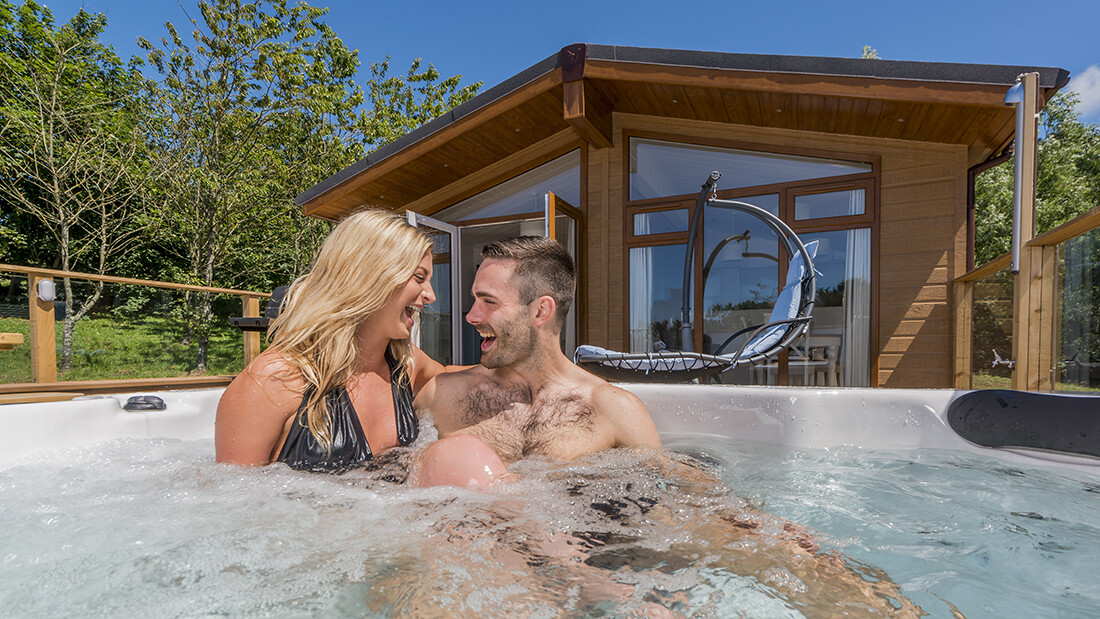 Better sleep
Hot water relaxes your body and prepares you for the best sleep ever. Hot tubs help you reach a degree of relaxation so great that the hormonal level of melatonin (the main sleep hormone) increases, leaving you to sleep like a baby. Say goodbye to trouble sleeping with a simple soak in the hot tub.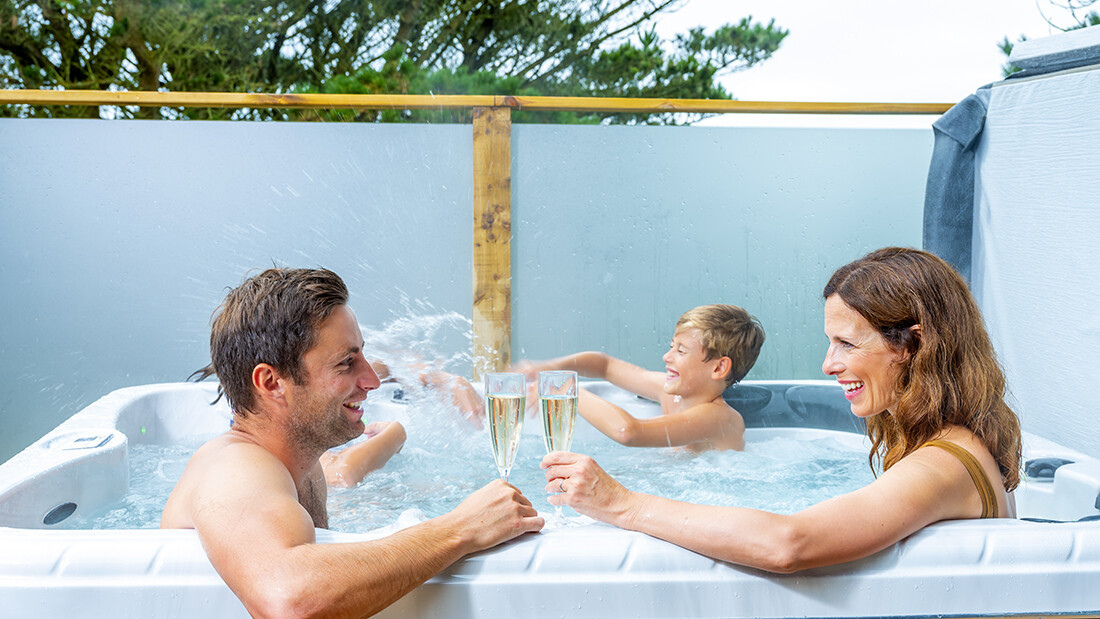 Lodges come with many extra perks like superfast WiFi thanks to a dedicated router in your accommodation, free electric car charging with points at your own double parking bay, and of course that surf kit hire for the beach plus your Surf Village lodge host will be in touch before your stay too.
What's not to love? Take a look at our Devon lodges with private hot tubs, available at Woolacombe Bay.