Which Pitch?
Camping pitches, Touring facilities & more
Our North Devon Holiday Parks offer a fantastic choice for both Camping pitches and Touring pitches in Devon. We're surrounded by magnificent views of the countryside and our beautiful coastline. Our guests keep coming back, year after year, so we must be doing something right. We have brilliant campsite facilities and Woolacombe Beach is second to none. So which pitch is right for you?
All of our guests have access to the facilities, activities and entertainment across all three of our Parks.
Camping Holidays at Woolacombe
Camping pitches are available across 2 of our North Devon Holiday Parks. We have everything you might need; modern shower blocks, dishwashing areas, hairdryers and shaving points. We have individual showers, baby changing facilities and laundry services. Of course, easy to access, level pitches. We have loads of space and a whole range of pitch types to choose from. Whether you're looking for an action-packed weekend with the family or a quiet weekend in the country.
Check out our campsite checklist – don't forget any of your holiday essentials.
Basic Camping Pitches at Woolacombe
A decent-sized area of grass, keeping it simple and getting back to nature. When we say basic, we mean no electric hook-up – no telly we're afraid! Around 10x10m and sleeping a maximum of 6 people per pitch, with full use of all Holiday Park facilities. Park on or near your pitch and check-in from midday.
Electric Camping Pitches at Woolacombe
A spacious pitch on either grass or our all-weather base, perfect for those rainier days – a simple gravel base option that gives great drainage. All with a 16-amp electrical hook-up, letting you stay connected. Park on your pitch, it's around 10x10m with a maximum of 6 people. Full use of all camping and Holiday Park facilities and check-in from midday. And electricity!
Super Camping Pitches at Woolacombe
Everything you could ever want, all mod cons. Gravel all-weather base, 16-amp electric hook-up and even an aerial point with Freeview. We've included a nightlight too. All our pitches are 10x10m, max. of 6 people, with full use of all Holiday Park facilities. Park your vehicle on your pitch and check-in is open from midday. Other extras: Drinking water, waste water disposal.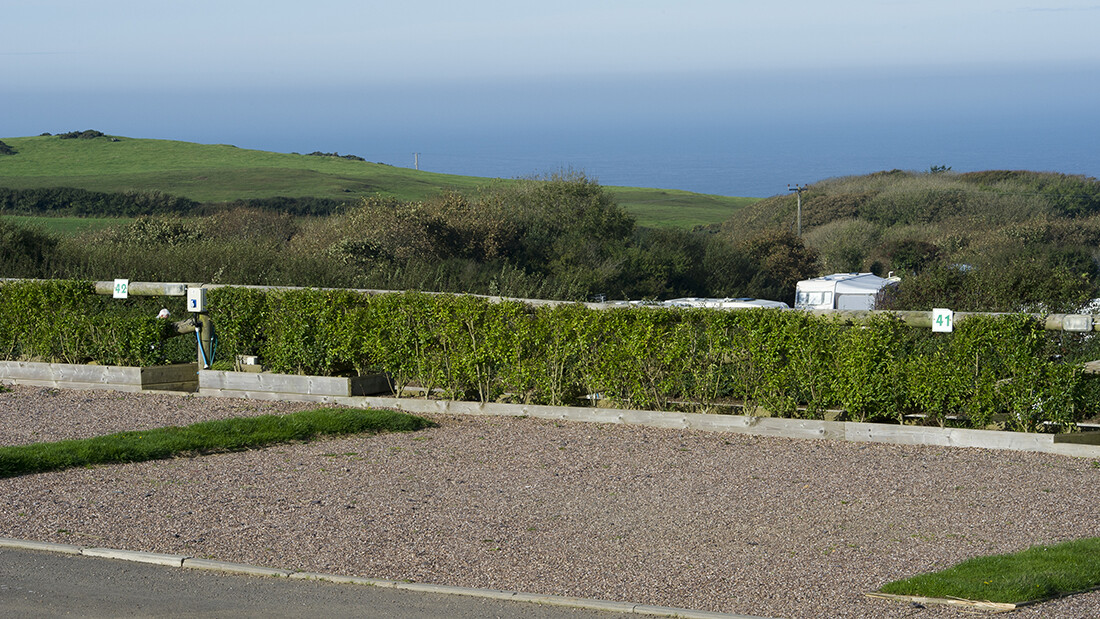 Touring Holidays at Woolacombe
Our touring pitches, much like our camping pitches, give you everything you need, and we have a great choice of where to stay. All our Devon Holiday Park facilities are available to touring guests
Our touring pitches are generally larger than average for the North Devon area, coming with space for an awning and parking on your pitch. Modern facilities for all your needs come as standard; showers to laundry, hairdryers to baby-changing. But we know what you need most of all… A level pitch that's easy to access. Our Parks are perfect for touring caravans and motorhome holidays alike.
Electric Touring Pitches at Woolacombe
A decent-sized pitch on either grass, all-weather or concrete hard-standing bases. Space for your touring caravan, awning and car with a 16-amp electrical hook-up. Easy road access and parking on your pitch. All pitches are around 10x10m and sleep a maximum of 6 guests. Check in from midday and use all our modern facilities.
Super Touring Pitches at Woolacombe
Our premium pitch, coming with Freeview aerial connection on any of our base types. Electric and water hook-ups, nightlight and waste disposal. As always, 6 guests max. per pitch, 10x10m. Level and easy access, this is the pitch for you if you want everything included. Park on your spacious pitch and enjoy your holiday from a midday check-in.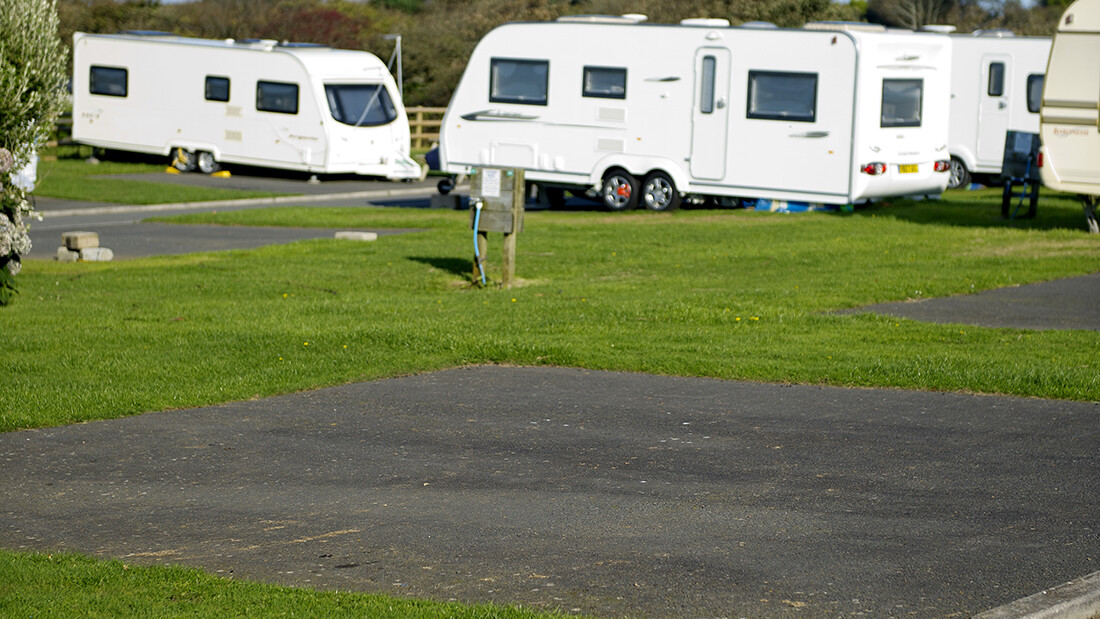 Seasonal Pitches
Leave your tourer with us in Woolacombe! Choose your pitch, your base, your Park – use it whenever you want to, across the season. We have various options available, just give us a call to discuss.
Other options for your Caravan holiday in Devon
Of course, we don't all fit into the same little boxes, so we offer combinations of bases and hook-ups not detailed above. We've also got static caravans for rent in Woolacombe too. Just check our website for more options or contact us and give our amazing sales advisors a call!
We often have special offers too, so don't miss out!