Gran Canaria vs Devon for Holidays
Searches for Devon Holidays 27% Higher than Gran Canaria Holidays in 2022
The cost of living squeeze is affecting all areas of the economy in 2022 and many in the UK are looking at ways to save money by not holidaying abroad, this was the trend throughout the pandemic for obvious reasons, but data from Google suggests that interest for Devon Holidays is as much as 27% higher than one of the UK's favourite holiday destinations Gran Canaria in 2022.
Whilst the difference between the two search terms has reduced as we have progressed in 2022, there is still a noticeable gap perhaps indicating that the increased demand for holidays within the UK and more specifically Devon is here to stay.
The split between the different nations of the UK follows a logical pattern with the majority of the searches for Devon holidays coming from England and Wales with Northern Ireland and Scotland providing the majority of the searches for Gran Canaria holidays.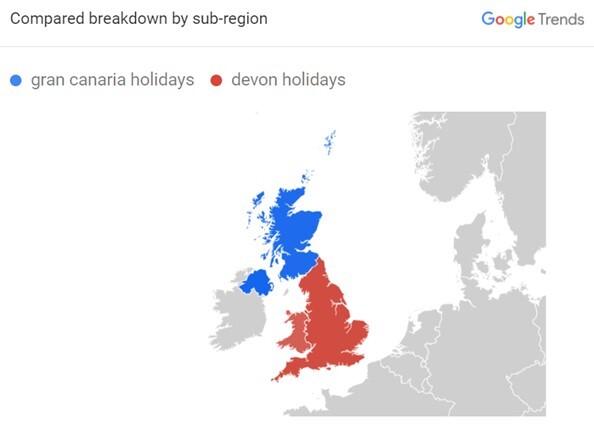 How to have the perfect family holiday in Devon
When it comes to holidaying in the UK North Devon based holiday parks like those offered by Woolacombe Bay give you a range of options across different budgets to accommodate different types of holidays. There is also a range of great locations that you can visit across the county's great countryside. Following the steps below will help you have the best possible break:
Pack the sunscreen! Even if you are holidaying in the UK during the summer, it is important to bring sunscreen, especially on the south coast to make sure everyone is protected.
Check out some of the local attractions. Looking at some of the local attractions will help give you an idea of what Devon has to offer, whether it be walks, pubs or beaches there is plenty to keep you occupied.
Allow for some chillout time. Whilst many love the idea of jetting off to Gran Canaria, during the summer months the UK can often compete in terms of weather, which is why it is also important to have time to chill out on the vacation.
Woolacombe Bay's Marketing Director Kevin Darvill offered this comment on the findings:
"It would be easy to say families are staying in the UK because of on-going concerns around entry requirements, airport and ferry port delays, and rising prices across the whole of Europe not just Britain. But the reality is many families who'd not holidayed domestically prior to the pandemic, or not for a long time before, had their perceptions of what a UK holiday is like totally blown out the water, especially how much caravans and holiday parks have changed over the past few years. Recognising the ease of putting everything they need in the car, travelling on their own schedule and going self-catering to help manage costs, we're seeing more families return than ever before."