Hidden in a rural secluded location in the countryside and right by the coast, you can escape heavily populated areas and get much more space than in most town centres.
Your wellbeing and that of our team members is always our absolute priority so we are constantly reviewing our processes because we know the advice is ever changing. But what never changes is our commitment to helping you escape the four walls of home to enjoy a relaxing break in beautiful, natural surroundings here next to England's best beach that is safe, fun and follows all the current Government guidance.
Our Devon Holiday Parks are all entirely owned and operated by us... all of our modern self contained Holiday Homes belong to us meaning you won't be staying in someone else's sublet caravan or lodge... team members work for us from cleaners and receptionists to chefs and waiters, and where our shops are expertly run by Nisa they follow the highest standards too. Put that all together and you can feel reassured we've got your interests covered.
Our commitments to safer holidays
Keeping all our guests and team safe
It's always been true that safety of our customers and team members comes first so we've made some changes to how we operate to minimise the risk of spreading coronavirus on our four Parks and within our local community, and that's earnt us the We're Good To Go accreditation. But don't just take our word for it, you can read all the genuine guest reviews powered by Tripadvisor about their whole holiday experience in Summer & Autumn 2020.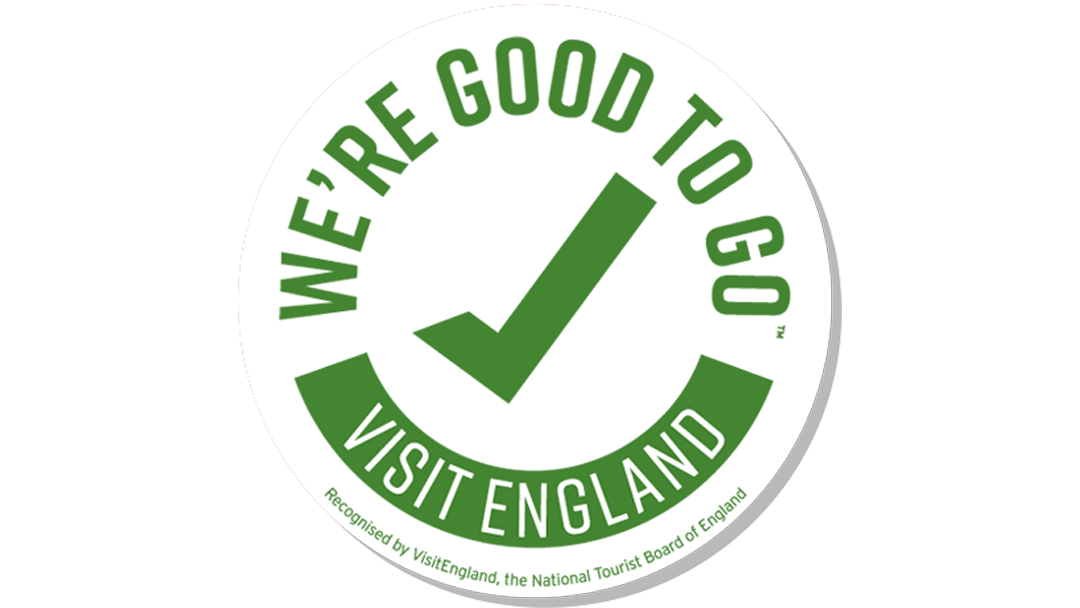 Ready for you
It's the official UK mark to signal that a tourism and hospitality business has worked hard to follow Government and industry Covid-19 guidelines and has a process in place to maintain cleanliness and aid social distancing.
Ready, steady, go!
You can pre-book popular activities before you arrive or when you're on Park so you can be sure of your spot and avoid queuing. Plus there's a hassle free 24-hour cancellation policy should you change your mind near the time.
Before we welcomed guests back to our Parks, we reviewed everything about your holiday experience from top to toe. Because as a family-owned business, we could put ourselves in your shoes meaning you and your family's safety and reassurance is at the forefront:
We're following all the latest HM Government and industry guidance including respected bodies like the British Holidays & Holiday Parks Association and Swim England to ensure a Covid-secure holiday.
We've reviewed our policies and implemented changes where necessary which we've outlined in more detail below so you can be sure we're taking the coronavirus pandemic seriously and holiday with confidence.
We'll email you at 5pm the day before your arrival with the check-in process and any last minute things you need to know about your holiday.
We've had our safety, social distancing and hygiene policies assessed by Visit England who awarded us the 'We're Good To Go' accreditation.
We temperature test our team members on arrival to the Park each day using infra-red thermometers. If any of our team members show symptoms they will be immediately sent home, asked to seek medical advice from a healthcare professional and will be required to self-isolate for 14 days prior to returning to the Parks.
Before you visit our Parks for your break, there's a few things we'd kindly ask you to do so we can make sure your break is safe and fun. It's the lead guest on the booking who is responsible for ensuring everyone in your party follows the Covid rules and all children must remain supervised at all times around the Parks:
If you or a member of your party is feeling unwell or showing any symptoms of Covid-19 or you have been instructed by a healthcare professional to self-isolate then we do ask that you do not visit our Parks.
Please make sure you give us an email address and a mobile phone number when you book because this is how we'll get in touch with you if we need to quickly, you'll also receive your pre-arrival information by email.
When you book your break, please check the latest Government guidelines and the number of households allowed in each Holiday Home.
When on Park we ask that only members of your party enter your accommodation and that there are no visitors invited onto the Park, and social gatherings with visitors are not permitted in accordance with Government guidelines.
We kindly suggest that you bring along your own supply of essential shopping items such as soap, hand sanitiser, gloves, toilet roll and disinfectant for use on your holiday with us.
Face coverings are mandatory in all indoor venues on our Parks and outdoors where social distancing is not possible, while the use of face coverings is not required while dining and drinking in our bars and restaurants you will need to wear one in when walking to our restaurants if travelling through an indoor area or visiting the toilet. Please bring your own personal face covering although these are available to purchase on our Parks.
Reservations for pre-bookable activities need to be made in advance to reduce queuing on Park and to ensure your space is booked as some activities now have lower participant numbers.
We're now legally required to record the contact details of all guests in any of our venues on Park including the swimming pools, receptions as well as all indoor and outdoor settings. The fastest, easiest way to record your visit is using the NHS COVID-19 app so you can scan a QR code that's unique to each venue and all members of your group over age 16 are now required to scan. If you don't have a compatible smartphone you will be required to complete a form each time you come to a venue, but we're sorry if you don't scan on the app or complete a form we legally cannot let you into our venues. Please encourage all members of your party to download the official NHS Test & Trace app prior to arrival from the Apple App Store or Google Play Store as appropriate for your device.
Rest assured, sleep safe and sound
Boosting our already high standards, we've enhanced our self-catering accommodation preparation with a focus on high touch areas so you can settle in to your thoroughly deep cleaned modern Holiday Home. And remember our full range has always been perfect for social distancing with no shared doors or communal areas, they're all well ventilated with no shared air conditioning systems, and self-catering means you've got your very own kitchen, lounge, bedrooms and bathroom. Each Holiday Home belongs to us too, so you can be sure you'll always get consistent top quality.
Self-contained stays
Our Holiday Homes are all self-contained, some with decking or patios, and set in spacious well-tended grounds. By law all caravans have to be at least 5 metres apart from each other so you can be sure of plenty of space.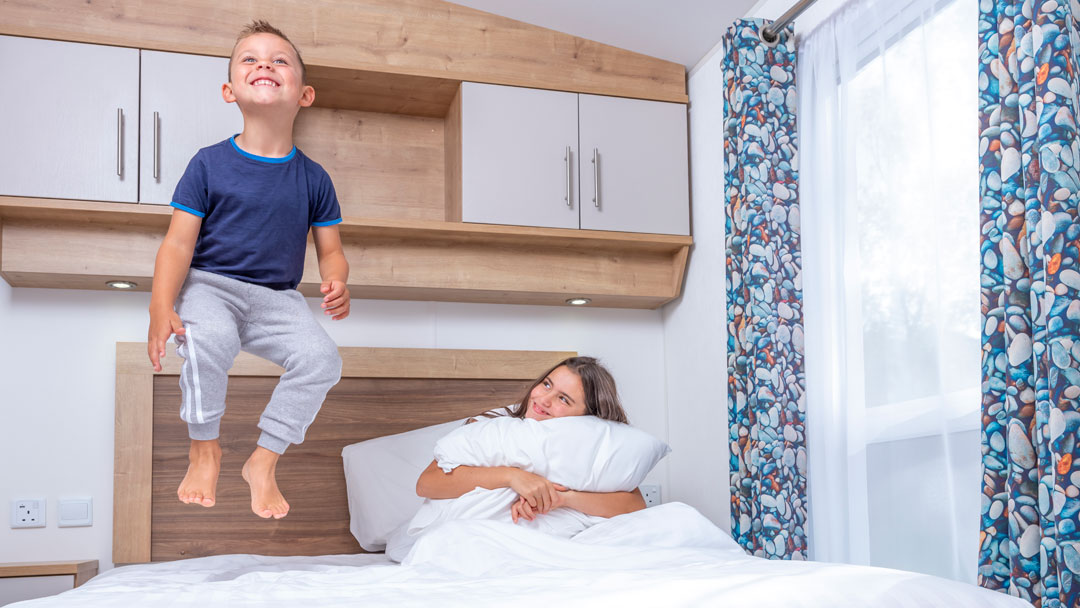 Pre-arrival cleaning
Beds are made up for your arrival with linen washed locally at over 60°c and deep cleaning focuses on high touch areas throughout. You then get a sanitised key to a locked Holiday Home, so it's clean and fresh for your arrival.
Hot tub hygiene
We've always gone above and beyond the norm by changing the water, cleaning and sanitising the hot tub before each new arrival. Our experienced team will then check it daily so you can be sure it's safe for your family to enjoy.
You often tell us that you are satisfied with the existing cleaning process of our Holiday Homes is very good but... we recognise that right now, very good just isn't good enough. With your safety in mind, we have introduced additional cleaning measures which include thorough deep cleaning in all of our self-catering accommodation whilst honouring the existing check-in times for each accommodation grade:
Before we start cleaning, each Holiday Home is aired, and we kindly ask you to leave the windows open when you leave at the end of your stay (weather permitting) to help with this.
Each member of our housekeeping team has had enhanced training on the new cleaning products and methods to ensure the highest levels of cleanliness and hygiene standards can be maintained.
We deep clean and sanitise all accommodation between guests using anti-viral disinfectant including high risk touch point areas like light switches, door handles, appliances and remote controls and we use disposable paper roll and disposable mop heads to clean all hard surfaces including floors, chairs, door handles and sanitary fittings.
We provide our teams with all the PPE they need to do the job and safely too. As part of their uniform, and to increase personal hygiene levels, we provide each team member with their own personal refillable hand sanitiser or hand soap bottle.
We've removed any non-essential items that are more difficult to keep clean and hygienic such as scatter cushions, bed runners and all printed material has been removed from your accommodation to avoid cross contamination; we have extensive frequently asked questions available online to help answer any questions you may have, and you can report anything to our housekeeping or maintenance teams in My Account.
Your beds are made up for your arrival with fresh linen washed at high temperatures using local industrial washing facilities, we kindly ask that you put all your used linen in the bag provided before you depart so that we can keep our teams safe too.
We always ensure your Holiday Home has been fully cleaned to this new, heightened standard and prepared for you prior to your arrival. We ask you to help us by not arriving to the Parks any earlier than your check in time and by departing by 10am on the last day of your holiday.
We always lock your Holiday Home once it has completed our thorough pre-arrival inspection process so you can be sure no one else has gone into it and you are given a sanitised key on arrival.
We continue to elevate our training as best practices evolve.
If you have booked one of our caravans with hot tub, lodges with hot tub or farmhouse with hot tub then you can use your hot tub during your stay as this is considered to be private use.
The current HM Government advice is you must not invite others who are not staying in your Holiday Home to use it.
We follow guidance from The British and Irish Spa Hot Tub Association (BISHTA) and we also recommend you take a shower before you relax in the hot tub.
You might see our team on your decking when they carry out daily checks. Our team members give each hot tub a daily dosing of sanitiser to keep the water healthy, while ensuring the inside of the tubs above the waterline and lids are effectively sanitised. Social distancing is applied throughout this process.
The water in private outdoor hot tubs with accommodation is treated with chlorine, however there is no evidence from any official bodies that the virus is water borne so you can enjoy your hot tub with added peace of mind.
Helping you feel safe and secure
On arrival and throughout your holiday, you'll notice social distancing measures to ensure we protect each other. This includes traffic marshals, one-way systems around our Parks, clearly signed separate ways in and out of our venues, and visible markers around the Park so you can see where to go and how far apart to stand. Our new check-in process provides you with a safe start to your holiday from the moment you arrive on our Parks.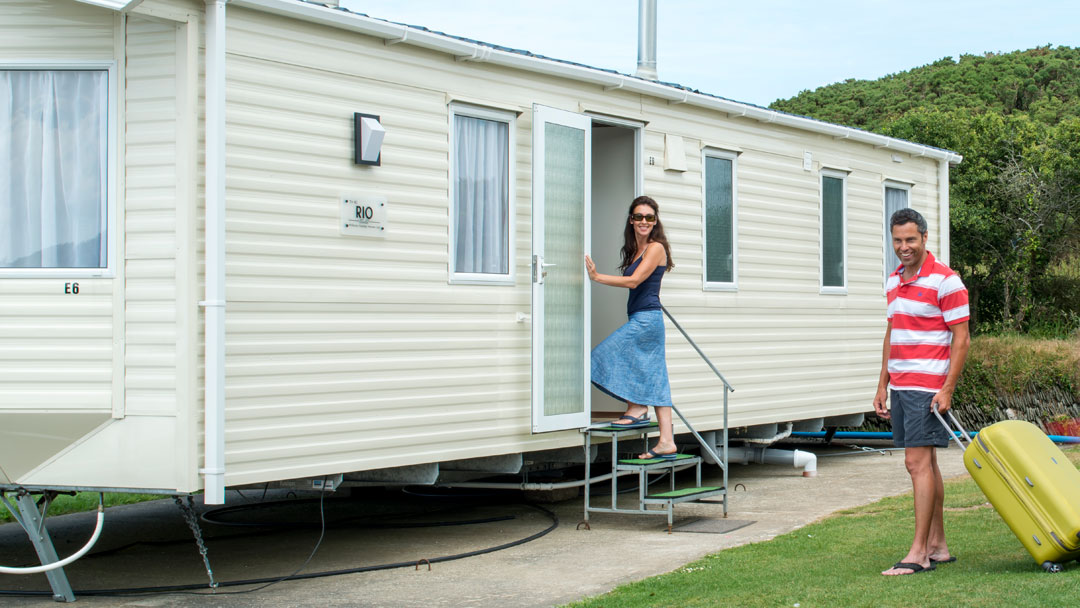 Contactless check-in
Even though we're spending more time cleaning your Holiday Home before you arrive, it'll be ready at your stated arrival time. Plus quick contactless check-in including drive through gets you settled into your stay fast.
Safer shopping
Shop in the way you're now used to at home with social distancing, queuing systems, hand sanitiser and cleaning of high touch areas. Open 8 'til late they're well stocked too meaning you can avoid local supermarkets.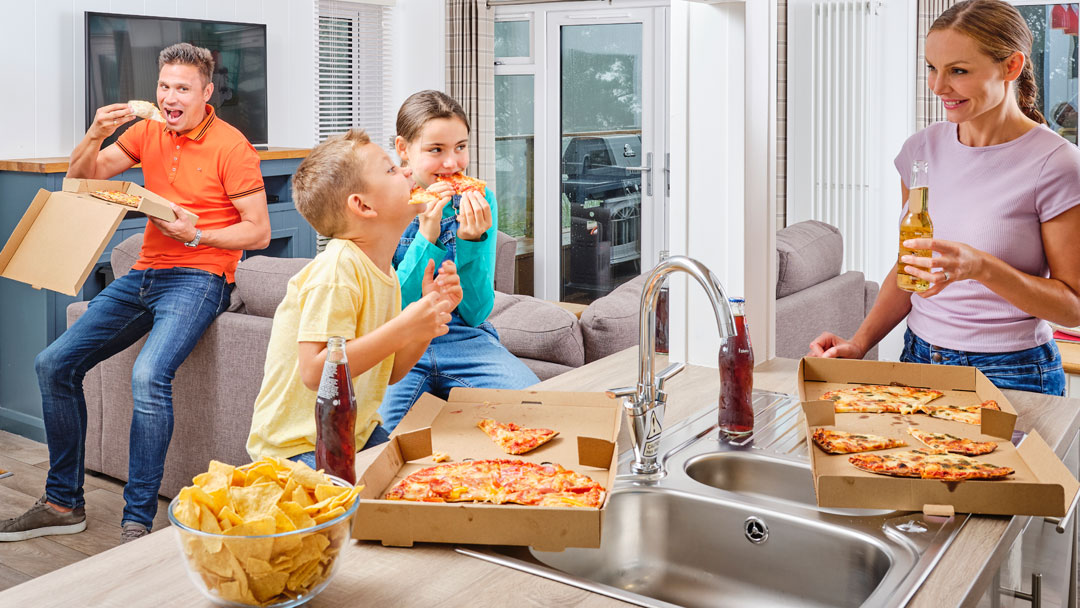 Be an 'appy eater
Take a break from the cooking with new dining options. Order for click-and-collect takeaway at your chosen allocated pick-up time with social distancing measures in place, or we'll deliver it to your Holiday Home for free.
We send you a pre-arrival email just after 5pm the day before your holiday start date with all the information you need to know about the check-in process.
Your accommodation is ready at your allocated check-in time and we must kindly ask you to only arrive on or after that time.
We have traffic marshals to greet you when you arrive at the Park to help and guide you to our friendly Reception team.
We have your welcome pack and sanitised key ready to collect in a sealed bag with a map directing you to your locked accommodation.
At busy times on main check-in days like Mondays and Fridays, and on Saturdays during the school holidays, check-in is usually drive through so you do not need to leave your car.
On other days check-in is in the Reception but only the lead guest is permitted to enter the Reception area so that we can check you in quickly and safely.
All of our receptions have sneeze screens fitted and a one way system in place to minimise the risk to our guests and team. This new, streamlined way of checking you in helps to reduce queues and maintain social distancing.
We're sorry but we will no longer be able to store your luggage.
We are now able to amend your booking up to 5pm the day before your arrival day. This includes any upgrades or special instructions you have regarding the preferred location of your Holiday Home. We urge you to please check you are happy with your booking before this time. Our dedicated Holiday Advisors are here to help you however, if you would like to amend your holiday prior to your arrival please do contact us as soon as possible so that we can thoroughly prepare your accommodation and ensure it is ready on time.
Unfortunately, there are no location moves or upgrades available once you have arrived on Park.
We're not accepting any day visitors or local pass members onto our Parks or into our facilities, with the exception of registered golf club members at Easewell Farm.
We've reduced the number of participants in our swimming pools and some of our activities so you can maintain social distancing.
We've implemented session bathing and booking is now required to ensure everyone has the opportunity to visit and be socially distant in the swimming pools.
We've limited the number of guests in our indoor venues like bars, restaurants, shops, cinemas, pottery painting studios and amusement arcades.
We've spaced all tables and chairs in our venues for social distancing, and menus are single-use.
We're keeping our indoor soft play areas closed because we can't be sure of adequate social distancing, but you can keep your little ones entertained with our single-use activity packs.
We've expanded the range of food essentials in our Nisa convenience stores so you can avoid the local supermarkets; our shops also follow similar safety measures to those that you now experience at home.
We're kindly asking you to leave the Park by 10am on your departure day to give a break between guests departing and arriving, for your safety and to enable us to thoroughly clean as well as to assist with the Government's Test & Trace programme.
We've implemented a one-way system around our Parks with clearly signed directions, along with newly designated entrances and exits in and out of our venues. Our new signs are visible for all to see and we kindly ask all guests to observe and follow the new safety measures we have put in place to keep everyone safe whilst on holiday with us. To ensure we protect each other by maintaining the advised social distancing, we control numbers of guests using facilities and operate a time slot system where necessary.
We encourage everyone to wash their hands for a minimum of 20 seconds at regular intervals throughout the day, and you'll notice we've provided external handwashing points outside our main venues as well as hand sanitising stations at every single door in our venues, play areas and sports areas. We encourage you to use these frequently, particularly before entering activities, retail shops and restaurants. When entering and leaving different areas or spaces on our village, we ask that you please wash your hands or apply hand sanitiser.
We've always had a prominent focus on public washroom cleaning but now we have dedicated cleaning teams spending extra time in our public areas. We display 'last cleaned' charts in our toilet facilities for you to visibly see the regularity with which we clean the public washrooms and we have equipped our guest toilets with sanitising hand soap, disposable paper towels and hand driers where possible. When using these facilities we ask you to maintain social distancing, respect others around you and use the litter bins provided. To avoid overcrowding and unnecessary contact, we ask that guests who are staying with us, where possible, use the bathrooms in their own accommodation.
We've increased the time spent cleaning other public areas with fully trained teams who are equipped to clean communal spaces regularly throughout the day.
Our team members are required to practice social distancing, so we apologise in advance if we don't get too close to you. We won't shake your hand or interact with you in the way you may have been accustomed to in previous years.
We've given our team members training in all the additional precautions we are taking, so please follow any instructions they give as they are for the safety of you, your family and our team members.
We have the necessary PPE available for all of our team members that wish to use them or when it is vital to do so, but please note that some team members may not be wearing PPE such as face coverings because this is not suitable for their role.
Where social distancing is not possible, such as at reception desks or till points, our colleagues serve you from behind perspex screens or are provided with the appropriate PPE. For some activities, our colleagues may be wearing protective equipment, including face coverings.
We'll attend any maintenance issues in your Holiday Home but for the protection of all our guests and team members, our engineers and technicians maintain social distancing which may include asking you to vacate the accommodation or move into another room whilst they carry out any work.
Ensuring you stay and play safe
Like everything else right now, safety comes first so things might look a little different but there's still plenty to do on Park and loads of it's included in the holiday price. And if things change, we'll update it here, you can check out the coronavirus frequently asked questions anytime and you'll receive clear pre-arrival information by email the evening before your stay.
We're all in this together, so we kindly ask you to please familiarise yourself with these measures because by playing your part we can all keep you, your family, other families and our team members safe throughout your holiday.
Please keep contact to a minimum by contacting our team by phone or reporting any accommodation needs using our Woolacombe Bay app. Should you need to visit reception, perspex screens and social distancing measures are in place and we kindly ask only the lead guest comes in.
Please wash your hands regularly with soap and warm water for 20 seconds, and always use the hand sanitiser points when entering and leaving facilities.
Please ensure you keep your distance from other guests and our team members at all times and follow the directional signage shown.
Please note that while the use of face coverings is not required while dining and drinking in our restaurants, but you will need to wear one in when walking to our restaurants if travelling through an indoor area. In all other indoor areas including but not limited to receptions, shops, amusements, bowling, cinemas, pottery painting, play areas and waiting to enter the indoor pools in line with Government guidance face coverings are now mandatory.
Please be aware that your accommodation should only be used by those permitted in accordance with Government guidelines, and social gatherings with other guests or inviting those not staying on the Park to your accommodation is not permitted. Day visitors and visitors to the Park are strictly NOT permitted to comply with Government guidelines.
Please make sure you're always wearing your Woolacombe Bay Holiday Parks wristbands. To use our facilities and activities you must be wearing a valid Woolacombe Bay Holiday Parks wristband and new official guidelines state we must control access tightly to our communal spaces, so this means you must be wearing them. If you are not wearing wristbands you will always be refused access to the venues, and we're sure you can appreciate this is for the safety and wellbeing of all our guests.
Please follow all safety guidance and procedures as communicated through directional signage and as advised by our team members.
Please, you really must tell us straight away if you or any member of your party is suspected to or is confirmed to have coronavirus you'll immediately pack up and go home, we'll leave your accommodation for 72 hours before giving it a full deep clean.
Book knowing we've got you covered
Now there's fewer breaks available for social distancing so act fast to secure your break
Book with confidence
Rest assured we're here to look after you right from the start. It's why you can plan ahead to get the holiday you want and look forward to your good times together.
Explore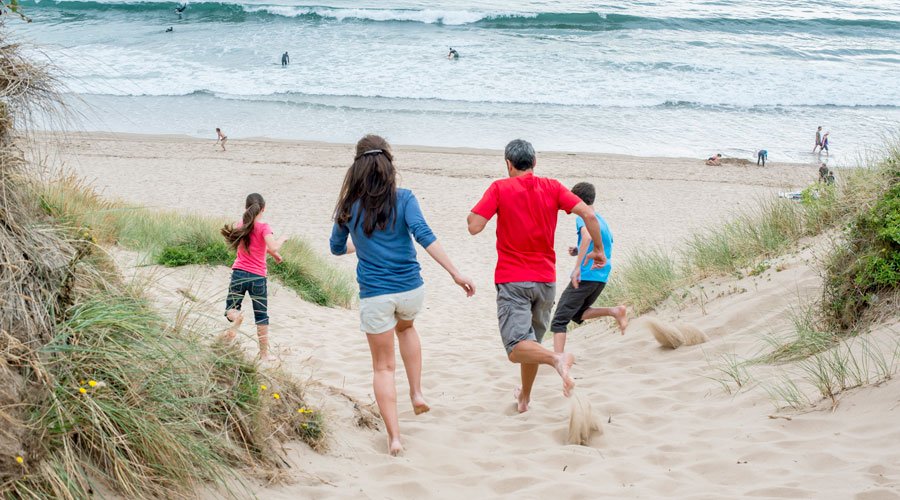 Rest assured we're here to look after you right from the start. It's why you can plan ahead to get the holiday you want and look forward to your good times together.
Explore
Coronavirus concerns
Time together is essential and it's important to get it right. You might have some questions about our holidays, the chances are we've been asked them before.
Explore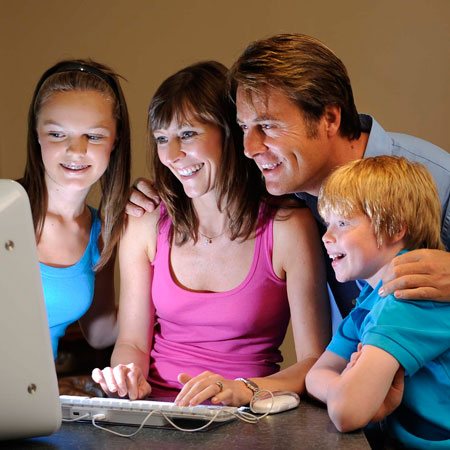 Time together is essential and it's important to get it right. You might have some questions about our holidays, the chances are we've been asked them before.
Explore