Go wild with the kids, zoom down the flume or feel great by swimming a good few lengths. They're all heated and sparkly clean. So come on in, the water's lovely!
Many guests tell us going to the pool is near the top of the list for holiday fun... it's why at the heart of each Devon Holiday Park is a great indoor pool protected from the elements for any weather fun. Add in slides, toddler pools and bubble beds and you've really got the lot. In Summer dip take in the brilliant outdoor pools too, with multi-lane slides, flumes and water play areas. Indoors or out they're all heated and totally admission free.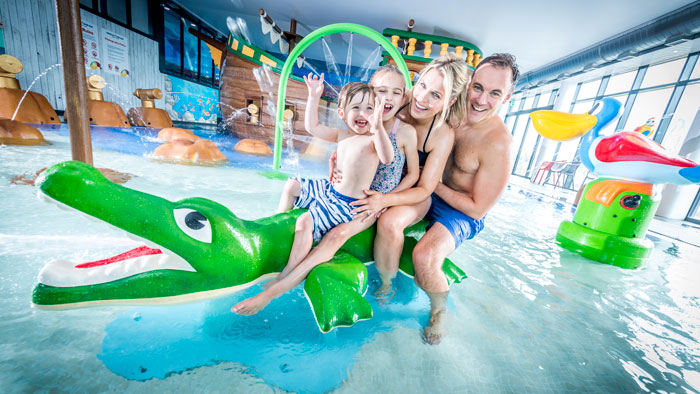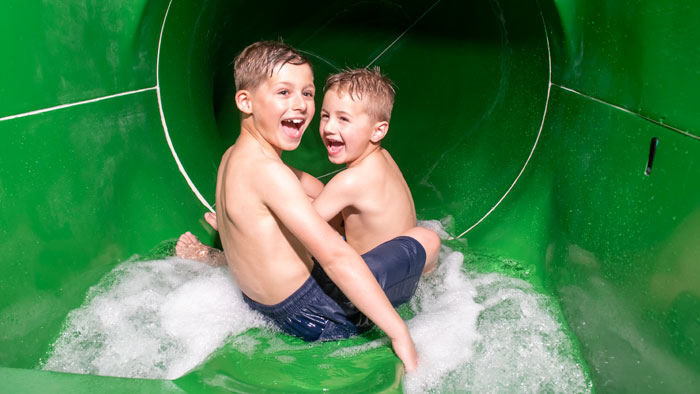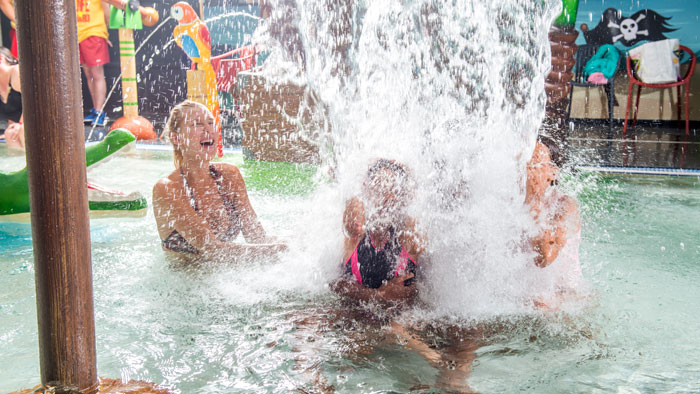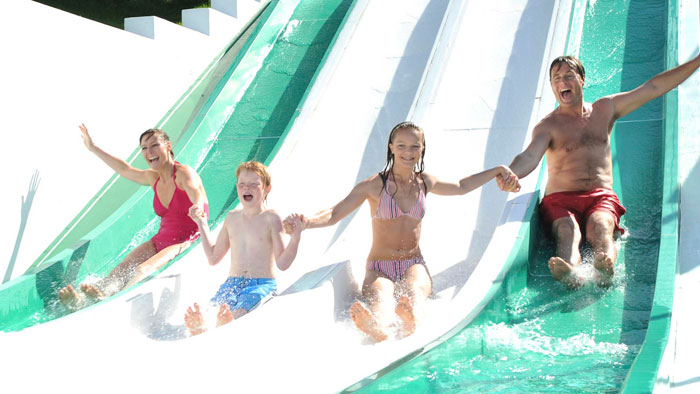 Swim safe
Book your swimming slots
Pools are open so you can have a splashing time every day on your holiday. We've put the social distancing measures in place including session bathing with simple online booking each day. It's one of the new things now in place so you can splash about safely.
How to book
Hooray... all in the pool!
You'll need your booking reference number shown on your holiday confirmation to log-in to make your pool bookings from 1 to 12 hours before you'd like to swim. Then just come along at your booked time wearing your Woolacombe Bay Holiday Parks wristband, you'll find measures in place like:
Reduced number of people allowed in our swimming pools at any one time
Booked sessions to enable social distancing and to track guests on each slot
No changing rooms and shower facilities are open, please come 'pool ready'
Plenty of room to remove and store clothing, shoes and towels poolside
Spectator areas and sunbathing spaces are closed so more people can swim
Lifeguard cover to keep you safe in and around the pool whenever they're open
No swim toys or inflatables to ensure everyone has enough space in the water
Hand sanitiser on arrival and additional poolside cleaning between sessions
Indoor pools
Heated covered indoor pools are open whatever the weather all season long, found on each Park and open from 8am to 9pm daily. Castaways interactive pirate play pool at Woolacombe Bay is the stuff of legends but they're all true, and the biggest indoor pool complex with separate toddler pool at Twitchen House where you can race along two tall twisting slides at breakneck speed.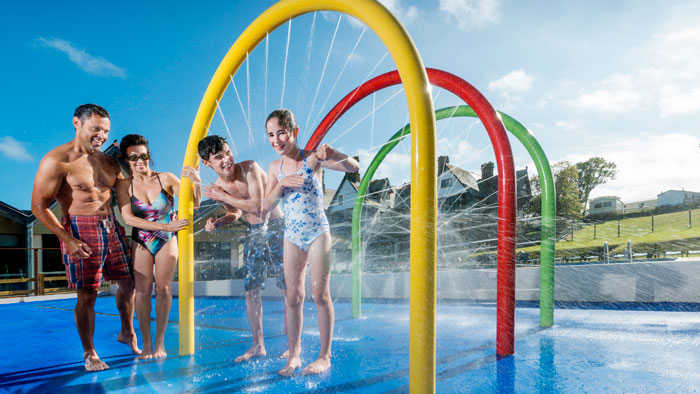 Outdoor pools
Heated open air outdoor pools at most Parks mean you can swim in the sun from 10am to 6pm in Summer. Golden Coast has a big beach style pool, four lane slide and bubble bed. Then there's the hilarious SplashPad water play area at Twitchen House. Plus sun bathing areas and most outdoor pools have a whacky water flume to zoom down. Open 8 May - 12 Sept 2021, weather permitting.
How session bathing works
Pool session bathing booking is free and open to every booking made directly with Woolacombe Bay Holiday Parks for our self-contained Holiday Homes, Camping & Touring and Summer Parking guests, as well as newspaper promotion guests who have pre-purchased Entertainment Plus Passes before arrival. Here's how it works:
You can book 1 session in the outdoor pool and 1 in the indoor pool per day, subject to availability
You can book your holiday's first pool session to start from 2 hours after your break's check-in time
You can book your holiday's last pool session up to the final evening of your stay on Park
You can book pool sessions up to 1 hour before the pool session starts, so you can arrive ready to swim
You can book to use any available pool, so it can be at another Park, but please ensure you give yourself enough time to get there
You can book for the maximum number of people stated on your booking, please book only for the number of swimmers in the water
You must accompany under 12-year olds or non-swimmers in the pool water, please ensure you book sufficient spaces
You must NOT book spaces for spectators please, we're really sorry but Government guidelines mean we can't allow spectators
You must change in your accommodation and come to the pool ready to swim, showers and drying facilities poolside are not available
You do not need to go to Reception to collect pool tokens, simply follow the signs to your pool entrance for the time you've booked
You must practice social distancing at all times in the pool and poolside, remaining at least 2m from other households
You must wear a face covering to access the indoor pools at Golden Coast and Woolacombe Bay as you pass through reception
You can't bring pool inflatables or swim toys, but swimming aids are allowed
Pool sessions are 40 minutes in the indoor pools and 30 minutes in the outdoor pools for swimming only including time for drying off
Please bring towels and leave them at the poolside, at the end of your session you return to your accommodation to change
Please arrive at the pool a few minutes before your session starts, sorry we're unable to extend your time in the water if you arrive late
Once you've made your booking online, please be aware it cannot be changed to a later session

Book your pool sessions here
You'll need your reference number shown on your holiday confirmation to log-in
You can make pool bookings between 12 hours to 1 hour before you'd like to swim