Go on, take in a deep breath. Yeah a really big one. The air's always fresher and clean at the coast. Take off your socks too. Time out, back to basics, whatever you call it... we just know it's all about feeling free.
Please come outside, we get to do it all the time and we'd love to share the great outdoors with you. We're well within an area of outstanding natural beauty and it's a big thanks to the National Trust for looking after the stunning areas around our Devon Holiday Parks, the beach, dune system and Morte Point. It's simple pleasures like rustic play areas, flying a kite or wandering through woodland to the beach to go hunting in a rock pool.
Join one of our crew of Green Guides at Twitchen House to get closer to nature. Head off on a ranger ramble, go pond dipping, hunt for bugs or seek out treasure with geocaching. Or learn some handy bush craft skills like fire lighting, how to build a den and even how to make a nest box to take home.
Due to the Covid-19 global pandemic we have implemented a number of measures to safeguard our guests and team members; we endeavour to maintain business-as-usual to the extent allowed in the circumstances and following the latest Government guidance.
Pre-bookable activities must be booked in advance, and the availability of facilities, activities and entertainment are subject to change in the evolving coronavirus situation. We commit to running as much as possible during your stay where it is safe to do so always adhering to Government and industry guidelines. Day visitors are NOT permitted on our Parks. Face coverings are now optional, however they are recommended in all our indoor venues and you may see some of our team members wearing masks. You can find out more about how you can holiday with confidence.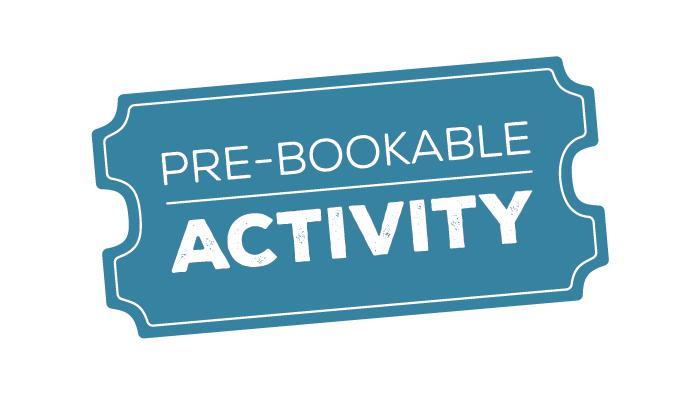 Activity bookings
Plan your holiday online
Make sure you do what you want, when you want 'cos many holiday park family activities can be booked online from 14 days before your holiday. Book your activities ahead for the best choice of slots then say goodbye to queuing or missing out on the bucket list fun!
Find out more