News Archive
Sizzling Summer Entertainment
Details

Created on Thursday, 07 July 2011 00:00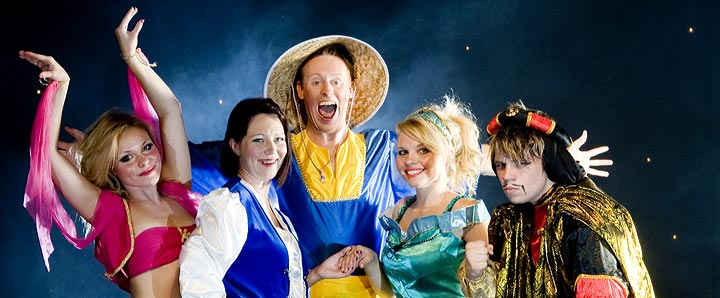 There's a sensational line up of entertainment during the Summer School Holidays at Woolacombe Bay Holiday Parks. With great entertainment for the whole family, we've really got it covered whatever the weather. And best of all, it's totally free!

Kids Clubs

Our ParkStars really do bring our three Kids Clubs to life each day and work hard to make sure your children have an unforgettable holiday. To make it even more special, when they first meet our team they'll get their own free Billy t-shirt too!

Betty's Buddy Club for under 5's has loads of fun lined up including Messy Mayhem, Giggle & Wiggle and Musical Medley.

Billy Beachball Club for 5 to 9 year olds is packed full of fresh, fun activities like parachute fun, treasure hunts and sensory trails.

Extreme Teen Club for 10 to 15+ years is the ideal hangout for younger teens with the chance to learn some cool new skills and make new friends. Activities include choreography workshops, Wii wars and DJ training.

Daytime Entertainment

There's traditional family fun with our touring pantomime Cinderella, new for 2011. Or try something new with Latino lessons and go bonkers at the Mad Hatters Tea Party.

Not forgetting a whole host of other facilities like cinema, indoor & outdoor play areas, indoor & outdoor heated pools, water parks, crazy golf, adventure golf, pitch 'n' putt, tennis courts and so much more. All free of course!

Evening Entertainment

Head to the Clubhouse for dazzling evening entertainment every night. We've secured the best cabaret on the circuit with magic acts, comedians and live music, including "Beardsmith", GMTV's family band of the year.

Each evening starts with a whole host of top class kids entertainment including Spangles the Clown, the spell binding UV puppet show and Merlin from Britain's Got Talent.

And our amazing ParkStars will wow you with their own professional showtime products with everything from rock to pop and soul to the big screen, there's something for everyone. Kids will love the fancy dress fun of our pyjama nights whilst adults can take a trip back in time to "Infernos", the hottest club in town, in our sensational summer production.

Plus all your usual holiday favourites like bingo, quizzes, talent shows and late night disco.

Live Tribute Acts

There's even more evening entertainment with an amazing array of tributes to Michael Buble, Meatloaf, Elvis, Katy Perry and Adele, this year's best selling pop star!

All entertainment is included in the price of your holiday and is available at Golden Coast, Woolacombe Bay and Twitchen House, with occasional light entertainment at Easewell Farm. Guests at any of our parks are free to the use the facilities, activities and entertainment of our other parks. Kids clubs are intended for entertainment purposes and parental supervision is required for Betty's and Billy's Clubs, parents are required to remain on park during Extreme Teen Club.
Thinking of Father's Day?
Details

Created on Friday, 27 May 2011 00:00
At a bit of a loose end as to what to do for Father's Day? Want something special for the Sunday 19th June?
With the Met Office predicting less than average rainfall, and soaring tempretures, and with so much to do at our Parks and in the surrounding area Dad is going to love it!
Treat him to a round of golf, or a spot of fishing, or perhaps something a little more exciting like a lesson from our brand new surf school. We have great prices and brilliant accommodation to choose from for an extra special Fathers Day.
Bay View & Sea Spray Refurbished
Details

Created on Wednesday, 25 May 2011 00:00
Finally all our of hard work has paid off, the Bay View & Sea Spray apartments are open for the season. Both have under gone an extensive refurbishment and are now decked out with modern fixtures & fittings, and stlyish furnishings.
One customer who stayed in Sea Spray said;
"The apartment was gorgeous, all mod-cons and so stylishly decorated, it felt like a really, really brilliant hotel"
Still benefitting from the great views, the newly decotrated apratments are a shinning example of modern living. We have added all the pictures from the first photo shoot to our Facebook page so make sure you take a look.
Our New Surf School
Details

Created on Wednesday, 27 April 2011 00:00
When you holiday in Woolacombe it is hard not to look at those people out enjoying the ocean on their surf boards and not feel a tiny twinge of jealousy. That is why we have opened our very own Surf School, so we can share with you our knowledge of surf.
The great thing about surfing is that it can be enjoyed whatever the weather. Lessons start from just £25 for a half day session, with all the equipment included, all you need to do is bring a towel and some enthusiasm. Lessons for beginners will be a great way to introduce you to the sea, and we run our intermediate lessons with video coaching.
The Surf School is located at the Golden Coast Holiday Village in our Surf Shop where you can also buy or hire surf equipment when you feel ready to try it for yourself!
Beardsmith Live
Details

Created on Tuesday, 26 April 2011 00:00
Beardsmith the awesome winner of GMTV's family band of the year performed live at the Golden Coast Holiday Village and the Woolacombe Bay Holiday Village.
The family from Chesire shot to fame after performing and winning GMTV's family band of the year and they performed live for us on Easter Monday & Tuesday.
Enteraining the audience with there brilliant take on classics and their unique relationship made for some comical moments. A good night by everyone presents account. Thank you Beardsmith!
Prince Edward's day at the Seaside
Details

Created on Thursday, 21 April 2011 00:00
Prince Edward the Earl of Wessex recently visited the area. Stopping for a busy day in Ilfracombe whch is just a couple of miles from Woolacombe the Prince visited shops, pubs, libaries, and other local businesses.
After meeting many people in the area involved in regeneration and community projects, the Prince left via helecopter, but not before giving the region a thumbs up!
Celebrate The Royal Wedding at the Old Mill
Details

Created on Wednesday, 20 April 2011 00:00
Look no further for a great way to celebrate the matrimony of the future King and Queen of the UK.
With a Hog Roast, an all day BBQ, street party with live music, and a selection of fine foods and ales the Old Mill will really be a great place to spend the extra bank holiday.
Open from 12pm until late, make your there and enjoy the fun and festivities.
New Hot Tub at the Woolacombe Bay Farmhouse.
Details

Created on Wednesday, 06 April 2011 00:00
The Farmhouse at the Woolacombe Bay Holiday Village has also been touched with the renovation brush. Not only have we installed a new private hot-tub for you to relax in, but we have also completely refurbished the kitchen.
It has all the latest mod-cons you could possibly need to enjoy your holiday, and is also undergoing a modernising paint job too. What are you waiting for, just fill the hot tub up and relaxed at the Farmhouse at the Woolacombe Bay Holiday Village.
Rock 'n' Roll Weekend At Woolacombe Bay
Details

Created on Monday, 28 March 2011 00:00
Once again the Rock ëNí Roll weekend was another brilliant one, topping last year with even more great music, brilliant costumes, and an even better atmosphere.
It was so brilliant to see everyone dancing, dressed and enjoying their weekend in full Rock ëní Roll style. A special thanks to those of you who showed up in American Cadillacís, that was a brilliant site to see in Woolacombe.
Keep your eyes peeled for the Rock 'n' Roll weekend!!
New Playground and Mini Golf Course at the Woolacombe Bay Holiday Village
Details

Created on Friday, 11 March 2011 00:00
We really have been very busy over the winter this year. As well as refurbishing, renovating, rebuilding and a whole load of other ëreísí over the winter, we have also found the time to build a new playground and mini golf course at the Woolacombe Bay Holiday Village.
Relive Pirates of the Caribbean on our brand new pirate ship playground. Swing around the mast, climb, crawl, around this amazing new play area which over looks Woolacombe Bay, with views enough to help you imagine you are actually at sea.
The mini golf course also looks over the beach. What better place to have a small round of mini golf than with amazing views and a lovely sea breeze? Amazing fun for all the family.
Exclusive Lodges
Details

Created on Thursday, 24 February 2011 00:00
For those of you who haven't stayed in one of the new exclusive lodges over the past week, here is a sneaky peak of what you are missing out on. This brand new kitchen is just a small part of the huge investment we have put into our Lundy Fields accommodation.
Every one of the Exclusive lodges have been given the amazing refurbishment over the winter including, a great new bathroom, spacious living area, and all the home comforts from flat screen TV's with DVD players, to comfortable new mattresses.
Over the next few weeks we are running a 'Show Lodge' giving you the oppurtunity to come and see for yourself how brilliant the new exclusive lodges really are! The 'Show Lodge' is our chance to show you some of the best accommodation we have to offer, so even if you are just driving by, or walking over from the camping field feel free to pop in and see the changes for yourself.
Add us on Facebook and Twitter
Details

Created on Monday, 14 February 2011 00:00
Just to let you know that the Woolacombe Bay Holiday Parks are now on Facebook and Twitter, so you can keep up to date with all the latest news, offers, competitions and fun stuff from around the area and the parks!
Upload your pictures, share you videos, or just tell us all about the holiday you have just been on, or the holiday your about to go on. Ask questions on what you can do in the area, advice on what to bring, or even which pool is the wettest.
Just search Woolacombe Bay on Facebook and look out for Billy and Betty Beachball, and follow our tweets, @Woolacombe_bay.
What's new for 2011?
Details

Created on Monday, 03 January 2011 00:00
What's new for 2011?
We have invested a massive amount of money in our accommodation this year and cannot wait to share them with you.
Over £500,000 in new caravan holiday homes, and a massive additional sum of £500,000 on refurbishing the Honeysuckle Lodges in Lundy Fields to our new Exclusive standard.These lodges now include even more living space, new furniture, new kitchens, new bathrooms, ensuites, soft funiture throughout, new flooring and more!
We have also had a shake up of how we name and grade our accommodation to make your choosing your holiday even easier. Now you can choose from 6 caravan and 3 lodge grades which range from top of the range Exclusive, to great value for money Budget.
We have a brand new 2011 brochure which you can view online or request a brochure to be delivered to your door.
Our Show Van will hit the road in 2010!
Details

Created on Wednesday, 20 January 2010 10:37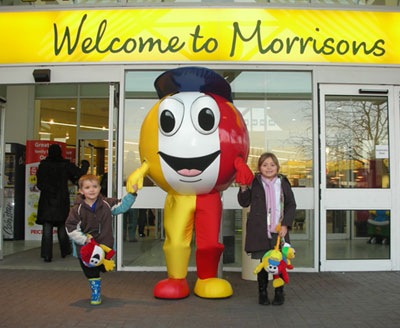 Billy Beachball and the Team may be visiting a Morrisons near you in January, February and March so keep an eye out for a list of stores and dates coming soon! You'll be able to pick up some goodies for the kids and some amazing holiday offers for you!

We will also be attending loads of exhibitions, shows and fairs throughout the year, so keep checking the NEWS page for a full list of venues.